In this edition of Toronto Maple Leafs News & Rumors, I share news about two organizational signings yesterday – newcomer Joey Anderson and former-Maple Leafs goalie Michael Hutchinson. I'll also speculate about what these signings might mean for the team in the near future.
Item One: Maple Leafs Sign Joey Anderson to a Three-Year Contract
Specifically, it's a two-way contract for the first two years at $750,000. However, if Anderson's still with the club, during the third season the contract will become a one-way deal. That likely means that, looking ahead, the organization believes he has the potential to be a regular member of the Maple Leafs roster. If he doesn't prove his value, he'll likely be gone.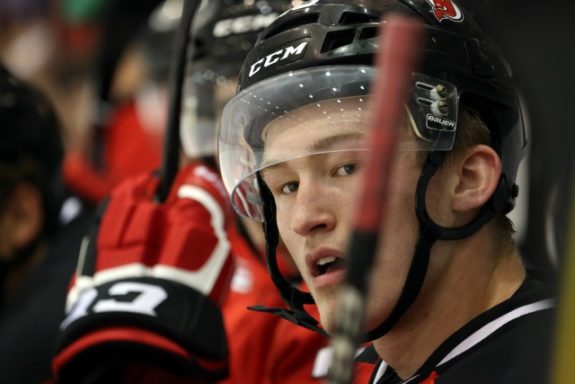 Anderson came to the team from the New Jersey Devils in return for Andreas Johnsson on a trade that was consummated on Oct. 10. Anderson is of average size at 5-foot-11 and 190 pounds, but he has the reputation of not being afraid of playing a physical game. Thus, he's easy to notice on the ice. In a review of his game not long ago, I read that he was a Zach Hyman "lite." And, that wouldn't be bad at all.
Anderson has good puck skills and has been able to score at every level he's played. For the Maple Leafs, he likely won't need to become an elite goal scorer, but he might add to the secondary scoring. He's known to be a good skater with a good shot; however, his bull-dog nature probably was attractive to the Maple Leafs because of the organization's stated intention to be a team that's hard to play against.
Related: NWHL Roundup: Mastel Back in Boston, Rosenthal Returns to Whitecaps
Last season, Anderson scored four goals and two assists in 18 NHL games. He also added 15 goals and 34 points in 44 games with the Devils' AHL affiliate the Binghamton Devils in 2019-20. In total, he's played 52 NHL career games with the Devils. 
That Anderson – who's now 22-years-old and was a third-round draft pick in the 2016 NHL Entry Draft – signed a three-year contract could turn out to be a huge win for the Maple Leafs if he develops the way the organization believes he can. Anderson was the last restricted free agent remaining that the Maple Leafs needed to sign. That puts the team at 46 contracts, and they can sign a maximum of 50.
Item Two: Maple Leafs Bring Back Michael Hutchinson One More Time
Talk about the devil that you know. Yesterday, the Maple Leafs announced that the organization had re-signed goalie Michael Hutchinson to a two-year, two-way contract with the team. If he plays in the NHL, his contract will be worth $725,000 per season.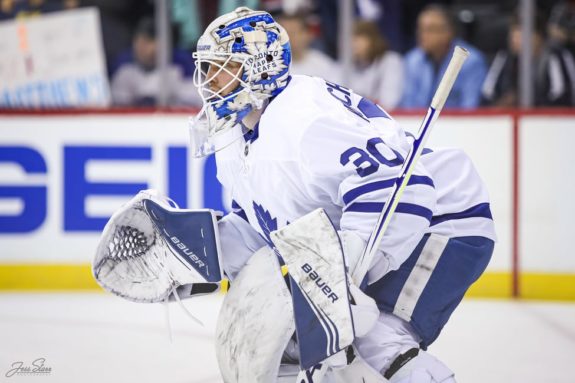 The 30-year-old Hutchinson began the 2019-20 season in Toronto; and, in total, he played 15 games with the Maple Leafs (with a save percentage of .886 and a record of 4-9-1) and four with the team's AHL affiliate the Marlies. He was traded to the Colorado Avalanche and played in one regular-season game with them prior to the regular season's suspension. He was also called upon to play four games during the Avalanche's postseason run. Actually, he played pretty well.
Because the Maple Leafs have also signed Aaron Dell during the offseason, Hutchinson will likely offer some insurance if Dell gets claimed off waivers. However, the signing I believe is so the Maple Leafs can set up well for the June 2021 Seattle expansion draft. As part of Hutchinson's signing, he also meets the requirements for the Draft. 
What I don't know about this signing is what it might mean for how the organization assesses its goalie depth. It wasn't the season the organization expected from its young goalies. Once projected as an organizational strength, I wonder if the goalie depth might have now become a concern.  
Specifically, Joseph Woll didn't look as strong as most expected he would during his season with the Marlies. In 32 games, he posted an 11-16-3 record, with a goals against average of 3.75 and a .880 save percentage. Ian Scott missed the entire season because he was injured. Although neither will soon be dismissed from the organization, it obviously was a bit of a concern for the organization and they sought help.
Related: Maple Leafs' Forgotten Ones: Glen Wesley
Of the four current goalies at the top end of the organizational depth chart, obviously Frederik Andersen will be the starter. Likely, Jack Campbell will back up with the Maple Leafs. And, Dell and Hutchinson will be with the Marlies.
There's nothing wrong with the Hutchinson signing because, given the goalie situation, having depth is a good thing. In short, he will slot in behind Andersen, Campbell, and newcomer Dell. He's not likely to play unless something goes terribly wrong.
What's Next for the Maple Leafs?
Now that Kyle Dubas has signed Anderson, he has a huge group of bottom-six forwards who come in all sizes and shapes and with a wide variety of experiences. But these players share two common characteristics – none of them make more than $2 million per season and most of them have something to prove.
Imagine the battles at the Maple Leafs training camp. Anderson will be competing with Nick Robertson, Travis Boyd, Egor Korshkov, Jimmy Vesey, Pierre Engvall, Alexander Barabanov, Denis Malgin, and Nic Petan for head coach Sheldon Keefe's blessing. Jason Spezza, Joe Thornton, and Wayne Simmonds will be on another level, but still will be in the mix. The practices might be as fun to watch as the games.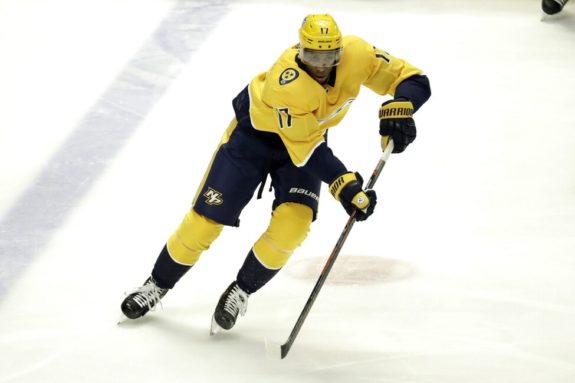 Obviously, not all these players will be in the lineup every game, and perhaps more than half will be either with the Marlies or wearing a tie in the press box. From the players' perspectives, it would have to be a bit frustrating; however, from an organizational perspective, it's a good situation.
Related: Maple Leafs News & Rumors: What Joe Thornton Would Bring to the Team
Dubas noted his reasoning when he said, "We need to be as deep a team as possible if we're going to reach the potential that we set. The battles in training camp and early in the season will be good to follow, and we're anxious to see how these guys compete against each other. I think it really starts now with what they're doing with their off-season, training and how they're working to set themselves up for a great camp."
Yes – it looks to be an exciting season for the blue and white. Now it just needs to start.
---
---