Playing just down the road from the White House has its perks for the Washington Capitals, a team whose ties to presidents date back to Ronald Reagan and right on through to the nominees in the 2020 election.
1982: Welcoming the All-Stars
In 1982, the Capitals hosted their first – and only to date – NHL All-Star Game, and as a bonus for the All-Stars, Washington's Dennis Maruk got invited along with his fellow All-Stars to 1600 Pennsylvania Ave. for a White House luncheon the day before the game.
"Ice hockey may once have been overlooked, but today, thanks to the dedication of many of you right in this room, hockey is beginning to get the attention it deserves," Reagan said, according to the Washington Post. (from 'All-Stars Get Lunch, Jokes at White House,' Washington Post, 02/19/1982)
Reagan even quipped to Wayne Gretzky of a possible trade to the then-struggling Capitals franchise.

"Rumor has it Wayne, that Washington has been trying to trade and get you. I asked what Edmonton is getting in return and they told me two first-round picks and the State of Texas."
1983: Tagging Along with the Islanders
The Capitals first got Reagan's notice in May of 1983, when he welcomed members of the New York Islanders, who had just claimed their fourth consecutive Stanley Cup. Appearing with the Islanders at the ceremony was Capitals' captain Rod Langway and owner Abe Pollin.
"Well, I think we know why we're gathered here, and that's to congratulate the Islanders from New York who won the Stanley Cup," he said, per the official transcript of the event. "And they have won it four times consecutively, four times in a row. The record, held by the Canadiens, a Montreal team, is five times in a row. And it would be awfully difficult for me to wish you the good luck of breaking the record when, in order to do that, you would have to beat the Washington Caps again."
The Islanders had defeated the Capitals 3-1 in the first round that spring, in Washington's first-ever playoff appearance.
1983: Langway Aids Reagan's shot
In September that year, back when the U.S. Olympic team barnstormed across the country and played NHL teams in preparation for the Olympics, the 1984 squad paid a visit to Washington on their road to Sarajevo. The Olympians paid a visit to the White House with several Capitals, including Rod Langway, Mike Gartner, and 1980 Olympian Dave Christian.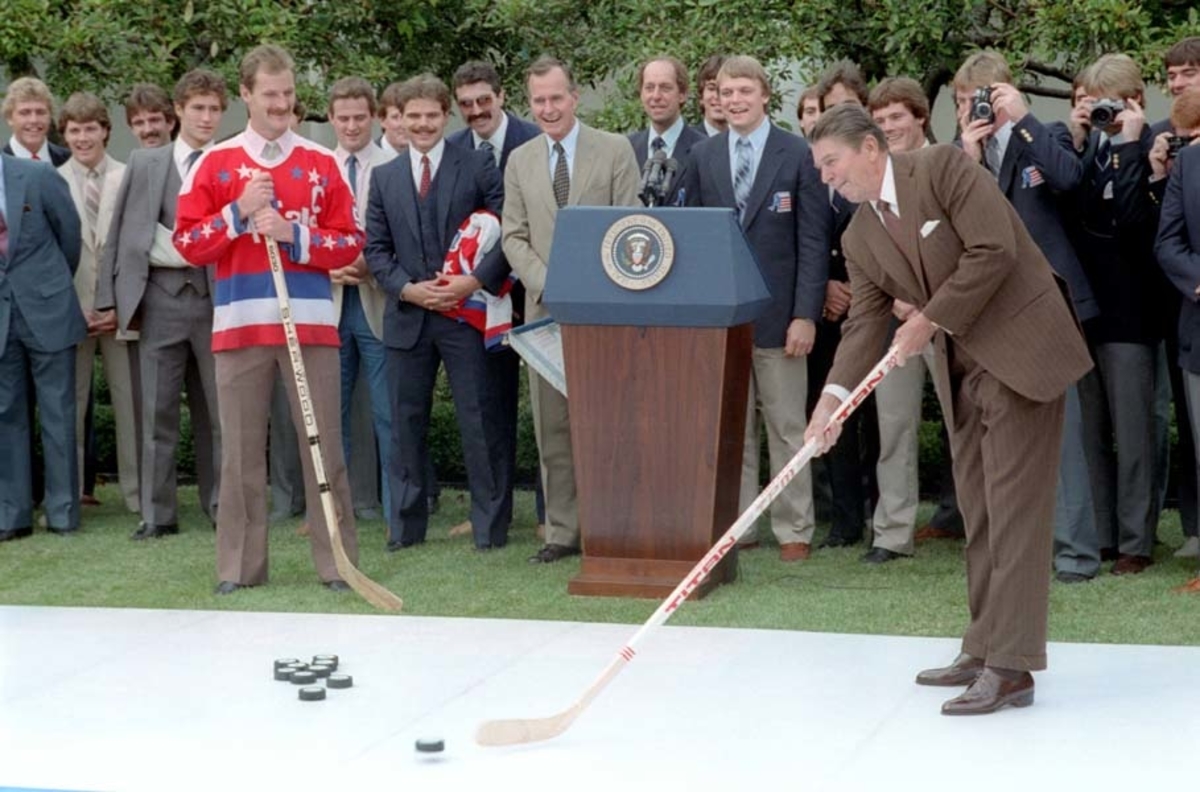 "The Capitals give Washington a very much needed team to cheer for," Reagan said, according to records. "And I want you all to know I follow your progress. Last year you were great. This year we hope you'll be even better."
During the event, Reagan took to the ice, shooting a puck on a synthetic sheet of ice on the Rose Garden on 1984 Olympian and future Capitals' goaltender Bob Mason, with help from Langway.
"Well, Mr. President, we hear that you were a pretty good athlete in your day — so, I think we're going to try a new sport for you," Langway told Reagan. "And I'd like to show you how to shoot a puck, if I can shoot one."
"This is Gretzky's stick. He's got a lot of goals with it, so I'm sure you… It's like sweeping dust off the ice. That's all you do."
Reagan was successful on his first try and quipped, "You will never see me hit another puck again as long as I live."
1987: Reagan Takes His shot at Peeters
Four years later, on Sept. 24, 1987, when the 1988 Olympic team was in town to play the Capitals in Landover during the NHL's preseason, both teams paid a visit to 1600 Pennsylvania Ave.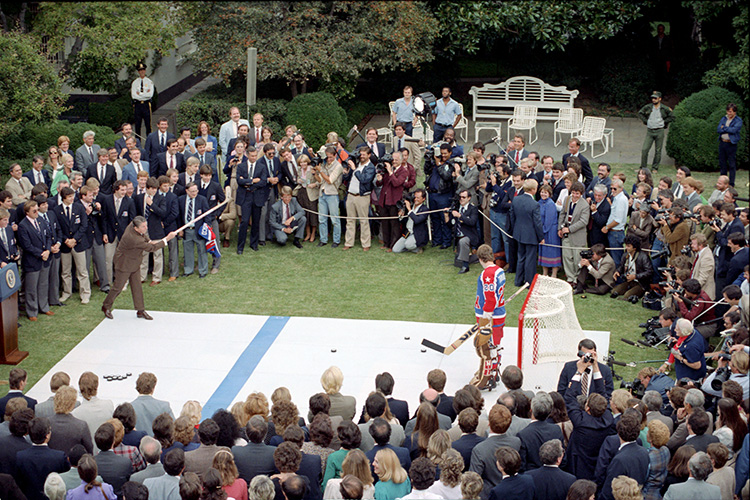 And, like many political promises that go unfulfilled, Reagan got back on the ice to take shots at Capitals' netminder Pete Peeters on the synthetic ice with assistance from Christian. 
"Now, I'm told that this year we're going to have another display of hockey expertise out here in the Rose Garden," Reagan said at the event per the transcript. "The last time we tried that I was talked into hitting a puck, and I actually got it by the goalie for a score. At that time, I made my famous Shermanesque declaration: 'You will never see me hit another puck again as long as I live.' And I was very firm about that. In fact, I think I told somebody my feet were set in cement on that issue. So, the sound you are about to hear is that of cement breaking up around my feet."
Peeters stopped Reagan's first two shot attempts, before the president was able to sneak a shot in the net, all while using a stick manufactured by the Christians' Minnesota-based company.
1988: Nancy Reagan Takes the Ice
Later that same season, First Lady Nancy Regan paid a visit to a sold-out Capital Centre in on March 25, 1988 as part of her "Just Say No to Drugs" campaign, taking the ice just after the first period along with NHL President John Ziegler, 30 skaters, one of which was dressed as Snoopy.
Aided by Langway and Flyers captain Dave Poulin, she was able to score on two of three shots on Peeters, besting her husband's effort a few months earlier.
″Athletes are very important role models for our young people,″ Mrs. Reagan said, according to AP. ″I'm very grateful for all of their help.″
2019: Capitals Finally Part of an Annual Tradition
While the annual tradition of the Stanley Cup winner visiting the White House began in 1991 with the Pittsburgh Penguins visiting George H.W. Bush, Washington defenseman Mike Green was part of the 2011 Chicago Blackhawks' visit. His reason for doing so was to help promote First Lady Michelle Obama's "Let's Move" campaign and taking part in a street hockey game along with Chicago's Patrick Sharp.
And, in 2019, the Capitals got their turn to visit the White House while bringing the Stanley Cup in tow, visiting Donald Trump.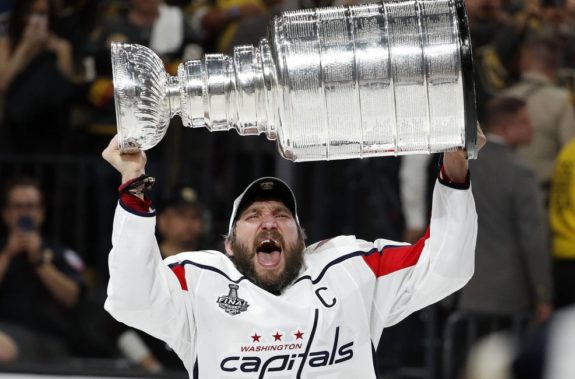 "You brought the Stanley Cup home," Trump said via AP. "Thousands of adoring fans greeted you. They were all over the place. And I have a feeling you're going to be doing it again. You're champions. You have a champion's heart."
1998: Clinton Makes NHL History
The presidential attention hasn't just been a one-way street, however. In 1998, Bill Clinton became the first — and only — sitting president to attend an NHL game on Memorial Day, as the Capitals hosted the Sabres in Game 2 of the Eastern Conference Final.
"It's much more exciting in person, even than on television — no offense to ESPN," Clinton told ESPN's Brian Hayward during the broadcast, according to the Washington Post. (from 'CLINTON JOINS THE CAPITALS GANG,' Washington Post, 05/06/1998) "I'm having the time of my life. I love this. It's fascinating."
Vice President Dan Quayle attended a handful of Capitals' games during his term from 1989 to 1993.
Al Gore also attended several Capitals games as Senator from Tennessee, and as Vice President, attended the first-ever Capitals game at then-MCI Center in December 1997.
2020 Candidates and the NHL
As for the two major party candidates vying in this year's election, Trump attended several Rangers games at both Madison Square Garden and Prudential Center before taking office. Meanwhile, Joe Biden has attended several Flyers games in Philadelphia, including the 2010 Stanley Cup Final as Vice President, as well as a Capitals' visit in 2016. Even third-party candidate Brock Pierce has a connection to the game, playing a young Gordon Bombay in the 1992 film "The Mighty Ducks."
Whatever the result of Tuesday's election, the connection between the White House and the local NHL franchise is strong, even as they look for a return visit in the near future.
---
---