"I'm glad I got drafted first, because no one remembers number two."
That quote, recklessly spilling out of the mouth of Alexandre Daigle after he was selected first overall at the 1993 NHL Entry Draft in Quebec City, has clung to him like perfectly cooked spaghetti to a fridge door.
People do remember number two. It was Chris Pronger, who is in the Hockey Hall of Fame. Some even remember Chris Gratton, selected third, who played more than 1,000 games in the NHL. Paul Kariya was number four. We remember him, too. And many even remember fifth pick Viktor Kozlov, whose pro career in the NHL and KHL spanned 25 seasons.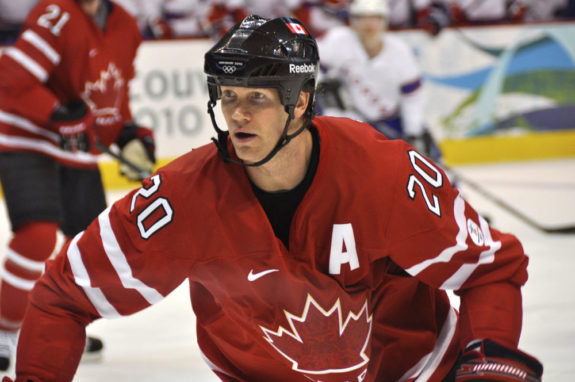 Daigle was a can't miss prospect. By Christmas time, 1992, it was almost a stone-cold, lead-pipe lock that the Ottawa Senators finished with the worst record in the NHL and earn the number one pick. It was also the time for Senators fans to get a good look at Alexei Yashin, who was selected second overall in 1992 by Ottawa, and Daigle, who would undoubtedly be the first overall pick, at the 1993 World Junior Championship.
Stacked Roster for Team Canada
The Team Canada roster was filled with future NHLers. Pronger, Adrian Aucoin and Mike Rathje anchored a big and mobile blue line. Daigle was joined up front by players like Gratton, Kariya, Rob Niedermayer, Dean McAmmond, Martin Lapointe and Jason Dawe. Manny Legace was in goal.
But no matter how many stars were on the team, all eyes were on Daigle.
Senators fans already had the chance to see Yashin in action the previous year. Yashin helped the Commonwealth of Independent States to the gold medal. The team played under that name as the Soviet Union officially dissolved on Boxing Day, 1991, which was the day the tournament began.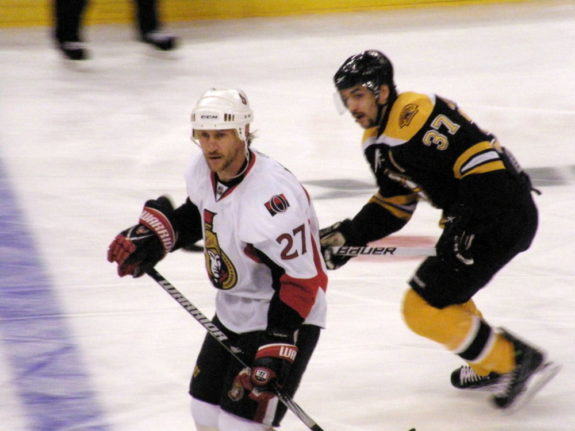 Yashin had four goals and two assists in seven games but was overshadowed in the tournament by another future Senator, Alexei Kovalev, and defenceman Darius Kasparaitis.  The CIS won the round-robin tournament ahead of Sweden, which had the tournament's four leading scorers in Michael Nylander, Peter Forsberg, Markus Naslund and Mikael Renberg.
Despite the 10-point performance of prodigy Eric Lindros, Canada finished in sixth place.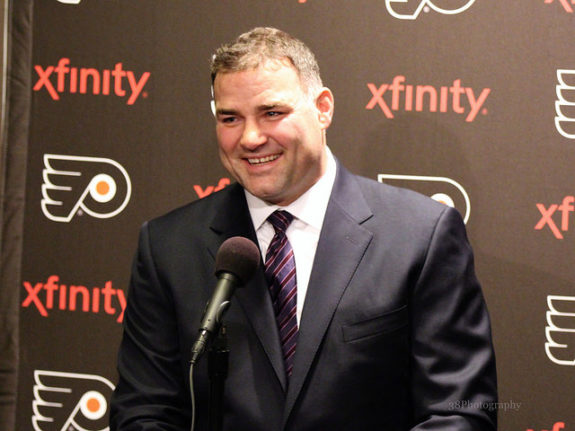 Perhaps Daigle's hype was a result of the buzz that surrounded Lindros. "The Next One," as he was often called then, sold out junior arenas across the country and helped put the World Junior Championships on the map in Canada. The popularity of Lindros was a huge factor in TSN's commitment to broadcast every Canada game at the WJC in 1991.
Daigle was seen as the next big can't miss star and was following Lindros into Canada's hockey hype machine. He was a different player than Lindros was. Daigle was fast and fancy. Lindros was big, strong, tough and could hit as well as score. Looking back, there was no way Daigle could have lived up to the hype.
Yashin Impressed Sens
The Senators sent a full entourage of scouts and executives to Gavle, Sweden for the 1993 WJC. Player personnel director John Ferguson and scout Tim Higgins were in Sweden throughout the entire tournament to watch Daigle and Kozlov. Senators general manager Mel Bridgman and assistant player personnel director Jim Nill headed to Dusseldorf, Germany from Dec. 26-30 to watch the Europa Cup, a tournament of national champions. Yashin, who played for Dynamo Moscow, played with his team in the tournament before heading to Sweden to play in the second half of the WJC in Sweden.
At that time, the Senators, 36 games into their inaugural season, had just three wins. San Jose, however, was only two points ahead of the Senators. Daigle was "Plan A," and at that time, Kozlov, who was a teammate of Yashin's with Dynamo Moscow, was "Plan B." Both were identified by the Senators as franchise players.
An Offer They Couldn't Refuse, But Refused
As the tournament began, Daigle was front and center in the news in Ottawa for two reasons.
First, was his ejection from the second game of the tournament. In the second period of Canada's 5-4 win over Sweden, Daigle was tossed for cross-checking. He had been used sparingly in Canada's first game, a 3-0 win over the United States.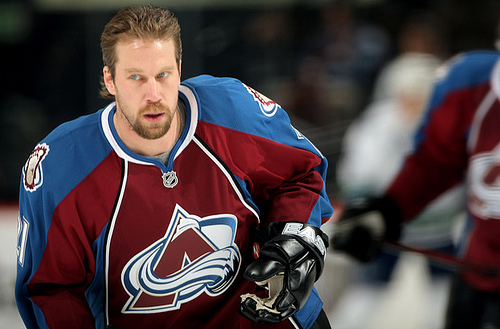 Secondly, the Quebec Nordiques, desperately wanted a young Quebecois superstar, were trying to put a deal together with the Sens for what would likely be the first pick. A multi-player package that included Peter Forsberg, Todd Warriner and Owen Nolan, as well as Quebec's first-round draft pick and cash, was reportedly on the table. The Senators wanted to hang onto the pick and the likelihood of landing Daigle.
It's almost tragic to look back on what could have been. Forsberg dominated the WJC like no player ever had. He and Markus Naslund remain the best one-two scoring punch for one tournament in WJC history. He was easily the best player in the tournament and was all but handed to the Senators on a silver platter. But with Daigle, they were thinking of a bilingual French Canadian kid who would be the face of the franchise both on and off the ice. It may have been the biggest mistake the team's personnel department ever made.
The Dec. 29 game between Canada and Russia put the two contenders to be the top draft pick against each other. Daigle downplayed the match-up, telling a media scrum, "It's not Alexandre versus Kozlov, it's Canada versus Russia."
Ferguson also downplayed the match-up, saying that the game would not determine who they picked first overall.
The game was the most anti-climactic match-up of the tournament. Daigle had a pair of assists and Canada throttled Russia 9-1.
The next day, it was a different story. Legace, who had been undrafted the previous year, made 58 saves as Canada stole a 3-2 win from Finland. Canada took a 2-0 lead but then Finland poured on the offense. Daigle thought scored the first goal of the game, but it was awarded to Martin Gendron.
The win meant that Canada had to win only two of its three games against Japan, Germany and the Czech and Slovak Republics.
Meanwhile, in Germany, Yashin was impressive for Dynamo as they played Malmo, Sweden for the gold medal. Yashin scored a goal on his first shift in the final, but his team lost in a nine-round shootout after the game ended in a 3-3 tie.
After the tournament, Yashin joined Bridgman and Nill as they flew to Stockholm and then traveled by train to Gavle. Yashin's presence and leadership changed the Russian team. In his first game, played on New Year's Day 1993, the Russians tied Finland 1-1. Before that game, the same ice saw Canada beat Germany 5-2. Daigle saw limited ice time but picked up an assist.
Canada Wins Gold
Canada clinched the gold medal the following day with an 8-1 win over Japan. The game was played at the arena in Hudiksvall, a fishing town of about 25,000 people. The arena had a pine interior and was described to be more like a chapel than a rink. A crowd of 625 fans saw the game.
 Yashin and the much improved Russian team lost to the United States 4-2.
Canada finished the tournament with a 7-4 loss to the Czech and Slovak team in what was a meaningless game. Daigle finished with two assists to finish with six points – all assists – in the tournament. Meanwhile, speculation among Ottawa pundits was that the Senators would likely do business with Quebec and stock their roster with talent. Forsberg, meanwhile, emerged as the star of the tournament. While everyone was watching Daigle and Kozlov, Forsberg had an incredible showing with seven goals and 24 assists for 31 points in seven games.
The rest of the story is well-documented. Both Yashin and Daigle joined the Senators the following season, and Yashin was the one who emerged as a franchise player. The Senators had given Daigle a unique contract that included marketing rights. One of his first big deals was with Pinnacle Brands. Daigle was the face of the company for their Score hockey card brand. As part of their "Guaranteed Scarce" marketing campaign, the company had Daigle dress in a nurse outfit for a magazine advertisement.
The attention and money given to Daigle created a bumpy relationship between Yashin and the Senators. He demanded three new contracts in his first five years with the club, and the Senators suspended him for the 1999-2000 season. At the 2001 NHL Draft, he was dealt to the New York Islanders for Zdeno Chara, Bill Muckalt and the second overall pick, which the Sens used to pick Jason Spezza.
Another ripple effect of the Daigle signing was the introduction of the draft lottery. Teams accused Ottawa of tanking the season, even though the expansion Senators really were a legitimate last place club.
As for the World Junior Championship, Daigle played for Canada in the 1995 tournament while the NHL players were on strike. He won a second gold medal, scoring two goals and adding eight assists for 10 points in seven games.
Daigle played 616 games in the NHL with 129 goals and 198 assists for 327 points. Yashin, meanwhile, played 850 games and had 337 goals and 444 assists for 781 points.
While Daigle may have claimed that no one remembered the second picks, Ottawa fans sure remembered Yashin during his good years in Ottawa. And they went on to remember Spezza and other second overall picks like Wade Redden, Dany Heatley and Bobby Ryan.
And who knows how Ottawa's history would have changed in 1993 if they had traded their first overall pick for Forsberg, Warriner, Nolan, cash and a first-round pick?
---
---
Jeff Morris has been a hockey writer for more than 30 years. He began his career working for small town newspapers in Eastern Ontario before becoming the editor of Canadian Sports Collector magazine in St. Catharines, ON. While there, he also freelanced as a Buffalo Sabres beat writer. Morris would move on to Dallas to become the NHL brand manager at Pinnacle Brands, Inc. From there, he worked in the sports trading card and collectibles division at Shop At Home TV in Nashville and Denver, and then moved to Seattle to be the VP of Marketing at Pacific Trading Cards, Inc. in Seattle. He had continued to cover the NHL as a freelance writer, and while in Seattle, he became a weekly hockey columnist for ESPN.com. During the 2005 NHL lockout, he returned to Ottawa and became a newspaper and magazine publisher and editor, and was also an NHL contributor for Fox Sports Radio. He also began covering the NHL for Hockeyology.com, and also covered the Ottawa Senators for his own publications. He went to Carleton University to study journalism, and graduated as the school's all-time scoring leader in football and was a conference all-star three times. He had several pro tryouts and played semi-pro football for 10 years while pursuing his career as an NHL writer. He remains involved in football as a coach and referee, and is a Canadian Football League off-field official.