The Buffalo Sabres have seen a lot of turnover at head coach in their 50-plus years of existence. Second-year man Ralph Krueger represents the sixth different head coach in just the last eight seasons. Ironically, one of the best coaches the team ever had was only around for parts of three-and-a-half seasons across two different stints: Ted Nolan.
Nolan's first two seasons in Buffalo — 1995-96 and 1996-97 — were marked by a fair number of both highs and lows and a whole lot of drama. But even a quarter-century later, those teams still elicit fond memories for Sabres fans.
Nolan's second stop in Buffalo in the 2013-14 and 2014-15 seasons was notable for the fact that the team was actively trying to lose games during that time. But the reason they brought him back was that he was so beloved in his first stint in the mid-1990s. While he only lasted two seasons the first time around, Nolan's teams quickly earned the type of moniker that every squad wants to be known for: The Hardest Working Team in Hockey.
Tasked With a Rebuild
The Sabres of the late 1980s and early 1990s were, simply put, good but not great. Buffalo made the playoffs eight years in a row from 1987-88 to 1994-95 but were bounced in the first round in all but one of those seasons. Another first-round exit after the lockout-shortened 1994-95 campaign brought about a full-scale rebuild.
Head coach/general manager John Muckler gave up coaching duties to move to the front office full-time. His replacement came in the form of Nolan, who had played in parts of three NHL seasons and was most recently an assistant coach for the Hartford Whalers.
The roster itself also saw sweeping changes: gone were big names like Alexander Mogilny, Dale Hawerchuk, and Grant Fuhr, to be replaced by less-renowned glue guys like Michael Peca, Randy Burridge, and Mike Wilson. Buffalo also traded away veterans Doug Bodger, Yuri Khmylev, and Dave Hannan in-season.
The 1995-96 season was also the last one played in the old Memorial Auditorium. It truly marked a new era for Sabres hockey.
Not Much Success, But a Whole Lot of Heart
Sabres fans were fortunate that two marquee stars still headlined the team: forward and team captain Pat LaFontaine and incomparable goaltender Dominik Hasek.
Despite no longer having Mogilny on his wing, LaFontaine was still one of the league's top scorers, notching 40 goals and 91 points in '95-96. Hasek, meanwhile, was coming off back-to-back Vezina Trophy-winning seasons, emerging as the league's best — and most exciting — netminder. While he once again led the league in save percentage (.920%), Hasek also had the most losses in the NHL (30) and saw his goals against average balloon from 2.11 to 2.83. Buffalo didn't provide their two superstars with much help — LaFontaine's 91 points were 33 more than the next-closest Sabre (Burridge with 58).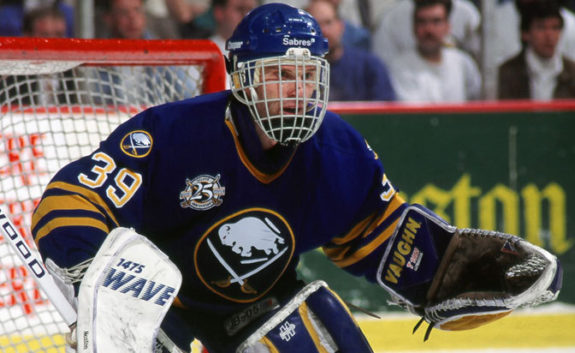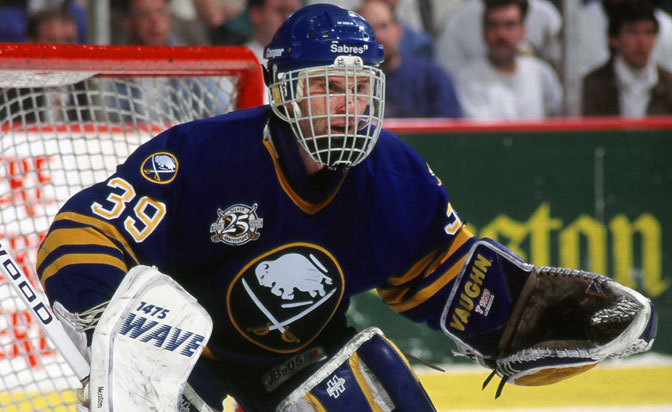 It resulted in the team's first playoff-less season in nine years, as the Sabres finished 11th out of 13 teams in the Eastern Conference with a 33-42-7 record for 73 points.
Despite the lack of team success, the '95-96 Sabres quickly endeared themselves to Buffalo fans. Understanding that the team lacked high-end talent, those who attended Sabres games saw how hard the team worked and how much passion they brought to the ice under Nolan's leadership.
The trio of Matthew Barnaby, Brad May, and Rob Ray racked up an incredible 917 penalty minutes by themselves, giving fans a show with their on-ice antics and nightly donnybrooks.
Elsewhere, young contributors like Peca, Derek Plante, Jason Dawe, Alexei Zhitnik, and Bob Boughner provided hope that the Sabres didn't remain down in the league's basement for long.
Defense Sparks Year 2 Breakthrough
The Sabres definitively entered a new era in the 1996-97 season: playing home games at the brand new Marine Midland Arena in downtown Buffalo and sporting new black and red sweaters with the now-classic goat's head logo.
The team on the ice also looked a lot different even from the year before. LaFontaine appeared in just 13 games in his final season as a Sabre, signaling the end of the team's high-flying offenses of years past and a shift towards a more defense-first approach.
This trend was felt league-wide as the NHL was about to enter the days of trap defenses and low-scoring games. In a three-season span, the average team goal total dropped from 258 (1995-96) to 239 (1996-97) to 216 (1997-98), a stunning change from the high-flying 80s and early 90s.
With a team that lacked offensive firepower — the Sabres were shut out a league-high 10 times — and a dominant goaltender, Nolan recognized that embracing a defensive mentality was the best way to win games. While he might not have had a lot of legitimate offensive threats — Buffalo's top scorer in '96-97 was Plante with 53 points — he had a bevy of forwards that were strong in their own end.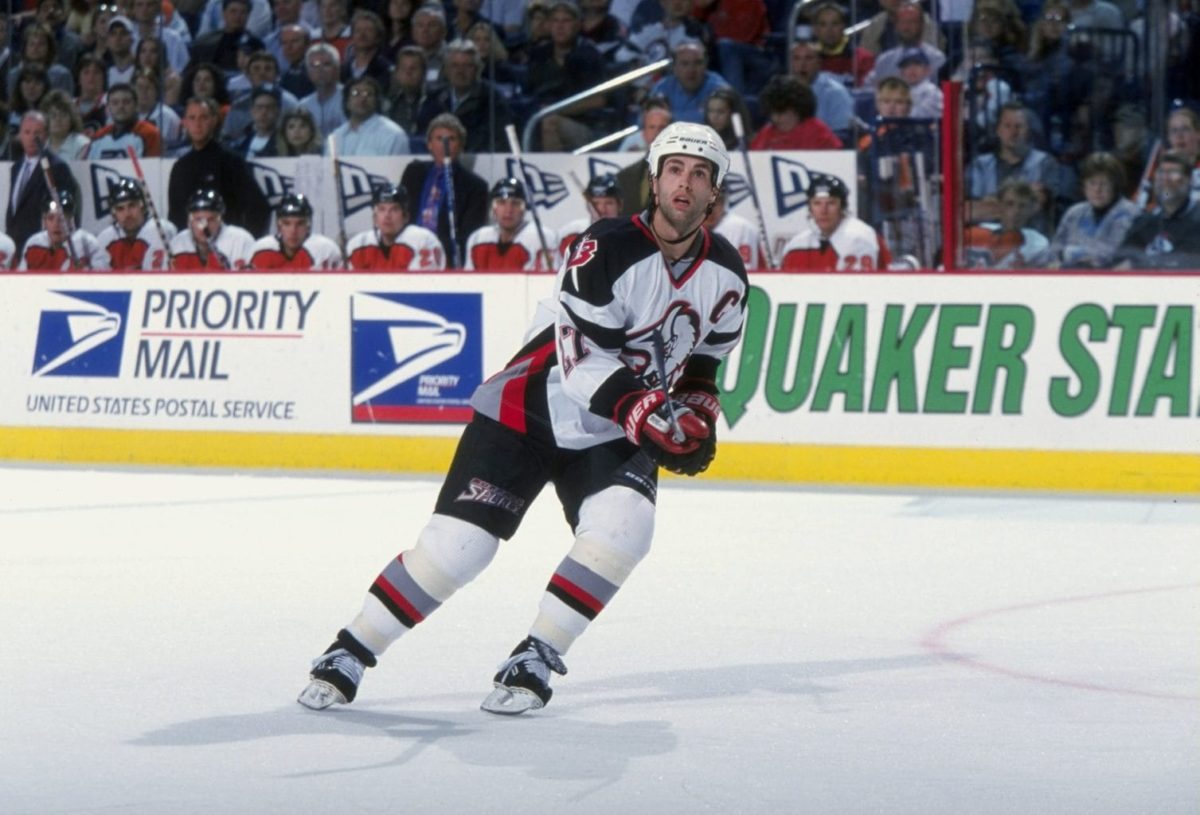 Peca was at the forefront, winning the Selke Trophy as the league's top defensive forward. But Buffalo also had the likes of Dawe, Michal Grosek, Dixon Ward, Brian Holzinger, and even Barnaby who had the type of two-way games that made Nolan's system work, not to mention stout stay-at-home defensemen like Richard Smehlik, Darryl Shannon, Wilson, and Boughner.
The Sabres also had an above-average penalty kill (83.8%) that scored a league-high 16 shorthanded goals.
Buffalo's average offense (13th in the NHL in goals) was more than enough to support an all-time season from Hasek. The Dominator not only won his third Vezina Trophy but became the first netminder since Jacques Plante in 1961-62 to win the Hart Trophy as league MVP. Hasek once again led the league in save percentage (.930%), finished tied for second in wins (37), fourth in goals against average (2.27), and tied for sixth in shutouts (five).
Because Nolan's style of play forced Buffalo to take risks on offense to score goals, Hasek was frequently left in vulnerable positions. Fortunately, those were the moments when the Czech legend was at his best.
It wasn't all sunshine and rainbows, however. Nolan openly feuded with both Hasek and Muckler, creating a deeply-divided atmosphere in a franchise that was trying to jumpstart a new era. By season's end, those divisions cracked wide open.
Drama-Filled Exit to a Great Season
Despite finishing the season on a 2-8-1 stretch, the Sabres' final record of 40-30-12 and 92 points was enough to clinch the franchise's first division title since 1980-81.
Buffalo met their division rivals the Ottawa Senators in round one of the playoffs. While the Sabres took a 2-1 series lead with a Game 3 victory, Hasek removed himself from the game after spraining his MCL. But there was suspicion among the media and even some teammates that Hasek was exaggerating his injury. After Buffalo News columnist Jim Kelley published an article questioning Hasek's toughness, the Sabres' goalie physically attacked the respected journalist after a loss in Game 5. Hasek received a three-game suspension and a $10,000 fine for the outburst.
With backup Steve Shields now in goal, the Sabres were able to defeat the Senators in a dramatic Game 7 on an overtime series-winning goal by Derek Plante, punctuated by a famous call from Sabres play-by-play man Rick Jeanneret.
But Hasek did not play in the Conference Semifinals matchup against the Philadelphia Flyers — headlined by the Legion of Doom line of Eric Lindros, John LeClair, and Mikael Renberg — with Shields assuming full-time starting duties. Unsurprisingly, the Flyers made quick work of the Sabres, dispatching Nolan's squad four games to one.
Blowing It All Up
Along with Hasek and Peca, Nolan and Muckler also earned postseason hardware: Nolan claimed the Jack Adams Trophy as coach of the year, while Muckler was named the league's top executive.
But Nolan's conflicts with both Muckler and Hasek proved to be unfixable. The Sabres fired Muckler as general manager and replaced him with Darcy Regier. After Regier offered Nolan a one-year extension that Nolan found insulting, he too parted ways with the franchise. The Sabres had made some dubious history by losing a general manager and a head coach who were both named the best in the league the previous season.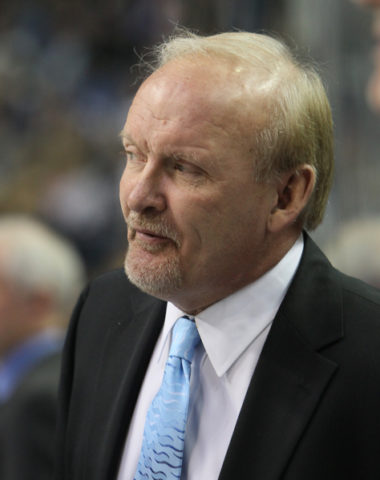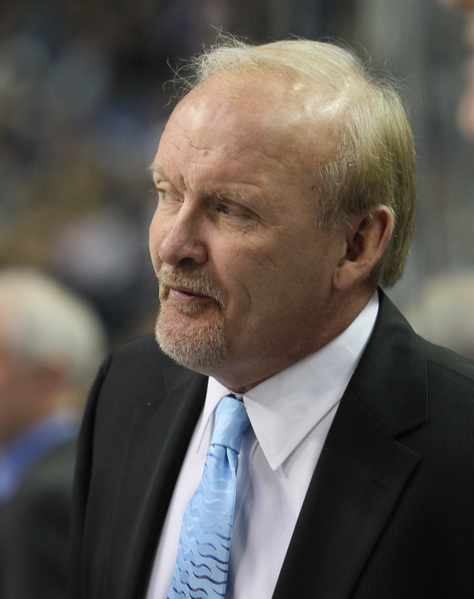 Former Sabre Lindy Ruff eventually replaced Nolan as head coach, and continued to lean on the defense-first mentality that Nolan established to lead Buffalo to the Conference Finals in 1998 and the Stanley Cup Final in 1999.
Nolan, meanwhile, came back to coach the tank-era Sabres teams for parts of two seasons (his son Jordan also played one season in Buffalo in 2017-18). His time in Buffalo was brief, and both of his short stints ended rather poorly. But the culture Nolan created produced some of the most memorable moments in Sabres history.
---
---