Christmas Day saw three interesting and exciting WJC matchups with victories by Slovakia, Finland, and Russia. Now, on Day 2, several teams will be making their debut, while teams like Germany and the United States will be looking to overcome losses the day before. Let's take a look at what to expect on Day 2. All games will be played at the Rogers Centre in Edmonton, Alberta, and all times listed will be Eastern.
Sweden vs. Czech Republic (2:00 PM)
Sweden: Team Preview
Czech Republic: Team Preview
The first game of Day 2 features two teams making their 2021 debut, a rematch of a quarterfinal matchup from the 2020 tournament. Sweden won that game 5-0 before falling to Russia in the semifinals and claiming bronze. This year, the Swedes will need to form a new identity as top youngsters like Nils Hoglander, Samuel Fagemo, and Rasmus Sandin have graduated. But Tampa Bay Lightning goaltending prospect Hugo Alnefelt did not graduate, and after a 2.12 goals-against average (GAA) and a .921 save percentage (SV%) in last year's tournament, he will be a tough matchup.
Though the Czech Republic will likely be underdogs in a tough group with Sweden, Russia, and the United States, they have a strong team this year, too. They will be led on offense by team captain Jan Myšák, a Montreal Canadiens second-round pick from this most recent draft. He joins Pavel Novak (Minnesota Wild), Jaromir Pytlik (New Jersey Devils), Adam Raska (San Jose Sharks), and Michal Teply (Chicago Blackhawks) as NHL-drafted forwards on the Czech team.
Either of these teams could get hot and provide a threat to the United States or Russia, who will both want to be top of Group B. But Sweden, who are the third-winningest nation in WJC history, will enter as the clear favorites. That doesn't mean the Czech Republic won't be a threat, though. This will be a fun one to watch.
Favorite: Sweden
Players to Watch: Hugo Alnefelt, G [TBL] (SWE); Jan Myšák, F [MTL] (CZE)
Germany vs. Canada (6:00 PM)
Germany: Players to Watch
Canada: Team Preview
Germany had a strong debut on Day 1 of the tournament, managing three goals against Finland but surrendering five. Forwards Florian Elias, a 2021 draft-eligible player, and Tim Stützle, the third overall pick of the Ottawa Senators this season, led the attack with a goal and an assist apiece. Tiefensee Arno allowed five goals on 50 shots facing a relentless Finnish attack. It will be interesting to see whether head coach Ernst Höfner will go back to him in a back-to-back after handling so much work.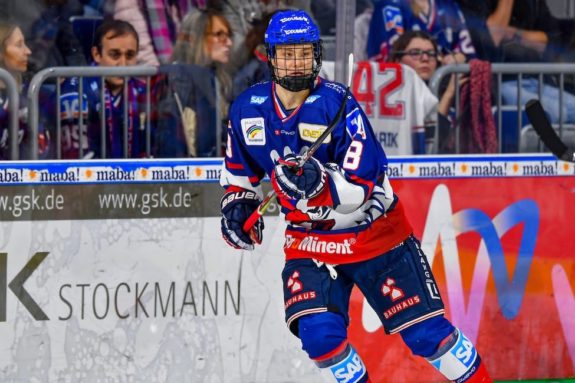 The host nation and betting favorites to win the entire tournament, Team Canada, will be making their debut in this matchup. Forced to deal with the sudden and shocking loss of team captain Kirby Dach, the Canadians have new questions to answer. They have plenty of forward depth, but will they have on-ice leaders who step up. Alternates Bowen Byram (a defensive prospect for the Colorado Avalanche) and Dylan Cozens (forward prospect of the Buffalo Sabres) will be looked upon to step up.
Cozens was seventh in last year's tournament with nine points, but none of the six players above him on the list returned in 2021. He will be a critical offensive piece for a team that has seen Alexis Lafrenière and Barrett Hayton graduate to the NHL. But he will have plenty of support in what is probably the strongest forward corps of the tournament.
Favorite: Canada
Players to Watch: Tim Stützle, F [OTT] (GER); Bowen Byram, D [COL], Dylan Cozens, F [BUF] (CAN)
United States vs. Austria (9:30 PM)
United States: Team Preview
Austria: Team Preview
The United States comes into this game needing to overcome a brutal defeat at the hands of the archrival Russians and their own mistakes. Spencer Knight, the 13th overall pick of the Florida Panthers in 2019, looked off in net, and ultimately got replaced in the second period after turning the puck over directly to a Russian forward who immediately scored. Dustin Wolf, a Calgary Flames prospect, took over, and he may well get the start against Austria, although the matchup offers a good chance to get Knight's rhythm back.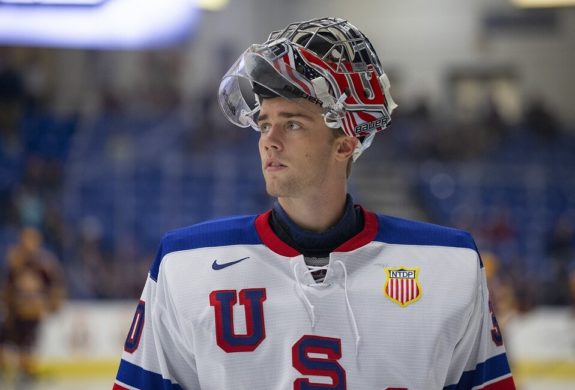 Even with their early struggles, the Americans enter as heavy favorites in this game and, with due respect to Austria, a defeat would be disastrous. Team Austria was promoted from Division 1 last year, meaning this is their first appearance at the top level of the tournament in a decade. They have lost the two goalies who helped carry them to the top in last year's tournament, and now have to deal with the devastating news that one of their two NHL-drafted players, defenseman Thimo Nickl, will miss the tournament because of a COVID-19 diagnosis.
That loss hurts them substantially, but they still have one bright spot: Minnesota Wild ninth-overall selection Marco Rossi, who has been a standout with the Ottawa 67's of the Ontario Hockey League. Though he scored 120 points in 56 games last season, he alone almost certainly won't be enough to topple the Americans. But he will be the team's primary hope in avoiding relegation back to Division 1.
Favorite: United States
Players to Watch: Spencer Knight, G [FLA] OR Dustin Wolf, G [CAL] (USA); Marco Rossi, F [MIN] (AUS)
Day 2 Summary
Day 2 of this year's tournament features three interesting matchups, but two that aren't likely to be close. Canada and the United States should both be heavy favorites, and a loss for either one would be a shocking upset. Sweden is a clear favorite as well, but they have a more compelling matchup with the Czech Republic. The WJC can get away from a team very quickly if they have a bad start, so the United States especially needs to make a statement on Day 2 in order to right the ship after a rough loss against Russia.
All the 2021 World Junior Championship Team Information:
Austria — Team Preview — Roster
Canada — Team Preview — Roster
Czech Republic — Team Preview — Roster
Finland — Team Preview — Roster
Germany — Team Preview — Roster
Russia — Team Preview — Roster
Slovakia — Team Preview — Roster
Sweden — Team Preview — Roster
Switzerland — Team Preview — Roster
USA — Team Preview — Roster
Selection Camp Invites by NHL Team
Draft Eligible Players to Watch
One Player to Watch for Each World Junior Team
7 Predictions for the 2021 World Junior Championship