When the final buzzer sounded in Game 3 of the relegation round for the 2020 World Junior Championship, Team Germany breathed a sigh of relief. They had relegated Kazakhstan back to Division I in the International Ice Hockey Federation (IIHF). Germany pummeled Kazakhstan 6-0 to sound their battle cry: "We belong here!"
2019-20 was Germany's first year playing back in the top division as it's known in the IIHF. Only the best teams in the world compete in such a division: Canada, United States, Russia, Sweden, Finland, Czech Republic, and Slovakia are all the mainstays. In recent years, Germany has boasted some of the premier talent drafted into the NHL, including Leon Draisaitl (Edmonton Oilers), Tim Stutzle (Ottawa Senators), and Moritz Seider (Detroit Red Wings), who were all drafted within the top 10.
Germany was hoping to build off of the momentum they had gained last year, but unfortunately, eight players have now tested positive for the coronavirus, which has forced the team to adjust their roster on the fly. However, with minor adjustments due to the virus, Germany is forging ahead with a roster now consisting of 23 out of 25 players being draft-eligible in the 2021 NHL Entry Draft.
RELATED: 2021 World Junior Championship Team Germany Final Roster
Five players put Team Germany on their backs at least year's tournament, including Dominik Bokk, former captain Moritz Seider, Tim Stutzle, John-Jason Peterka, and Lukas Reichel. Some of their top players from last year have aged out of the tournament, while others are not allowed to compete due to the virus. This is going to put plenty of pressure on returnees Stutzle and Peterka. Although the roster is young, there is a tremendous amount of German talent that will no doubt share the pressure and workloads with the leaders.
1. Tim Stutzle
Stutzle is Germany's best player. Drafted third overall in the 2020 NHL Entry Draft by the Ottawa Senators, he collected 14 points in 13 games in the international U-18 tournaments. He also collected 34 points in 41 games for Adler Mannheim as a 17-year-old in the Deutsche Elite Liga (DEL), Germany's top professional league.
Stutzle will captain Team Germany in the absence of Moritz Seider after the Red Wings decided it's best that he return to Detroit for training camp.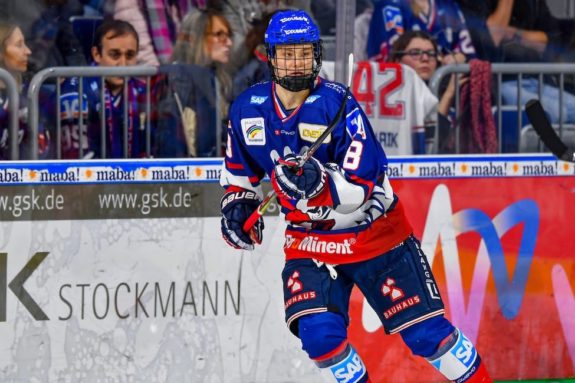 Stutzle missed eight weeks of practice at the beginning of October due to surgery to repair a broken hand. However, he has recovered in time for the tournament. He possesses game-breaking speed and edgework, and he glides effortlessly as if he's moonwalking across the ice. Instead of skating head-on into traffic, he prefers looping around the ice. He is a smart player whose ability to keep the puck on his stick through traffic is exceptional. He also tends to pass first, though he is not afraid to shoot the puck.
Stutzle needs to be Germany's best player for them to succeed at the WJC. He needs to be a leader in the locker room and on the scoresheet, and teammates will no doubt look to him for support.
2. John-Jason Peterka
J.J. Peterka (Buffalo Sabres) will also be relied on heavily by Germany, as he is one of only two returning players. He played well at the 2020 World Juniors and in international U20 tournaments, collecting 16 points in 17 games. He was relied upon heavily in the 2020 World Juniors when he scored six points in seven games. He began his DEL career as a 17-year-old in 2019-20 and did not disappoint, scoring 11 points in 42 games. He is currently playing in the ICEHL of Austria, where he has 16 points in 12 games.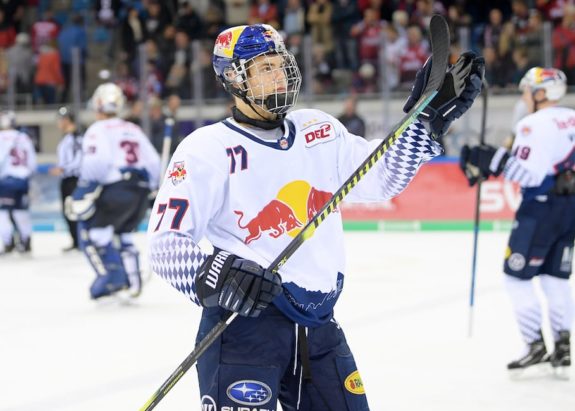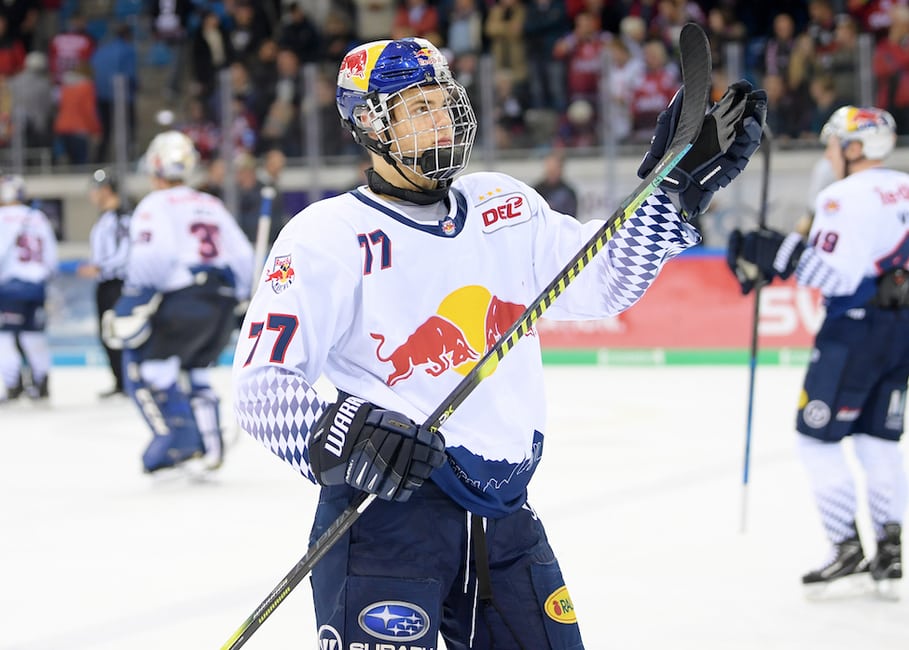 Peterka has a very high level of competition and is relentless when it comes to puck battles along the boards, sniffing out the puck like a bloodhound. He also has a bit of a mean streak and enjoys hitting and playing a hard-nosed style. He played exceptionally at last year's tournament, but the Germans will need him to take a huge step forward to lead the team with Stutzle.
3. Florian Elias
Florian Elias is an intelligent player who can be useful in all three zones. He has excellent edgework and, at only 5-foot-9, he has a low center of gravity. Elias plays a physical, bullish style, forcing turnovers.
His skating has an evasive style due to his edges and constant pivots, making him an unpredictable player when the puck is on his stick. Elias can skate just as well backward as forward. He shifts between forechecking and back-checking easily. Though he's known as a pass-first player, he collected 10 points in seven games during U-18 international Jr. games.
The same year in 2019-20, he produced 49 points in 30 games for Jungadler Manheim U20, Adler Manheim's junior team. Jeff Rea, a regional amateur scout for Switzerland, Austria, and Germany, has called Elias, "a takeaway machine," referring to his ability to strip the puck from the opposition. This season, he is signed with Adler Manheim's pro club and hopes to be a large part of Germany's success moving forward. If he puts in the necessary work on his shot and a little bit of improvement on his skating and offensive game, then Mannheim will appreciate his ability to quarterback their power play.
4. Joshua Samanski
Joshua Samanski is a member of the Owen Sound Attack of the Ontario Hockey League and is currently playing in the DEL-2 while the CHL season is on hold due to the COVID-19 pandemic. In 2018-19, he left his native Germany to play in the Ontario Junior Hockey League, where he recorded 25 points in 54 games. The following season, Samanski turned 17 and signed with the Owen Sound Attack of the OHL, where he recorded 20 points in 54 games.
Samanski is a 6-foot-3, left-handed centerman with a booming shot who will be able to fire bullets from the point or quarterback the power play. He is a two-way player who does all the little things well and without much flash, rarely making mistakes. Owen Sound and Team Germany believe he has much more offensive ability than he has recently shown.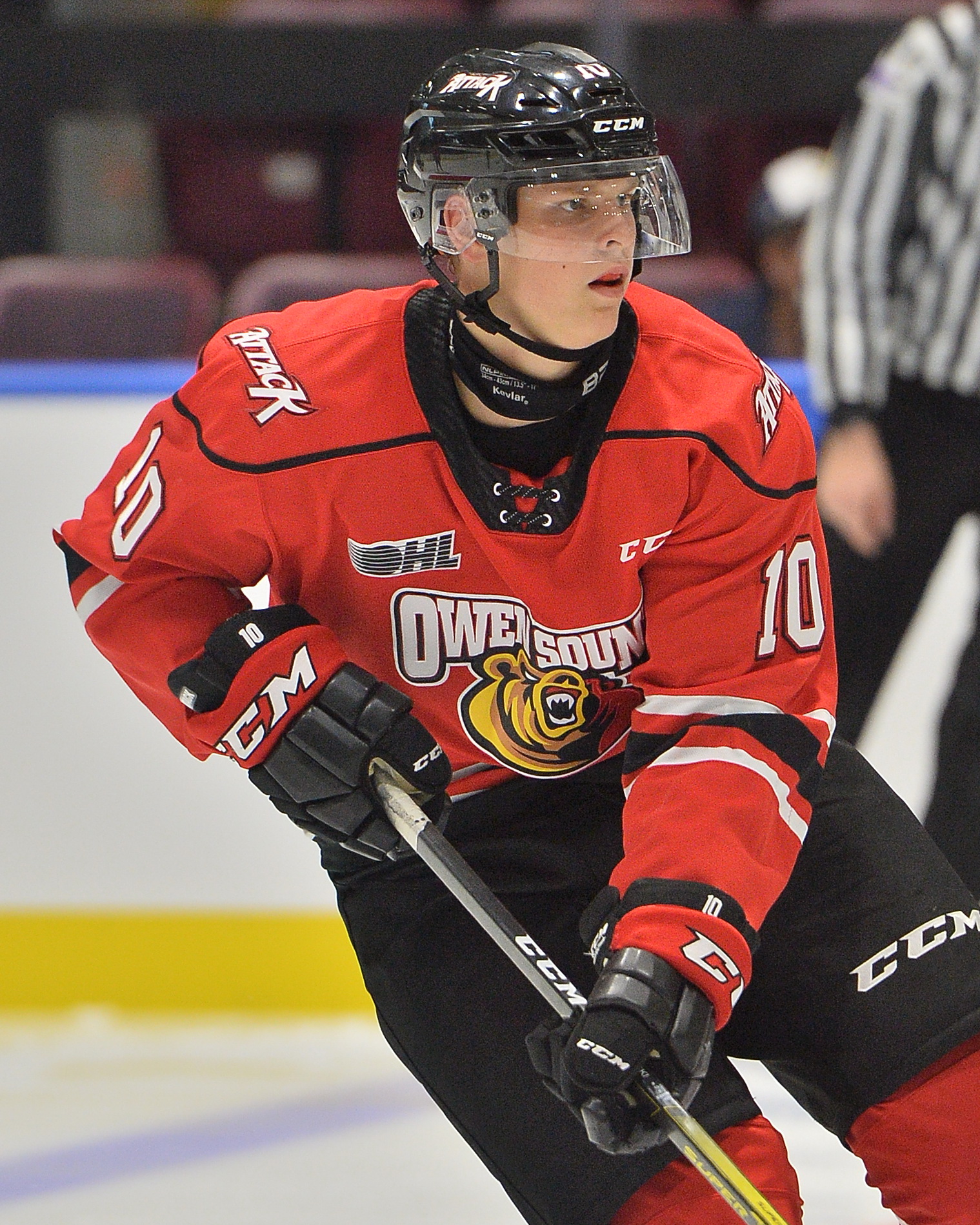 His abilities were on full display in 2017-18 with Jungadler Manheim's U-16 team when Samanski scored 106 points in 36 games. He has plenty of skill to work with, and Germany will need the best from all their two-way players.
5. Steven Raabe
Steven Raabe is a 5-foot-9, offensive defenseman who weighs 159 pounds, and he is the most intriguing player on this list. He only played two games for DEL Grizzlys Wolfsburg in the 2019-20 season before being loaned to the Hannover Indians on 10/10/20.
After the season ended, Raabe needed hip surgery during the summer of 2020 from an undisclosed injury sustained during the season. Hip surgery is usually a death sentence for a defenseman's career. But now that he is fully healed, he is ready to begin where he left off in the DEL when their season resumes. Before he made the jump to the DEL, Raabe put up ridiculous numbers in the DEL2, with 195 points in 96 games.
Grizzly's coach Pat Cortina said he is "very happy" with how Raabe has recovered from surgery, acknowledging that this tournament is a significant opportunity to show what the young defenseman can do on the world stage.
An Exciting Time for Germany
Despite the setbacks, Germany has exciting players who should help them avoid relegation in the 2021 WJC. They may even surprise some with Tim Stutzle at the helm and bring a medal home to Germany's budding hockey hotbed.
At last year's tournament, Germany was one of the most interesting teams to watch, and nothing has changed. We are only now seeing an increase in German hockey players in the NHL, so the fact that there are so many draft-eligible players on the team is really exciting. The country has plenty of hidden gems because it is under scouted. This is a team that should be on every hockey fan's radar.
---
---