In a warm-up game for the 2021 World Junior Championships, Slovakia played the Czech Republic and was unceremoniously routed, 6-0.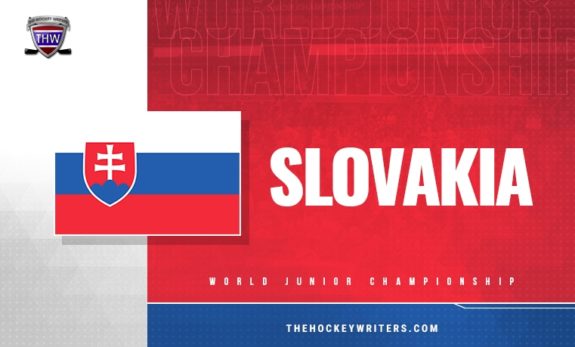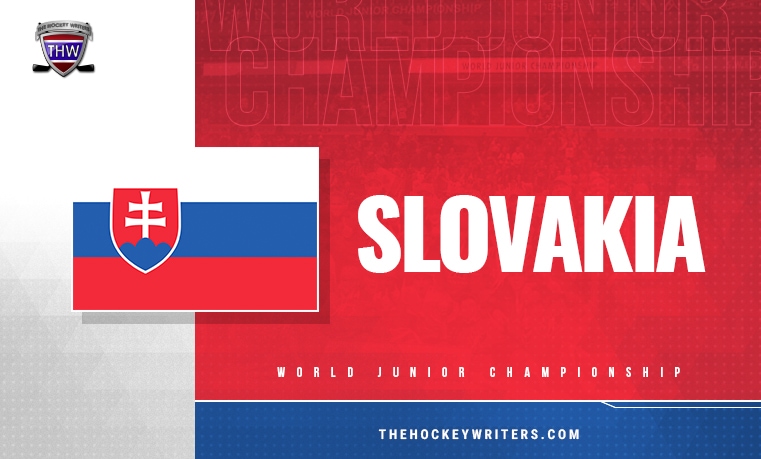 It's very easy to overreact to this game, but there is one truth from the game that is absolute. Slovakia needs captain Samuel Knazko to step up and play better. He was a major contributing factor to this loss. Forget winning a game or capturing a medal – if Slovakia is to remain competitive at all in this tournament, they need more from Knazko. They need him to be their best player on the ice.
RELATED: Samuel Knazko – 2020 NHL Draft Prospect Profile
The Slovaks were unable to effectively clear their own zone for much of the game. This left Knazko unable to be the effective offensively-capable defender that he is known for being. Across the board, the Slovaks struggled to complete passes and make plays that would allow them to gain any momentum on the ice. Their defensive zone play was often at best erratic and at worst, panicked. Knazko, for his part, did not do a lot to help this situation.
The Turnover
Knazko was caught dreadfully out of position and turned the puck over leading to the odd-man rush that created the second Czech goal.
As advertised, Samuel Knazko (20) (#CBJ) gets caught in a pinch, which leads to an odd-man rush.

He's got solid offensive drive, but gets caught in the play, often. pic.twitter.com/EWb0wCEycg

— Dave Hall (@hall1289) December 24, 2020
He has to be more aware in this situation, as his team was in the process of executing a change. The odd-man rush catches fellow defender Marko Stacha completely off guard and the Czechs went on to get themselves an easy goal. In watching film of Knazko from his draft year, this was a flaw in his game. His willingness to venture deep into the neutral zone to disrupt transition play can sometimes backfire on him. As a leader on his team, Knazko has to show more situational awareness and recognize the on-ice situation.
The Ejection
Knazko is going to have to lead by example with hard work in the defensive zone to get control of the puck. The Czechs dominated possession and shot differential for almost the entire game. As the captain, it's going to fall to Knazko to set the tone for his team. That could have been what he was trying to do when he went in for a big hit on Martin Lang with 6:38 left of the third period.
Samuel Knazko gets 5 and a game misconduct for hit to the head. pic.twitter.com/LosbK1YE9u

— Here's Your Replay ⬇️ (@HeresYourReplay) December 24, 2020
There was some debate among the commentators about head contact. The IIHF is very zealous in the enforcement of head contact rules. Knazko's helmet bumped Lang's helmet resulting in the former being sent off for a five-minute major and game misconduct for hit to the head. If Knazko is going attempt to set a physical tone like that, he needs to be clean about it, and he needs to do it in the first or second period when the game is still in reach. Going for that type of hit with 6:38 left of a 5-0 blowout is dubious.
Can He Be "The Guy"
Knazko's offensive-zone effectiveness has been the hallmark of his game. However, in order for him to get time to work in the offensive zone, he's first going to have to work in the defensive zone. As he has developed in the Finnish U20 league, Knazko has shown the ability to protect the puck with his skating ability, and allow breakout plays to develop. He has also shown skills in taking pucks away from opposition in his zone. Those capabilities are what Slovakia needs to see more of.
Puck management is going to be key going forward. Knazko has the tools to be the general who surveys the ice in front of him and orchestrates transitional offense. When Slovakia did get into the offensive zone, it was very seldom with any kind of organization or sense of purpose. Lone forwards taking desperation shots on net is not going to score goals in this tournament.
Slovakia needs to work the puck back to their defenders in the neutral zone and then move forward. Some of the most talented players on the Slovak team are defenders. It's up to Knazko to lead by example be the guy who gets things going. He is the captain and he has the best toolbox of skills to get it done. If he doesn't, I'm not sure anyone else on the team can.
---
---
Jack Dawkins is a freelance scout, analyst and avid watcher of "way too much hockey." He has joined The Hockey Writers team to cover all things Washington Capitals, New Jersey Devils, Minnesota Wild, Los Angeles Kings, Arizona Coyotes and Florida Panthers. He's an absolute data hound and loves using stats and analytics to calculate and extrapolate data for analysis.