The 2021 World Juniors continue on Monday following the quarterfinals on Saturday. Canada, USA, Russia, and Finland all punched a ticket to the semifinals while Sweden, Czech Republic, Slovakia, and Germany all packed their bags.
If we're going to talk about Team Switzerland, their tournament went just about how I expected it would. With only five returning players from last year's team, I expected their lack of experience and stardom to catch up to them — it did. Despite a late rally effort against the Germans and managing to keep the Slovaks within one on Christmas Day, the Swiss failed to win a single game in the tournament and simply couldn't keep up with the big fish in the division like Canada and Finland.
Even though they didn't have the wins to show for it, this year's tournament shouldn't be looked at as a failure for Switzerland. First of all, because of the COVID-19 pandemic, there's no relegation tournament this year. The Swiss won't have to worry about playing to maintain a spot for next year's World Juniors, which gives the younger players the opportunity to come back with a year of experience under their belts. Now that the Swiss have gone home, let's take a look at some of the key players from this year's tournament.
MVP – Thibault Fatton (G)
This was a clear cut choice for me. The Swiss had a hard time scoring goals this year that ultimately led to a last-place finish in Pool A, but Thibault Fatton did everything he possibly could to keep his team in it. His stats from the tournament don't jump off the page at you, but rest assured if he wasn't in net for three of the four games, it would have been a much uglier outcome.
His best performance arguably came against Team Finland, where he stopped 39 of 43 shots in a 4-1 loss. It's probably worth noting that the Finns outshot the Swiss 43-14. It's also probably worth noting that three of the four goals he allowed came on the power play. He also stopped 31 of 32 shots in their 1-0 loss for the tournament opener against Slovakia, and 20 of 24 against Germany in a 5-4 loss.
The only game he didn't start was against Team Canada, with Noah Patenaude getting the nod instead. And that game ended in a 10-0 loss for the Swiss. Having said that, we're talking about a Canada team with 20 first-round picks that could be argued as the one of the best teams we've seen in years. So, we can't say for sure if having Fatton in net would have changed the Swiss' fortunes at all. In the end, though, he was definitely the team's MVP through the four round robin games.
Biggest Surprise – Dario Allenspach (F)
Heading into the tournament, we all knew that the Swiss weren't going to be an electric team offensively. Having said that, I fully expected captain Simon Knak or one of the other returning forwards like Joel Salzgeber or Gaetan Jobin to carry the bulk of the Swiss' offense. Instead, the team's leading scorer at the end of the round robin was 18-year-old forward Dario Allenspach.
For a team that got shutout in half of the games they played, it was tough to find any sort of offense on the team. And while Allenspach didn't score any goals, he was more involved on the scoresheet than anybody else, finishing with three assists in four games
He assisted on Attilio Biasca's goal against Team Finland, which ended up being their first goal of the tournament, and added two assists in the Swiss' 5-4 loss against Germany in the final game. Like I said, there wasn't really that much to choose from in terms of surprises this year. But I certainly didn't have Allenspach leading the team in scoring in his debut at the tournament. I think he could be a vital piece to their offense if the Swiss come back with a stronger, more experienced team next year.
Biggest Disappointment – Simon Knak (F)
I didn't want to pick a biggest disappointment for the Swiss this year. I really didn't. As I've mentioned so many times, we're talking about a team that only had five returning players from last year and had to compete with two of the best teams in the tournament in Canada and Finland. But with that being said, I expected a little bit more from Simon Knak.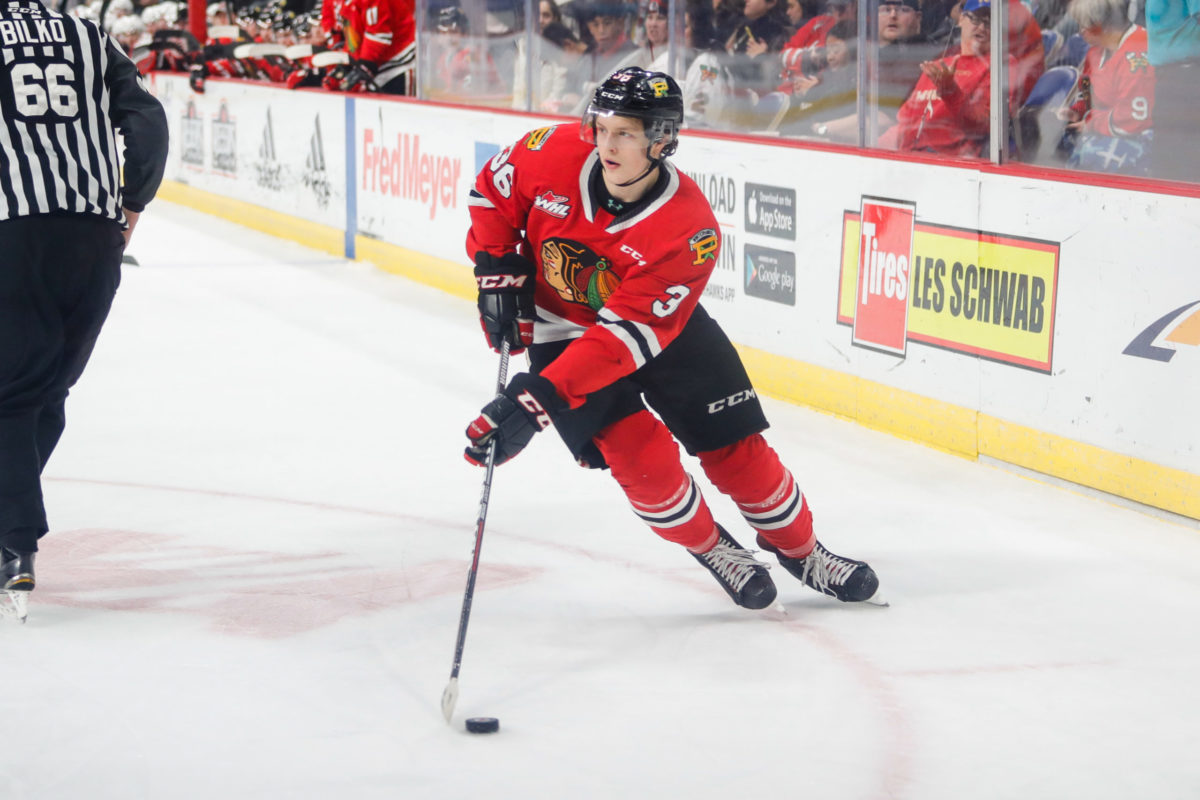 He finished last year's tournament with two goals in five games, and he was named team captain for the 2021 tournament. As so many of the Swiss players did, Knak struggled and finished with only one goal in the four games. Again, I feel bad picking a "biggest disappointment" on this team because it's not like there were many expectations for them to begin with. However, as team captain, I was definitely expecting Knak to put the team on his back to an extent and help carry the bulk of the offense.
But when teams are playing you as hard as Canada and Finland did, it would be hard for anybody to produce. Since this will have been Knak's last time representing the Swiss at the World Juniors, I imagine it certainly didn't go the way he would have wanted it to. But sometimes life deals you a crappy hand of cards, and in this instance the crappy hand was an inexperienced team.
Overview
All in all, and like I've said so many times, this shouldn't be a tournament the Swiss sulk over. They did just about everything they could with the roster they had, and they'll have a year to regroup and come back stronger.
All the 2021 World Junior Championship Team Information:
Austria — Team Preview — Roster
Canada — Team Preview — Roster
Czech Republic — Team Preview — Roster
Finland — Team Preview — Roster
Germany — Team Preview — Roster
Russia — Team Preview — Roster
Slovakia — Team Preview — Roster
Sweden — Team Preview — Roster
Switzerland — Team Preview — Roster
USA — Team Preview — Roster
Selection Camp Invites by NHL Team
Draft Eligible Players to Watch
One Player to Watch for Each World Junior Team
7 Predictions for the 2021 World Junior Championship
---
---
Alex Hobson is a writer and a radio producer for 610 CKTB. He has been writing about sports since 2015 and has been with The Hockey Writers since October of 2020. He covers the Toronto Maple Leafs, World Juniors, and the NHL Entry Draft, and is also part of the Sticks in the 6ix Podcast, presented by THW. He also makes weekly appearances on THW's Maple Leafs Lounge Roundtable. For interview requests or any other inquiries, you can follow Alex's social media pages listed at the bottom of his articles like this one.