It's finally here, the start of training camp for the shortened 2020-21 season and general manager Marc Bergevin has put together probably the best team that Habs fans have seen in a long time. The World Junior Championship is into the medal rounds, with multiple Canadiens prospects are still in the hunt for gold, and Zdeno Chara could have been a Hab. Here are this week's news and rumours.
Canadiens' Training Camp Starts
The Canadiens training camp has started, and the battles for positions should be heated. Veteran wingers Paul Byron, Jordan Weal, and Joel Armia, along with rookies Jake Evans and Ryan Poehling – centers – will be battling for spots on the bottom six. Added to this mix are newly acquired players Corey Perry and Michael Frolik.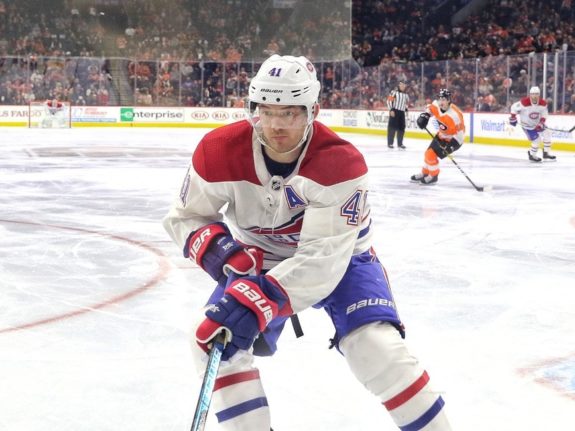 With five wingers essentially battling for two spots and the Canadiens being $1.1 million over the cap, it could just come down to money management. Byron has the largest cap hit of all involved; having him and Weal on the taxi squad would allow the Canadiens to be cap compliant. This would then lead to a small battle between Poehling and Evans for the 4th line center spot.
Related: Canadiens Get Grit & Experience With Corey Perry Signing
Another battle will be on defence, where Victor Mete, Brett Kulak, Noah Juulsen and Cale Fleury will try to win the final spot on the 3rd pairing. Mete and Kulak will probably have the inside track on making the team, but a good showing by Juulsen and Fleury could change all that. It looks to be the right spot that will need to be filled, and the latter two are both right-handed shots; however, Mete, and Kulak's experience will undoubtedly be the deciding factor.
World Junior Championship
The WJC is now in the medal rounds, with two of the three Canadiens prospects still hunting for a gold medal. Jan Mysak of the Czech Republic was eliminated by Kayden Guhle of Team Canada, while Cole Caufield's USA team eliminated Slovakia. Mysak had two goals and three points and was named one of the team's top three tournament players. Guhle had an assist in the 4-0 win over the Czech Republic, while Caufield had the game-winning goal in the win over Slovakia.
In the next round, Canada will play Russia, and the USA will play Finland to determine which two teams will play for gold; for Caufield and Guhle to be guaranteed a medal, both Canada and the USA must win. So far, all three prospects have had a successful tournament; Guhle has really stood out, scoring two goals – team lead for defencemen – and three points while also playing a sound defensive game. Caufield is also having an excellent tournament with two goals and four points.
Although Caufield hasn't been scoring like most thought he would, his play in the offensive zone has been excellent, and he's providing offence and helping control the play; his two-way game has improved as well, showing he can backcheck and isn't just one dimensional. It will be interesting to see how it all plays out.
Zdeno Chara Almost a Hab
There was a rumour going around that Bergevin considered signing Chara to add to the Canadiens defence. If this was true, it shows that Bergevin is still looking for depth to improve this team. He already recently added Frolik and Perry to help with the young forward group he put together. Now it looks like he wanted to add a big veteran presence to the blue line.
It will be interesting to see if Bergevin tries to go out and get another defenceman on a professional tryout (PTO) or make a trade for one. Being over the cap, Bergevin will have to move someone if he wants to stay $1.5 million under the cap; moving someone to free cap space usually doesn't mean they want someone back, so it will be interesting to see what develops between now and the start of the season.
That's this week's news, as I write this we are about ten days away from the start of the season and training camp has started. For now, we can sit back and watch how it all unfolds and see what might happen between now and the start of the season.
---
---