The Detroit Red Wings' rebuild is in full swing, and as things continue to take shape, questions remain around which parts of the current roster are integral pieces of the team's future. The coming offseason will offer even more cap relief than what the team already has, and that has created speculation over a potential big free-agent splash from GM Steve Yzerman.
But what if that splash, instead, comes from a trade?
Few have earned the "untouchables" moniker on the team, and in recent seasons, players who could conceivably help the team have been moved by management for draft picks. Yzerman has stockpiled prospects and picks, who are currently proving their value, but the current roster presents its own questions.
Larkin and Mantha are Untouchable
Red Wings' forward Dylan Larkin burst onto the scene in 2015 and had an immediate impact, compiling 45 points on 23 goals and 22 assists. He was fifth in voting for the Calder Memorial Trophy (won that season by Artemi Panarin) and brought a level of excitement with his speed, puck control, and hockey intelligence. He's widely believed to be the next captain, especially after signing a five-year contract in 2018 with a cap hit of $6.1 million.
Last year's 53-point season on a team that scored the fewest goals in the league, combined with a career Corsi For percentage (CF%) of 51.7, ensures that Larkin is not a bargaining chip under any circumstance.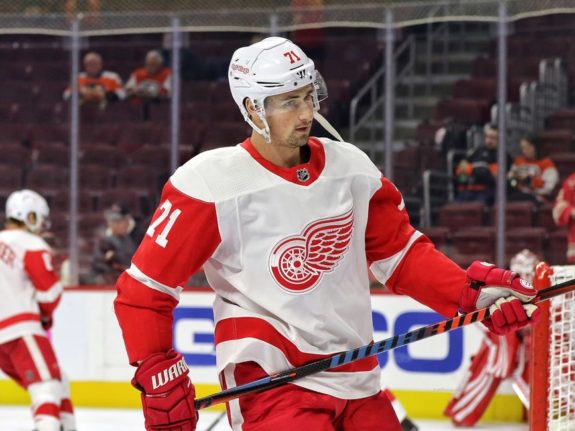 Anthony Mantha was, even as of recently, sometimes thought of as a borderline prospect who had yet to turn the corner. The oft-injured forward has only played more than 65 games twice since 2015-16 and has not recorded 50 points in a single season. Yet, his recent four-year contract seemingly indicates that he's safe from being moved by Yzerman. His $5.7 million cap hit is incredibly team-friendly, less than Larkin's deal, and will keep him in a Red Wings jersey long term.
Remember, Yzerman had yet to award a contract of more than two years to anyone, so it's safe to assume he wouldn't have done that for a player he deemed expendable. Mantha has come a long way in his development, boasts a career CF% of 53.7, and appears to be on the cusp of fully breaking out. He's not going anywhere.
Yzerman Can Move Bertuzzi, but It Will Come at a Cost
Forward Tyler Bertuzzi recently agreed to terms through arbitration on a one-year deal, and he is coming off back-to-back 21-goal seasons. It's clear he brings a lot of potential to the team's future, but Yzerman's hesitance to offer more than one year should not go unnoticed, as it forces Bertuzzi into another year of negotiations as a restricted free agent.
The 25-year-old forward has established himself as a top-6 forward, but his short-term deal could be the result of several factors. There's still the opportunity for a long-term contract after this season, and it's possible the team's brass is simply looking to see if Bertuzzi can flourish on a line that doesn't include Larkin and/or Mantha.
Then again, if the price is right, it's almost a certainty that Yzerman would listen.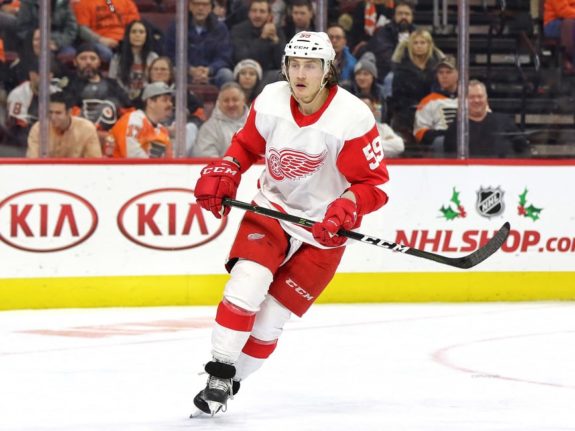 Take, for example, Winnipeg Jets' star and fellow restricted free agent Patrik Laine, whose deal also expires at the end of the 2020-21 season. He will command a significant raise, given his point outputs of 63, 50, and 70 over the last three seasons, and the Red Wings will have that cap space – to the tune of about $46 million (this, of course, is before anyone is re-signed or extended). There's a lot of interest around the league for the 22-year-old phenom, and Bertuzzi, packaged with prospects from a stocked cupboard, is a scenario that would put Detroit's rebuild into hyperdrive.
The Rest of the Team is Replaceable as the Red Wings Rebuild
Aside from Larkin, Mantha, and Bertuzzi, it's difficult to imagine a scenario where Yzerman doesn't at least listen to offers for anyone else on the roster. Though it's tough to know what trade deadline situations will look like in a season that still has no format or schedule, teams in need of a little more offensive punch, an upgrade to the blue line, or even some goaltending help may be inclined to "rent" seasoned veterans to boost playoff chances.
Yzerman has already shown a penchant to get the most out of deals by selling at the deadline and flipping them for lower-tier prospects or draft picks. Players with expiring contracts whom could potentially be flipped this year are:
Luke Glendening – Unrestricted Free Agent (UFA) at the end of the season and brings a lot to the penalty kill.
Bobby Ryan – UFA at the end of the season and could show tremendous upside for a contender with strong offensive output this season.
Valtteri Filppula – UFA at the end of the season, with a wealth of playoff experience. He has a modified no-trade clause, however.
Patrik Nemeth – UFA at the end of the season and could help provide stability on defense for a team in need at the deadline.
Jon Merrill – UFA at the end of the season and a cheap alternative for blue line help.
Jonathan Bernier – UFA at the end of the season, and though it's unlikely, could be a solid goalie for a team in need at the deadline.
Danny DeKeyser – Also unlikely, given his cap hit of $5 million per season through 2021-22, as well as a modified no-trade clause. Still, never discount a desperate team in need of defense.
It will be interesting to see how the season plays out, but it's clear that the pieces of the Red Wings, sans a few core players, are still very fluid. Whether it's a blockbuster trade or a move for more prospects, the "Yzerplan" will continue to push the envelope while the team continues to improve.
More from The Grind Line
Want more Red Wings content? Tune into The Hockey Writers' Grind Line – a new weekly live show on YouTube and Facebook. We stream Friday nights starting at 8:00 pm ET on The Hockey Writers YouTube channel. Check out last week's show below:
---
---