When you're a rebuilding team like the Detroit Red Wings, the name of the game is adding prospects, not subtracting them. To that point, general manager Steve Yzerman has drafted a total of 23 prospects since he took over in the spring of 2019. But not all prospects are equal. Some are definitely more valuable to the Red Wings than others.
When a player or prospect is considered "untouchable," it means that another team would have to move mountains in order to get their hands on that player. No player is ever completely safe – after all, even Wayne Gretzky was traded. But like Gretzky, any team that tries to get their hands on an "untouchable" player will pay the price for it, and then some.
So with the rebuild still chugging along in Detroit, do the Red Wings have any prospects that are simply "off the table?" If so, why are they considered "untouchable?'" Let's take a look:
Moritz Seider
Let's get the easy one out of the way. When Yzerman announced the young, German defender's name with the sixth pick in the 2019 draft, everybody and their mother was in some form of shock.
The fact of the matter is that many around the league expected that Seider would go somewhere in the middle of the first round, not just outside of the top five. Since then, he has been on a mission to not only adapt to the North American-style of hockey, but also prove why the Red Wings made the bold move to select him. The results have been pretty great.
After an overall successful 2019-20 campaign in the AHL with the Grand Rapids Griffins last season, one could argue that the 19-year-old is already one of the Red Wings' top-six defensemen. His play overseas this season has done nothing to dispel that notion. This is an especially encouraging sign given that the Red Wings' primary weakness continues to be their defense.
Yzerman's first selection as the Red Wings' GM caught everyone by surprise, and now Seider has everyone's attention. Given that the young defender seems on his way to becoming the Red Wings' first true top-pairing defenseman since Niklas Kronwall's heyday, there's no reason to move on from him. He's got draft pedigree, thunderous hits and one of the best heads of hair in the entire organization – what more could you want?
Lucas Raymond
The crown jewel of the Red Wings' rebuild, Raymond was selected fourth overall in the 2020 draft and immediately became the Red Wings' top prospect. The Swedish winger received praise during his draft-eligible season for playing in the SHL as a 17-year-old. Despite low playing-time, he scored some points and exhibited enough strong habits that many in the scouting community had him pegged as the third-best prospect in his draft class.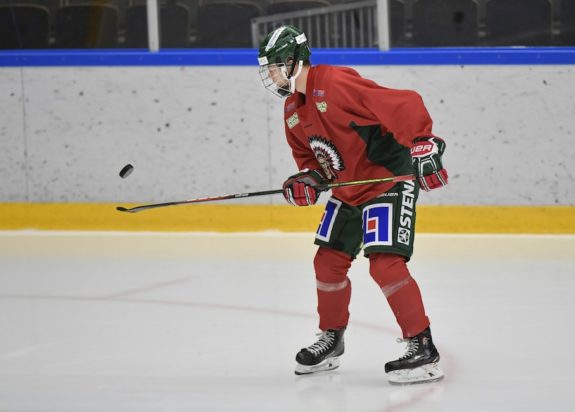 Raymond is perhaps the most dynamic player in the Red Wings' prospect pool. He has the ability to set-up plays as well as finish them. His vision on the ice is top-tier, and he can make the pretty play or move when he decides to. To top it all off, his two-way game is already in a good spot given that he is just 18 years old. With the proper development over the next couple of years, he could very well become a force at both ends of the ice.
Raymond has the distinction of being the highest-drafted Red Wing since Keith Primeau went third-overall in 1990. With a skill-set like his, it's easy to see why. This isn't a player you go out of your way to move on from; instead, he's the type of player that you afford as much time as he needs to develop because when he hits his ceiling, look out.
"Touchable" But Barely: Filip Zadina
As time moves further and further away from a player's draft year, scrutiny becomes more and more common depending on how a player produces based on initial expectations. When you're talking about young prospects, you typically want to cut them a break. But at some point, they need to start performing.
Zadina, the Red Wings' top pick in 2018 (sixth overall), looks poised to make his full-time NHL debut starting in 2020-21. The offensive winger was once projected as the third-best player in his draft class before falling a few spots and into the Red Wings' lap. Former GM Ken Holland was thrilled to get him, and the current regime in Detroit seems just as excited by his potential.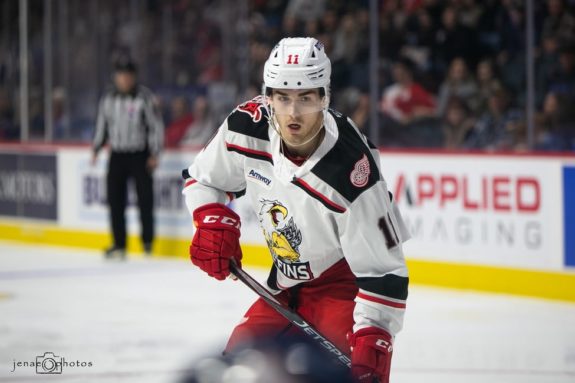 However, the soon-to-be 21-year-old has seen mixed results since going pro following his draft year. In 80 games in the AHL, he has notched 25 goals and 51 points. While that's not a weak stat line by any means, Zadina was inconsistent throughout his time in the AHL. He was either scoring in bunches or he was practically invisible. At the NHL level, he has shown some positive signs, but he's not quite where many expected him to be.
Zadina is still the Red Wings' top prospect in terms of pure offense, and he could (and should) carve out a role for himself in the Wings' top-six once he officially makes the team. However, if a team came along with the right offer, there wouldn't be as much hesitation to move on from him as there would have been a year ago. We'll have to wait and see if he can silence some of the concerns that have popped up over the last couple of years.
Joe Veleno
The other player the Red Wings drafted in the first round of the 2018 draft (30th overall), Veleno is arguably the team's top center prospect. Like Zadina, he was projected to go much earlier in the draft, but he almost slid all the way out of the first round. The Red Wings were delighted to take him, and there have been ups and downs with him ever since.
Veleno, who was once granted "exceptional status" so that he could play major junior hockey as a 15-year-old, has the makings of a solid, middle-six center. He displays strong instincts at both ends of the ice, and he has that unteachable quality of always wanting to get better. So why isn't he "untouchable?"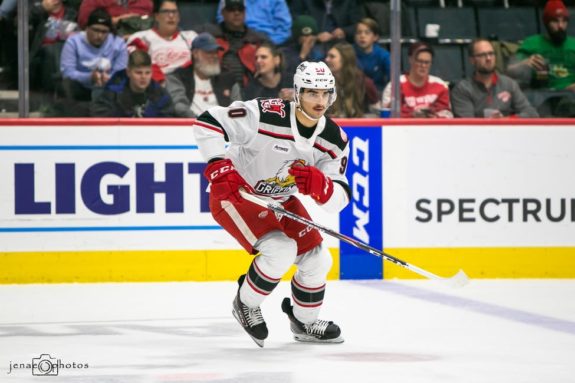 There are a few things going against Veleno as he looks to nail down a role with the Red Wings.
First, if his ceiling is just that of a second-line center, then he's far from irreplaceable.
Second, the Red Wings have a couple other candidates for the same roles that he is working towards; Michael Rasmussen and Theodor Niederbach both have similar ceilings as Veleno, but they all have way different playing styles.
Third, his play in the AHL last season and in the SHL to start this season has left something to be desired. He wasn't expected to tear up either league, but the 20-year-old hasn't found that next gear in his game quite yet. Again, he's shown great instincts, but he hasn't been able to assert himself as a professional hockey player quite yet.
If Veleno isn't close to challenging for an NHL spot by the end of the 2021-22 season, then he's only going to become more "touchable" as time goes on.
Jonatan Berggren
After the Red Wings selected the Swedish winger with the 33rd pick of the 2018 draft, Berggren endured two consecutive injury-shortened seasons in the SHL. That killed off some of the initial buzz that surrounded a player that some had projected as a first-round talent.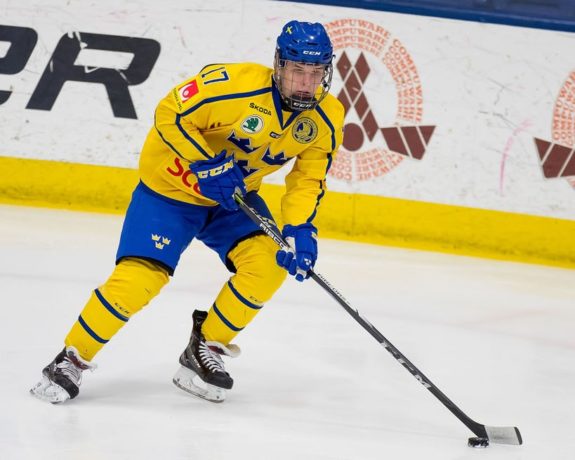 To start the 2020-21 SHL season, Berggren has been healthy (knock on wood) and productive (4 goals and 15 assists in 17 games.) He has shown the ability to cut through defenders on the rush, as well as the ability to create havoc in the offensive zone. For the first time since he was drafted, the 20-year-old is really starting to live up to the hype.
And yet, a hot start is not enough to solidify a player's standing within an organization – or at least it shouldn't be. It is tantalizing to think of how Berggren might look in a Red Wings sweater. He looks to have the makings of a solid middle-six winger with power-play potential. However, he is the exact kind of "sell-high" candidate that could net the Red Wings an even nicer piece down the road.
Missed The Cut
Michael Rasmussen (ninth overall, 2017) is a behemoth on the ice who has shown that he can produce against inferior competition. Even during his time in the AHL last season, he had periods where he was a driving force of the Griffins' offense. But inconsistency at that level, as well as his unsuccessful 2018-19 season in the NHL, puts him in a spot where you'd like to see more.
William Wallinder (32nd overall, 2020) and Antti Tuomisto (35th overall, 2019) are both big-bodied defensemen that move around the ice with ease. Both have exhibited the ability to impact the game in both ends of the ice, with Tuomisto having a particularly strong 2019-20 season in the Finnish junior league. Yzerman clearly likes both, but neither has done enough to warrant "untouchable" status.
Draft & Develop
The thing about being "untouchable" is that it's a label that can be given just as easily as it can be taken away. Once upon a time, Pavel Datsyuk and Henrik Zetterberg were late draft picks that certainly weren't considered "untouchable." In just a matter of years, they both put in the work and let their skill vault them into this category.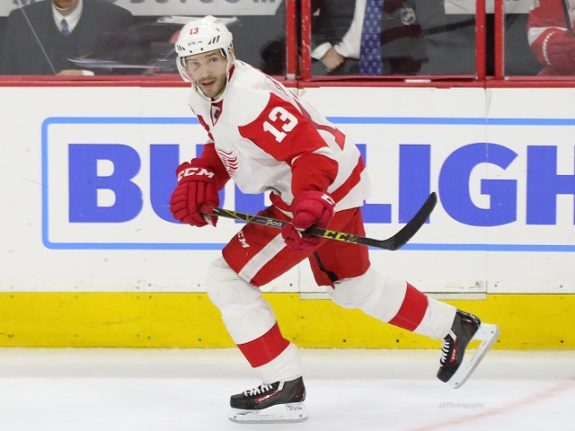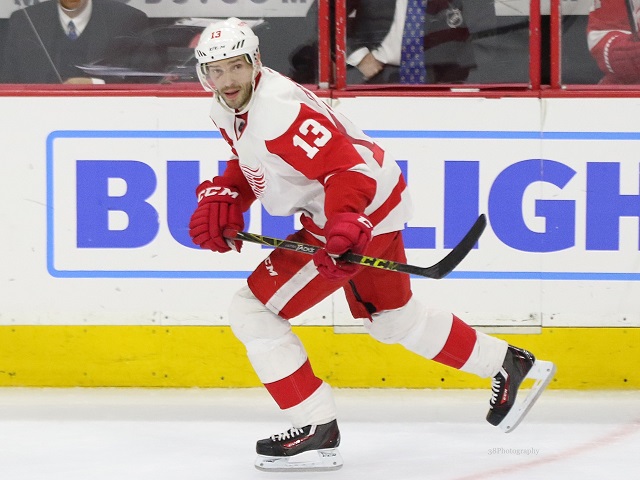 The key to a successful rebuild is the progress of the team's prospects. It's up to those in charge of the rebuild to provide their prospects with the right opportunities to grow as players. It's one thing to draft and bring in 23 new prospects, it's another to properly develop them.
That's the challenge that Yzerman and the gang face with the Red Wings' rebuild. If all goes well, fans can expect to see some of these prospects become "untouchable" players just like Datsyuk and Zetterberg before them. Those are big shoes to fill and a lofty bar to set, but the players that will lead the Red Wings back to relevance will take that challenge in stride.
Tune into The Hockey Writers' Grind Line – a new weekly live show on YouTube and Facebook. We stream Friday nights starting at 8:00pm ET on The Hockey Writers YouTube channel. Check out last week's show below.
---
---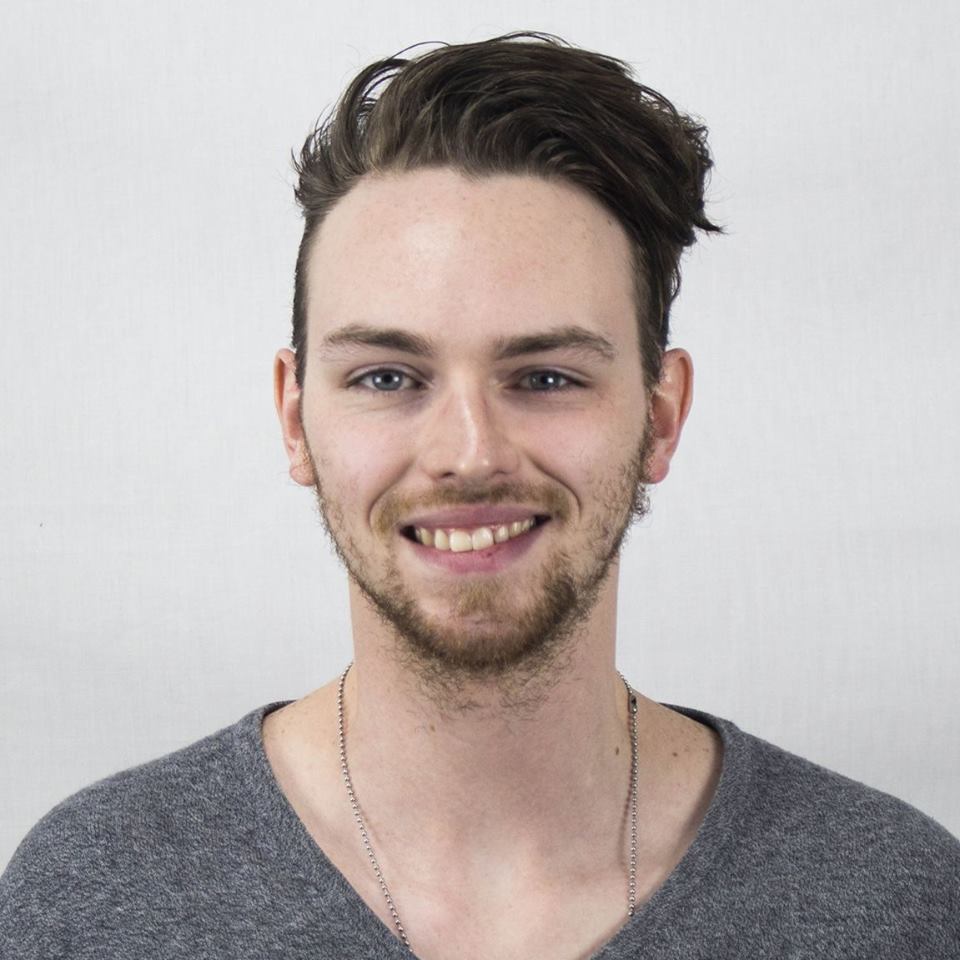 I am a Western Michigan University alum whose passion for hockey knows no limits. Dr. Pepper enthusiast. Catch me and my fellow Red Wings writers' YouTube show "The Hockey Writers Grind Line" which drops every Saturday.