The Detroit Red Wings announced that they locked-up winger Anthony Mantha to a four-year deal worth $22.8 million ($5.7 million cap hit.) The move locks up a player that is in their prime, and is widely considered to be the team's second-best player.
While the deal not only signals that general manager Steve Yzerman is, in fact, willing to give out term that is longer than two years, it also makes clear that Mantha is considered to be a key part of the Red Wings' lineup. Despite all of the faces that have come and gone over the last few years, it appears that Mantha isn't going anywhere anytime soon.
But how does this deal impact the Red Wings going forward? While the often-injured Mantha has yet to truly hit his ceiling in terms of production, he has shown just how big of an impact he can have when he is on the ice. It is because of that and more that fans have a lot to be excited about with this deal.
On the Books
Mantha is now the only player the Red Wings have signed past the 2022-23 season. With the likes of Dylan Larkin, Tyler Bertuzzi, Filip Zadina, Filip Hronek and more needing new contracts between now and then, it was a savvy move by Yzerman to lock Mantha in at a number that ensures the Red Wings will be able to make other contracts work. Given that the winger will be 30 years old when this deal expires, there also remains the possibility that the marriage between player and team can be extended.
At $5.7 million, Mantha is now tied for the second-highest cap hit on the team with newcomer Marc Staal; the only player that makes more is top-center/player Larkin. This promotes a certain financial hierarchy within the Red Wings' roster — any player that aims to sign with the Red Wings will likely be compared to Mantha and Larkin in order to determine the kind of money they can sign for.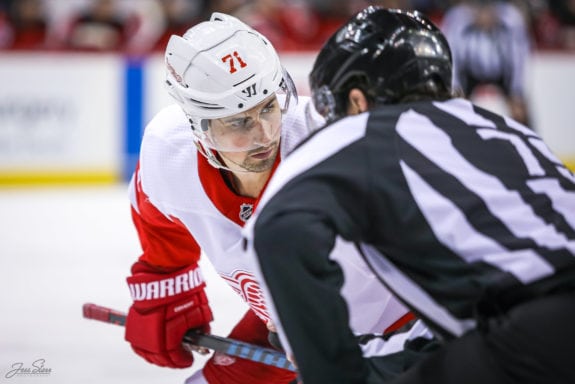 Furthermore, there's the fact that locking down Mantha means locking down a crucial part of their lineup going forward. As the prospects continue to develop and take over this roster, he will not only remain in a key offensive role for the team, but he helps stabilize the depth chart on the right side. Maintaining a high-impact forward there allows the Red Wings to exercise patience as guys like Zadina come into their own.
High-Impact
But what does a "high-impact" forward look like? No, it doesn't mean a forward that makes (and takes) a lot of… impact:
While Mantha's willingness to muck it up is encouraging for those who don't like "soft" players, it has also prevented him from fully realizing his potential. He has played in 110 out of a possible 164 games (67%) over the last two seasons, with some of those missed games coming after the incident featured in the video above. Despite those missed games, he has accumulated 41 goals and 86 points along the way.
However, those aren't the numbers that truly encapsulate the kind of impact that he has on the ice. Since breaking into the league on a full-time basis during the 2016-17 season, Mantha has had a positive impact on the Red Wings' offense. In terms of relative-Corsi (a measurement that determines how much a single player either increases or decreases his team's share of the offensive opportunities) he has increased the Red Wings' Corsi% by an average of 8.2%; over the last two seasons in particular, he has increased his team's share of offensive chances by an impressive 10.6%.
Furthermore, Mantha is one of the few players on the Red Wings' roster that is proven to be able to have a positive impact on his teammates. For example, even Larkin sees a performance boost when he plays alongside Mantha. Compare his impact around the league and you'll find one undeniable truth — this is one of the best power forwards in the NHL.
Prime Time
Though there are exceptions to every rule, studies have shown that the average NHL player starts to see a sharp decline in their overall impact on the ice as they progress into their 30's. The years before that — usually beginning around age 22 — are considered a player's "prime" years. This is important to note given that Mantha's new deal ends when he will be 30 years old.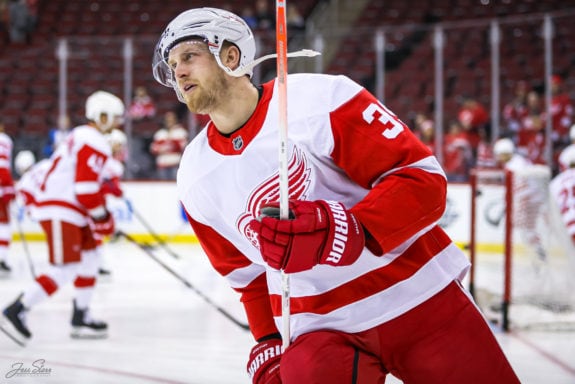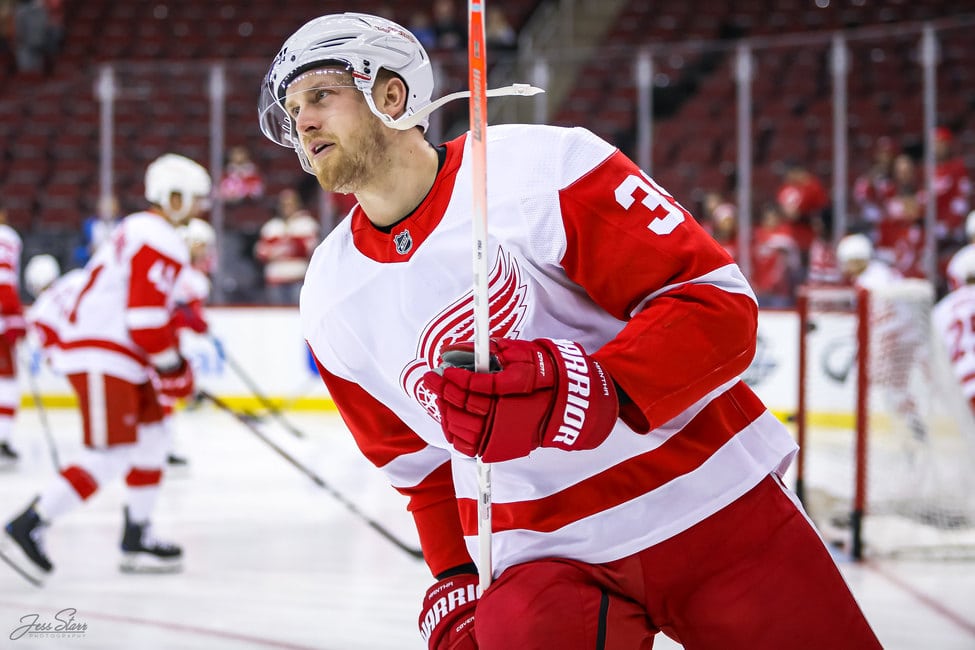 This deal not only eats up three years where Mantha would have been able to test the open market as an unrestricted free agent, but it also secures his services through what should be the rest of his prime. While he could absolutely continue his stellar play beyond the age of 30, the Red Wings aren't locked in at a certain cap hit during a time where his game could certainly start to see some drop-off.
At a $5.7 million cap hit, the Red Wings not only locked down one of their best players, but they did so at a term that full encompasses his best years. Given the kind of money that has been thrown around in the NHL for players similar to Mantha, this deal should only be viewed as one thing: a steal.
Path to Contention
During his press availability regarding the contract, Mantha voiced some optimism about the future of the Red Wings.
"We're going to be contenders at some point. A rebuild needs a couple years to get there and then the team's going to be good. That's when the opportunity is going to come, and I'll be around and hopefully I can help this team."

– Anthony Mantha
Bridges weren't burned in the process of this contract negotiation; in fact, it seems as though Mantha accepted the term on his deal as a sign of confidence as a core member of the team, as well as a challenge to help lift the Red Wings up off of the ground. He's betting on himself that at this contract's end, he'll be able to cash in on another deal with similar term on it due to his play over the lifespan of this contract.
It also seems like Mantha understands that the roster is going to change over time, and with that may come a different role for him. While he is currently the team's top winger, that could and should change over time. Despite this, he seems eager to be a part of the solution in Detroit — no matter what his role may be. When you build a roster with players that have that kind of mentality, it's easy to see how this team could turn the corner sooner rather than later.
You can watch the rest of Mantha's press availability above.
Outlook
Overall, Yzerman has to be commended for this deal. The "Big Three" of Mantha, Larkin and Tyler Bertuzzi carry a collective cap hit this season of just $15.3 million — just 18.7% of the $81.5 million salary cap. With only one of their own players — Dmytro Timashov — left to sign, the Red Wings look to have around $9 million of cap space left to play with. They can sit on it — a viable option given the economic effects of the ongoing pandemic — or they could still opt to weaponize it much like they did in the trade for Staal.
Whatever they do, fans can rest easy knowing that "Mo" isn't going anywhere anytime soon. Despite a bumpy development that once saw head coach Jeff Blashill refer to Mantha as a "passenger," he has become a player that turns the tide in the Red Wings' favor. For a rebuilding team that has very few of those types of players, getting a deal done was of the utmost importance. That the terms of the deal are this favorable is just the cherry on top.
Given his production rates this past season, a breakout year could be coming for Mantha. If that's the case, he will undoubtedly outperform the cost of his contract. When you can secure that kind of value, you absolutely should.
It's just another sign that the healing has begun in "Hockeytown." The best for Mantha, as well as the Red Wings, is yet to come.
---
---