It started with words and emotions on some pieces of paper in a hospital room. It's turned into the release of a children's book.
For Nick and Janelle Foligno, they hope this is the beginning of big things to come for their new initiative The Heart's Playbook. It's safe to say they are off to a tremendous start.
Back in June, Nick joined us to discuss the Heart's Playbook and what they hoped would come from it. At that point, it was a new thing and they were cautiously optimistic about where things would go. Thanks to a long layoff due to the pandemic and an incredible series of events through the years, The Foligno's have opened the Playbook up for everyone to see.
At the heart of the matter (see what I did there?) is helping other people. That's what it's all about especially in the most uncertain of times. Nick was once again kind enough to join us to take us inside the Playbook and how we got to this point.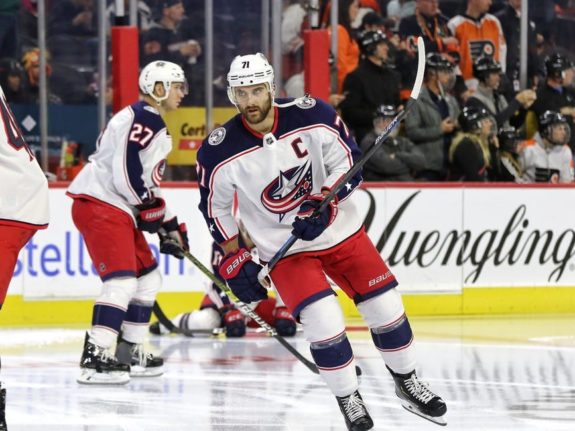 He made one thing abundantly clear. He gave full credit for the Heart's Playbook to his wife Janelle. "The real thing behind all this is my wife," Foligno told us. "She is the brains behind this whole operation."
This whole operation started while their daughter Milana was going through numerous hospital stays and surgeries. It started with just some paper and a pen. But then it developed into something much greater than any of them would realize. Let Nick fill you in.
From a Poem to a Children's Book
"I know Janelle when we were going through everything, this started off for her as a way to heal and write down her emotions," Foligno said. "Then she noticed as Milana got older, there was really no literature for kids to prepare them for what they might be dealing with down the road. There was no kid-friendly book that would help these kids. So she turned a poem that she wrote into a children's book."
That book titled "Dear Heart" was penned by Janelle as she documented all of the emotions of seeing their daughter go through everything she did. The book is now for sale with all proceeds benefiting heart research and families. Nick couldn't be more proud of how this has turned out.
"It's beautiful and I'm so proud of her. I'm so excited to get this out for people to see," Foligno said. "It really is a beautiful thing that she did to try to do more good with having something tangible in their hands and hand out to families to help them through this."
There are many people in the world today going through the same experiences the Foligno's have gone through. They hope this book will give some encouragement and direction to those that are looking for it. Whether it's cancer, heart disease or some other major health situation, the Foligno's see the desperate need that's out there.
"Cancer, heart disease is still rampant. Heart disease is still affecting thousands and thousands of people," Foligno said. "They need the care. They need the help. This is an area we can continue to help and all the while keeping Covid in mind."
You can order the book if you are interested. It is $25 + shipping per copy and can be shipped within Canada or the United States. And that's not the only way you can help the Heart's Playbook.
There's a Clothing Line Too
Thanks to 614Hockey, the same company that introduced the Cam Atkinson CA13 line, there is an NF71 line of clothing that you can purchase as well with all proceeds going directly to the Heart's Playbook. This was an idea Foligno wasn't expecting to come to fruition.
"It came up not out of anything I was expecting. The company (614Hockey) approached me and asked would you be interested? And I said you know what, with everything that we have going on with the foundation I said it'd be a great way to first of all get some cool products out and do good with it. I'm all for dual benefits."
At this point, there is a hoodie, a t-shirt and a hat available for purchase with the NF71 logo. Foligno credits Atkinson with getting this idea off the ground and into motion.
"I think now with trying to get the reach out and seeing how Cam (Atkinson) has been able to impact so many people through it. It (releasing the NF71 clothing line) just makes so much sense not being able to get out there and do what I'd like to do because of Covid. It's a great way to continue to do great work. I'm really proud of the fact that we can do this in a way that helps the Hearts Playbook. It's something that's so near and dear to us and a way that we can give back to so many people and really try to do a lot of good with our foundation."
If you are interested in purchasing the clothing, you can visit the 614Hockey website and view the entire NF71 collection.
Their Heart Is Truly In This
As the mission statement of the Heart's Playbook says, "This foundation has been created to build stronger communities in heart health, support cardiac centers across the nation in patient care, aid in the discovery of technological advancement through innovative heart research, and provide resources to other families in need."
The Foligno's are using their journey to make sure others have the chance to achieve the best possible outcome. It truly shows that they have their heart in the right place at the right time at a time when others need hope in their lives.