In recent years, the New York Rangers have acquired a notable amount of goaltenders, whether it be through draft picks or trades. As a result, it appears the Rangers will be stocked with goaltender depth for quite some time. 
The multitude of options for the net means the prospects will need to work harder to compete against one another for their earned spots. Along with the competitive climate, the organization faces the challenge to fill the shoes of Henrik Lundqvist, their beloved goaltender of 15 seasons. 
Although young goaltender Alexandar Georgiev, who assumed the role of Lundqvist's backup most recently, was joined with promising phenom Igor Shesterkin, the organization will need to be prepared for any circumstance despite the seemingly strong duo.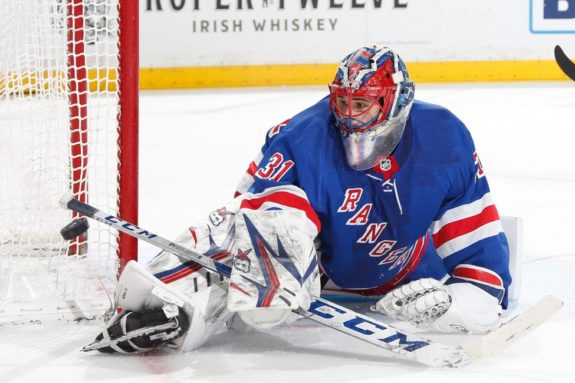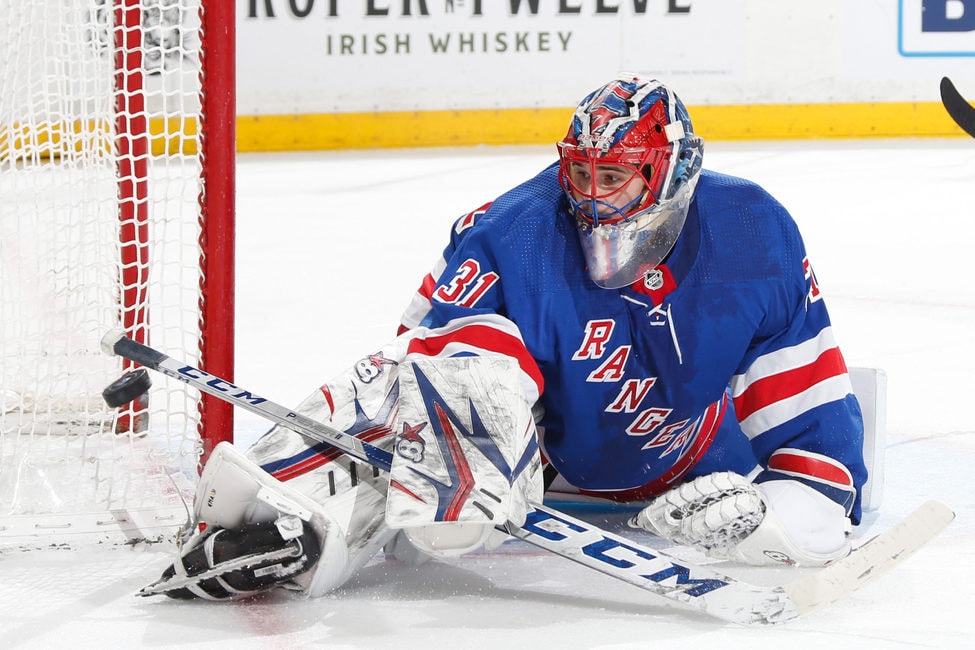 Here's a look at several goaltending prospects at various levels acquired as draft picks. 
Adam Huska (Seventh Round, 184th Overall – 2015)
The signed Slovakian 23-year-old goaltender is a prominent piece of the Rangers' depth. In the past three seasons, he spent time with the University of Connecticut, the Hartford Wolf Pack (the Rangers' minor league affiliate in the American Hockey League), and with the Maine Mariners in the ECHL, which is a tier below the AHL. 
Huska has already overcome depth hurdles within the organization. He was able to beat out a fellow goaltender to claim the backup role for the stellar Igor Shesterkin, who was recalled to the Rangers nearing the pause of the 2019-20 NHL season. 
Upon Shesterkin's departure from the Wolf Pack, Huska was promoted but overcome by the demanding role of starting goaltender. It was then that the Rangers announced yet another goaltender acquisition, this time from the Philadelphia Flyers organization, Jean-François Bérubé, who joined to help Hartford and lighten Huska's workload. 

But when Shesterkin and Huska were in tandem, Wolf Pack coach Kris Knoblauch declared his belief the pair were two of the best in the league. (From 'Hartford Wolf Pack provide proving ground for two goalies competing to be Rangers' Henrik Lundqvist heir', Hartford Courant, 11/7/2019)
In 37 games with the Wolf Pack, Huska registered a save percentage (SV%) of .892 and a 3.14 goals-against average (GAA). He uses his large, 6-foot-3, 198-pound frame to occupy a majority of net space. The Rangers' Director of Player Development, Jed Ortmeyer, has also noted his skill with positioning himself well.
For the 2020-21 season he has been loaned to HKM Zvolen, within the professional Slovak ice hockey league. With his hometown team, Huska has only seen two of twelve starts but it's better than the alternative — missing out on experience waiting for the AHL season to commence.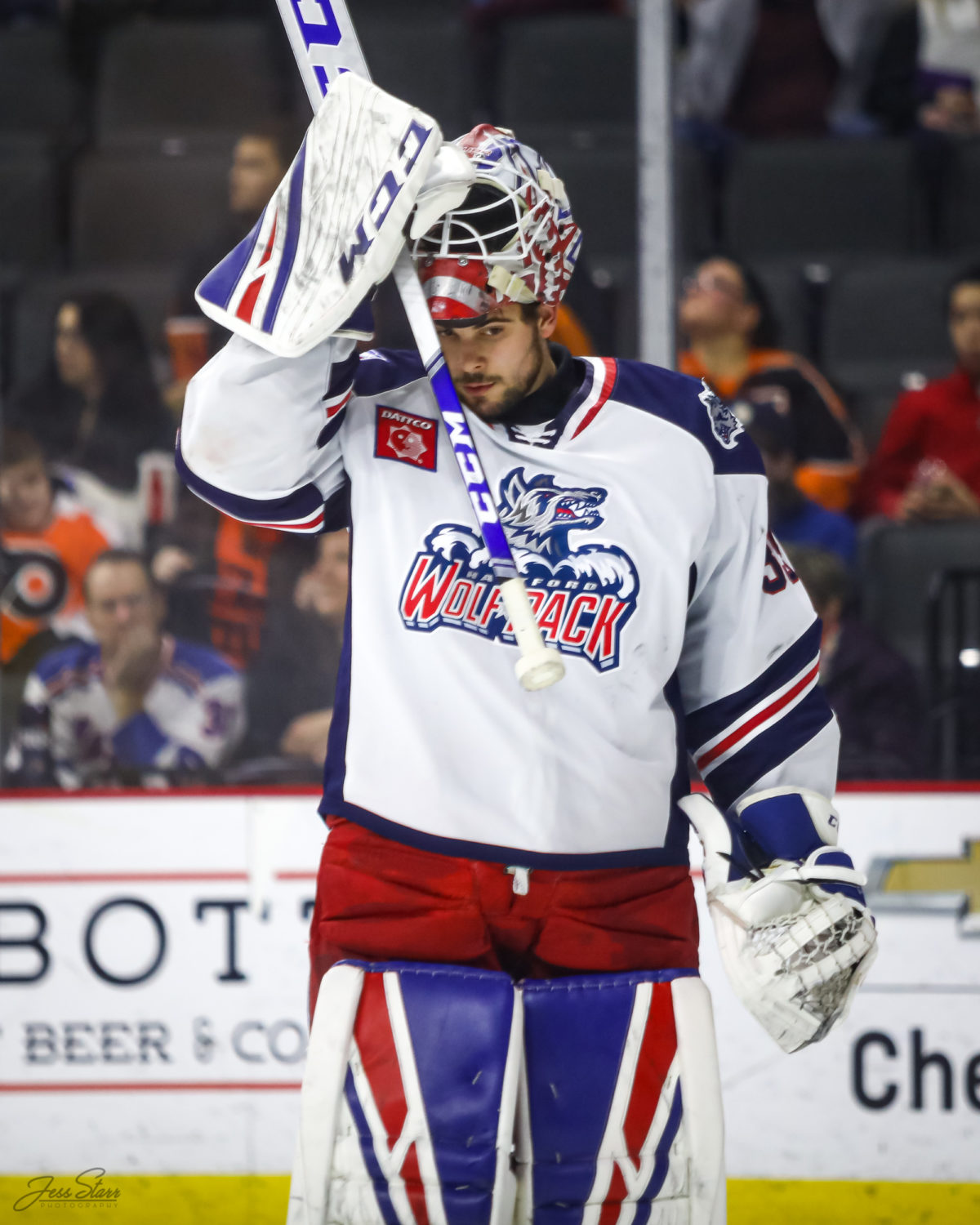 Patience will have a hand in Huska's case particularly. He undoubtedly possesses the tools to stabilize the Wolf Pack and his ability to back his team up will allow for all skaters to maximize development in the AHL, which of course, has an intrinsic relation to the NHL. 
As with most of the prospects, there is a risk stunting Huska's development by rushing, though he will shortly face impending talent. As one of the eldest goaltending prospects, he will need to plead a case soon if he wants to have any shot at the NHL.
Olof Lindbom (Second Round, 39th Overall – 2018)
Selected much higher than his fellow prospective goaltenders, Lindbom is a 20-year-old 6-foot-2 netminder who hails from Stockholm, Sweden. Although currently unsigned by the Rangers, his potential is recognizable thus far, he has been described by one scout as "a pretty good talent."
He has also been praised for his ability to rise up in demanding situations. Being one of the younger goaltenders on the depth chart, his experience has been strictly with Swedish clubs. 
One particular highlight of his young career is being named the U18 WJC Best Goaltender for Sweden after he posted a commanding .949 SV% accompanied by a stingy 1.66 GAA. He and Sweden went on to capture the tournament's bronze medal. 
At this point, he is the starting goalkeeper for Mora IK, in the HockeyAllsvenskan league which is the second-highest tier in Sweden. With nine games under his belt, he seems on the right path towards a rebound season from his 2019-20 injury-struck stretch. 
In those nine matches he has posted a .902 SV% and a 2.98 GAA. He is currently loaned to the Malmö Redhawks of the Swedish Hockey League (SHL) where he has yet to see ice time. On the bright side, the SHL is the highest professional league in Sweden and if he receives playing time, he will be exposed to higher quality players. 
The Swede stated that he's modeled his style after the great Henrik Lundqvist. His quickness and mental strength are specific qualities Lindbom aims to incorporate in his own performance. 
The younger goaltender acknowledges and embraces the amplified pressure of New York City. "I think I grow with pressure," said Lindbom. While he fine-tunes his game, keeping that pattern of thinking will be integral as he works his way up in the competitive organization. 
Since poise and swift recovery are key qualities of successful goaltenders, he should have the reassurance he could pan out well for the Rangers, since he has exhibited such tendencies in his sample size, though limited. 
Tyler Wall (Sixth Round, 174th Overall – 2016)
The 22-year-old Ontario native inked a contract with the organization previously in May of this year. Coming fresh off his 103-game collegiate career with University of Massachusetts (UMass) Lowell, Wall was recognized as one of the top national collegiate players for his 58-34-10 record, .918 SV%, 2.28 GAA, and nine shutouts. 
Wall also broke several records at the school, including the highest record wins by a rookie goaltender. Due to his performances season after season, he led the team to top spots in the Hockey East. In his senior year during the 2019-20 season, he was one of 10 semifinalists contending for the Mike Richter Award. 
Despite the stockpile of netminders, Wall was emboldened by the challenge to stand out in the organization as reported by Vincent Mercogliano for Lohud Sports. Much like Lindbom, he embraces the unique challenge of being a professional athlete in New York City. 
Other qualities of Wall's include his confidence and his ability to calm his team down. These are two aspects that translate well to a group of young, inexperienced hockey players. He also recognizes what he will need to work on in order to leap to the NHL-level and appears to have a solid work ethic to get there. 
Although he was set to start with the Wolf Pack, he will have to wait a little longer to begin competing with Huska for their roles. With the AHL season pushed back to begin Feb. 5, 2021, it is vital these goaltenders are seeing time on the ice elsewhere while some await to join the Wolf Pack. 
The abundance of young, prospective talent in net should be extremely placative for the organization. Each goaltender in the system brings his own unique skillset. With most areas of the roster, the Rangers' management should be satisfied with their talent accrual. 
---
---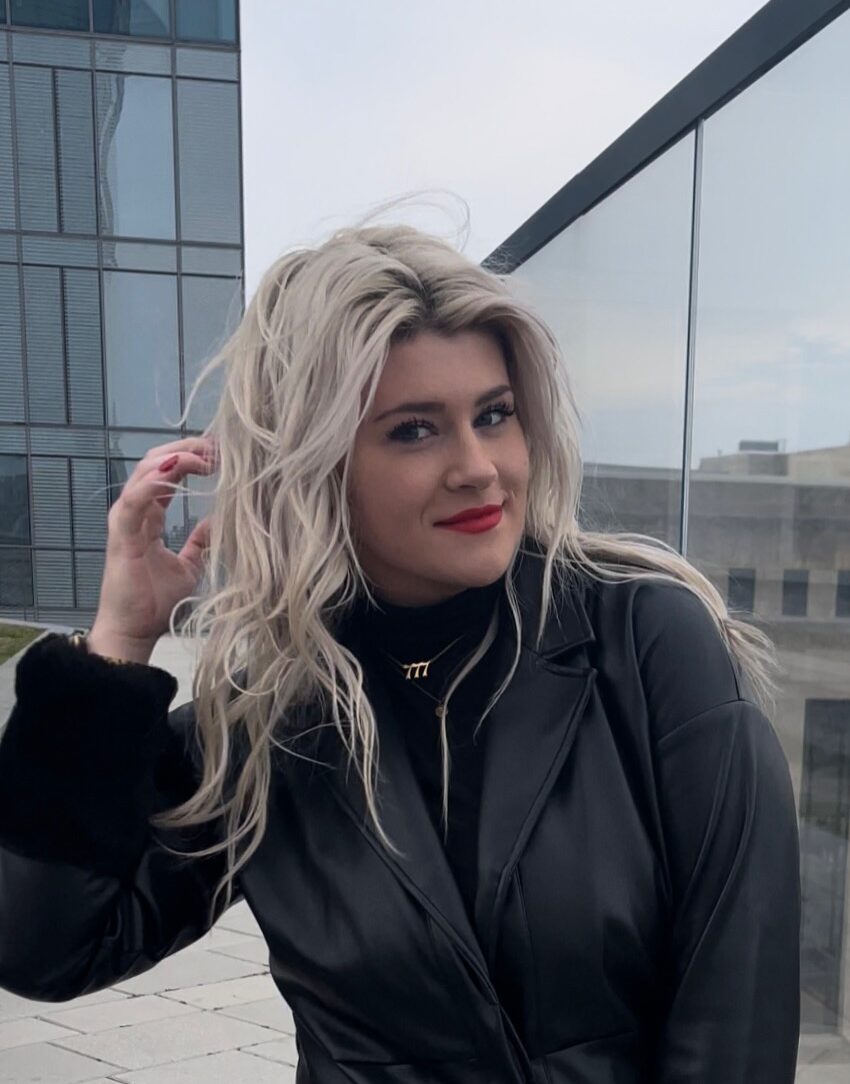 Rachel is a graduate of the University of Pittsburgh and earned a degree in Communications and English. After she moved to Pittsburgh for school, she fell in love with the vibrant hockey community but she was raised in a household that rooted for a different team — the New York Rangers. Rachel covers the Rangers at thehockeywriters.com and she can be followed on Twitter @RachelNHL.