The Minnesota Whitecaps were the only team to beat the Boston Pride last season and they were poised to pull off that feat again in the Isobel Cup Final before the NWHL had to cancel the game due to the pandemic. We'll never know how that game would have played out, but what we do know is that the Whitecaps enter the abbreviated 2021 season in Lake Placid, NY as the last team to win the Isobel Cup.
Last Season: 17-5-2 (2nd Place), advanced to Isobel Cup Final.
Franchise All-Time Regular Season Record: 29-9-2
Franchise All-Time Playoff Record: 3-0
Championships: 1 (2019)
2021 Roster
Returning Players: Amanda Leveille (G), Allie Morse (G), Chelsey Brodt-Rosenthal (D), Winny Brodt Brown (D), Amanda Boulier (D), Emma Stauber (D), Lisa Martinson (D/F), Rose Alleva (D), Allie Thunstrom (F), Jonna Curtis (F), Audra Richards (F), Meaghan Pezon (F), Meghan Lorence (F), Nicole Anderson (F), Brooke White-Lancette (F), Haylea Schmid (F), Nina Rodgers (F), Lauren Barnes (F)
New Faces: Maddie Rowe (D), Sara Bustad (D/F), Haley Mack (F), Corinne Buie (F), Lynn Astrup (F/D)
*As of press time no Whitecaps players have officially opted out, which the NWHL gave the players who do not or cannot go to Lake Placid as an option – with full pay.
Player to Watch
Minnesota brings back the NWHL's all-time winningest goaltender in Leveille (43). She led all goalies with three shutouts last season (not including the one she had in the semifinals). Leveille is 5-1 in the postseason as a pro, surrendering only seven goals with a microscopic goals-against average (GAA) of 1.14.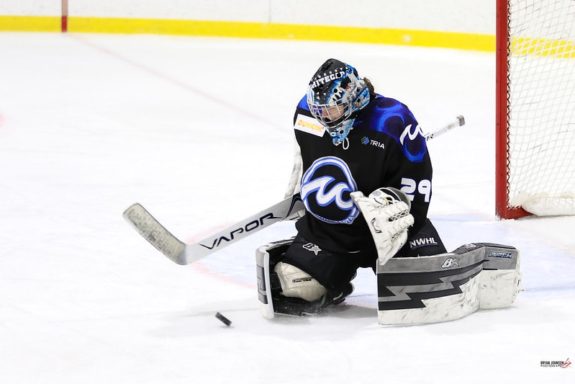 With so many games in such a short span in what will be a true sprint to the Isobel Cup, there is no other goalie in the league with the resume of Leveille – and there is no doubt her presence in the Whitecaps' goal gives her teammates a boost of confidence and puts some doubt into her opponent's heads.
"We're all pretty confident on the Whitecaps going into a game. Just looking around the room and you see the teammates, the friendships, and the talent that we have I think just gives us that extra little bit of confidence," said Leveille via phone when asked about the group's confidence level heading to Lake Placid in January.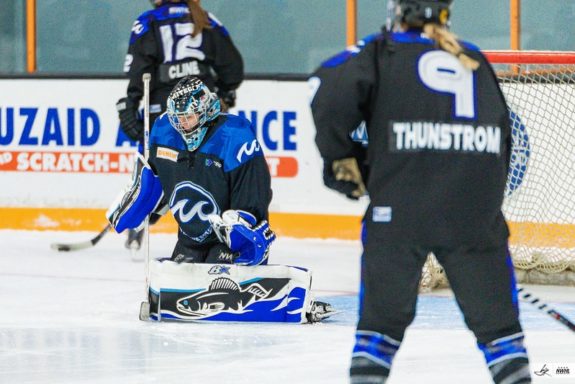 "This has always been a team, even before joining the NWHL, that shows up when it has to and each player finds a way to do their job and we've been able to come away with some wins in some big games."
"That's how this season is going to be. Every game is going to be the biggest game of the year because there are going to be so few games. We have to make sure that we are on top of our game every time that we are playing," she added. "This is a team that thrives on opportunities and we are really excited to play those games this season and chase that Isobel Cup."
We asked if she thinks about the missed opportunity to play against Boston in the Isobel Cup Final game that was canceled because of the pandemic and she didn't hesitate to digest the question or to reply.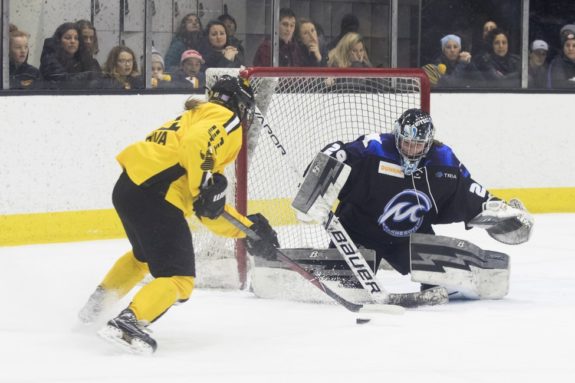 "Yeah, that would be pretty fitting. Speaking honestly, it would be nice to play Boston in the Isobel Cup Final. But whatever happens, whatever teams are there – hopefully it's us – it will be a great hockey game," replied Leveille. 
"But whoever we're going to play we know that they are going to be talented. (Of course) we're still a little bit sad about not being able to play against the Boston Pride for the Isobel Cup at the end of last season. But we still have that motivation, and we're going into this season with the goal to bring the Cup back to Minnesota."
Allie Brings the Thunder
The league's reigning co-MVP Thunstrom is also returning, and she sits third on the all-time list in goals (29) to start the 2021 season after setting a league record with a robust 24 goals in 24 games last season. She also had the lone goal in Minnesota's 1-0 overtime win over the Metropolitan Riveters in the semifinals.
The extended training camp for the Whitecaps (and the other five franchises) got underway in October and just like everyone else they are excited to get things going after not being together since mid-March.
"I cannot emphasize enough how great it feels to be back on the ice with this team (and just on the ice in general). We have such a strong group and it's so fun to have the opportunity to go out there and battle with them," Thunstrom recently told us via text.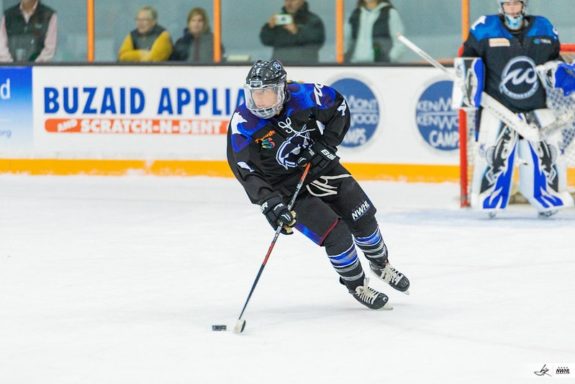 "We have a lot of returning players so that chemistry is already strong and our newcomers are such incredible additions – I mean we added Buie and Bustad from Buffalo and I'm super excited to be on the same side of the ice as them this year."
"Buie adds a ton of strength, grit, and offensive power to our lineup and Bustad provides depth on our blueline, while also having the ability to play up as a forward (if needed). We also added (draft pick) Haley Mack (23rd overall/4th round) who brings more speed, playmaking, and scoring to our already pretty solid offensive core, and (draft pick) Maddie Rowe (28th overall/5th round) on defense who is coming off an incredible four years at the powerhouse that is the University of Wisconsin. She's got a shot I know I don't want to get in front of and she'll add a lot of size to our backline."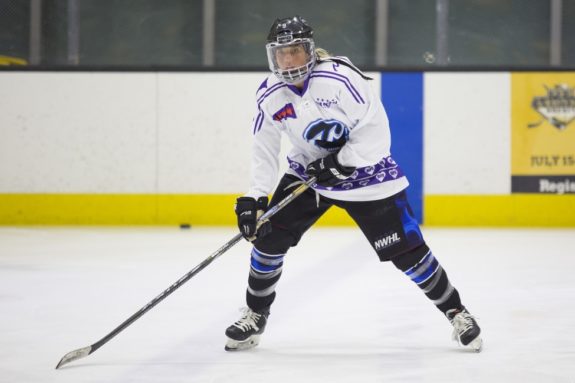 "As for our returners, I feel so blessed to be on a team with so much talent – top to bottom there are no weak links," added Thunstrom. "Each and every practice is a battle and it makes each and every one of us better. We're super excited to compete again this year – it's been far too long, but it's so great to be back together on the ice doing what we love!"
Outlook 
Also back in black (jerseys) are Curtis, who matched Thunstrom with 36 points last season (tied for second in the NWHL), and Boulier, who led all defenders in points (27). Curtis was also tied with Boston's Jillian Dempsey atop the leaderboard for points-per-game (1.7), and she was tied for second in power-play goals (4).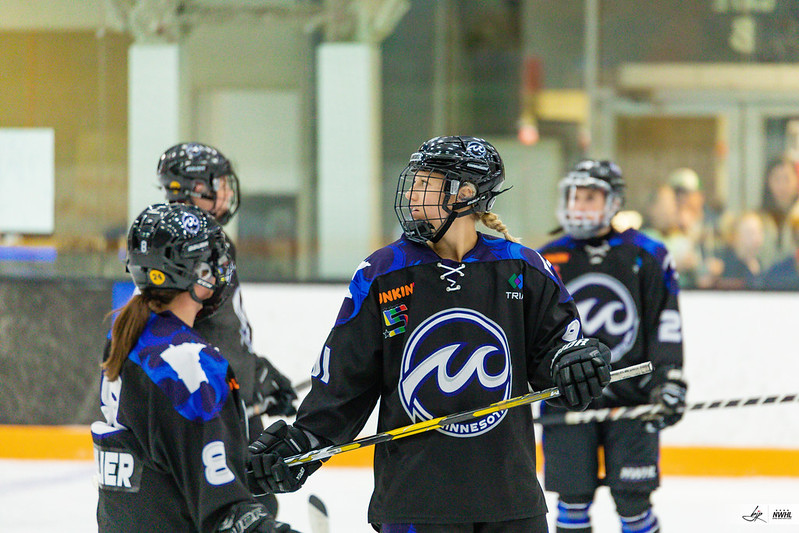 The core is largely still together with only five new players/three rookies added to the mix. Players like Pezon, Barnes, Richards, and Schmid all had career seasons and there is no reason to believe that they won't continue to excel with the group that GM and co-head coach Jack Brodt has assembled for the 2021 season.
As was the case in each of their first two seasons as an NWHL team it is 'Cup or Bust' for the Whitecaps this upcoming season. They have the talent, they have the experience, and anything less than a championship would be a disappointment for this accomplished crew.
Dan Rice is in his 9th year of reporting for THW & has covered NJ Devils home games for 15+ years at various websites. He began his journey working for legendary broadcaster/writer Stan Fischler from 2002-04 & completed an internship at the ECHL; he also has been writing features for the NWHL (nwhl.zone) website since 2016.