Hockey fans are counting down the days until they can watch some of the NHL's top prospects at next month's World Junior Championships. For the New York Islanders, all eyes will be on top prospect Simon Holmstrom, who should be an impact player for Team Sweden. The team's most recent first-round pick will certainly feel the pressure to produce after already enduring a full season in North America.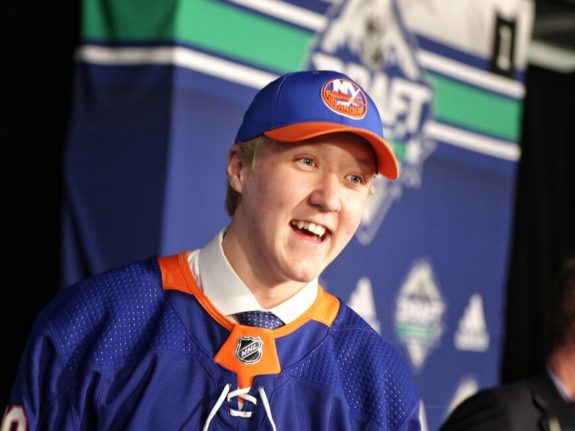 While he will most likely need at least another year before he cracks an NHL roster, Holmstrom is looking to build on the strides he made during his first professional season in North America. After spending his first season adjusting to the increased physicality and pace of play in the AHL, Holmstrom is ready to take more strides next season. A strong showing at the World Juniors could help his case to carve out a more significant role in the American Hockey League in 2020-21.
Tournament Experience
Holmstrom enters the 2021 World Junior Championships with experience playing in an international tournament already, something he surely hopes will help him put together a strong showing. He took part in the 2019 U-18 World Junior Championships, recording three goals and six points in seven games for Team Sweden. His team won gold, and Holmstrom got valuable experience playing with other top prospects in his draft year.
Related: 2020 NHL Entry Draft: The Top-10 Swedish Prospects
He was left off of the roster last season after coming to North America to join the AHL Bridgeport Sound Tigers, but he has a great chance of returning to the roster for this year's tournament. Fellow first-round picks Alexander Holtz and Lucas Raymond headline a strong offense for Team Sweden that should put the team in a good position to compete. Having played together at the U-18 World Juniors in 2019, the trio can do some damage in the tournament, helping Holmstrom's stock going into the 2020-21 AHL season.
Transition to North America
Assuming he makes the team for this year's tournament, Holmstrom's play could boost his outlook for the upcoming AHL season. After producing at almost a point-per-game pace in Sweden's SuperElit, Holmstrom struggled to match his production in North America, totaling eight goals and 15 points in 46 games with Bridgeport, with a -15 rating.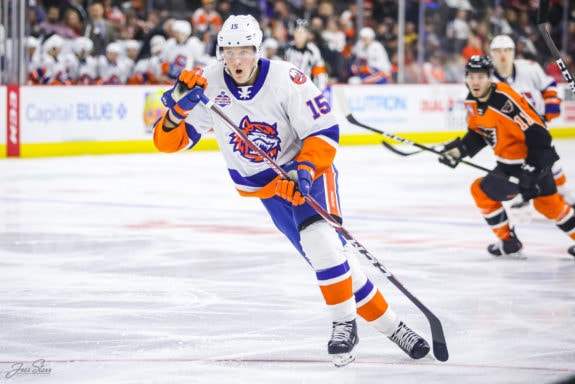 With the possibility that one or more of Bridgeport's top point producers from last season could be on their way to the Islanders' roster, more opportunity could be on the horizon for the 19-year-old. He is still scrutinized plenty after being a surprise selection in the first round of the 2019 NHL Entry Draft. The Islanders certainly have faith in his abilities, and an increased role, if he has a strong tournament, could surely help him improve on his first season with the Sound Tigers.
Expectations
Holmstrom is expected to make Sweden's roster for the World Juniors and will most likely have a top-six forward role. This should also afford him exposure to Holtz and Raymond on what should be a prolific power play with Edmonton's Philip Broberg as its potential quarterback. With the same core that won gold at the U-18 tournament, Sweden should be in a good position to make a deep run at the 2021 WJCs.
Considering Holmstrom should make a significant contribution to his team's success in the tournament, his role for the upcoming AHL season should expand as well. What the Islanders will do with their roster when next season begins remains to be seen, but Holmstrom should undoubtedly be surrounded by talent regardless of who gets called up. If he can show the flashes we saw from him last season more consistently, it won't be long before he is an NHL regular.
---
---