Every team in the NHL has contracts they regret, or eventually come to regret – often deeply. The New York Rangers are no exception, though their worst deals have yet to reach truly ugly status.
At least two of those, however, have the potential to arrive in albatross territory in the not-too-distant future – pacts that could seriously hamper their efforts to manage the salary cap just as several of their promising young players will come due for bigger money. Those contracts, at least somewhat controversial at the time of signing, are all but unmovable and will prove extremely unwieldy should the players in possession of them see their production and effectiveness drop as the deals progress.
So here's a look at the Rangers' biggest possible reasons for financial sorrow over the next several seasons:
Jacob Trouba
Rangers fans were thrilled when the club pulled off what looked like a heist in June 2019, acquiring the big right-shooting defenseman from the Winnipeg Jets for defender Neal Pionk and the Jets' own first-round pick, 20th overall (which the Rangers had obtained in the trade deadline swap for center Kevin Hayes). Jacob Trouba was expected to be the top-pair anchor the Rangers had craved for so long, bringing his physicality and apparently rising offensive game on a nightly basis.
One month after his acquisition, the Rangers signed their ostensible No. 1 defenseman, a restricted free agent, to a seven-year, $56 million contract.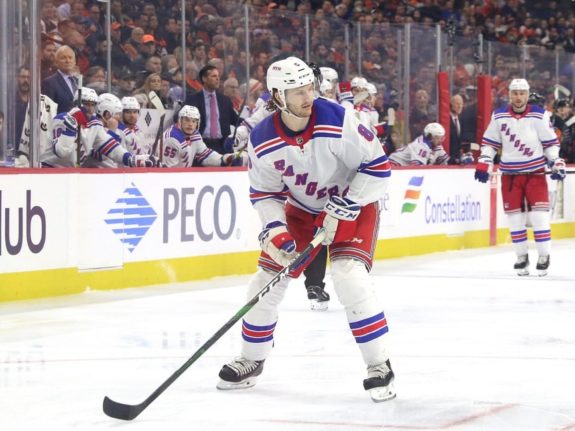 The Rangers' vision for Trouba may well become reality, but at the very least, they've had to wait a season for it to happen. Trouba struggled out of the gate in 2019-20, admittedly having trouble with a new system and coaching staff while also working to acclimate to the enormity of New York City. He had issues with reads and positioning, and the nasty edge the Rangers thought they were trading for didn't immediately materialize.
Trouba's point total fell from a career-high 50 in 2018-19 to 27 last season (albeit in 12 fewer games due to the pandemic) and he finished a minus-12 after being a plus player in each of his previous six NHL seasons. Making matters worse, Pionk thrived in Winnipeg with six goals, 39 assists and a plus-10 rating in a league high-tying 71 games.
Trouba seemed to be finally finding his footing shortly before the league's shutdown in March, posting a plus-1 rating over the final 11 regular-season games while playing with more confidence, assertiveness and snarl. For the Rangers' sake, they're hoping that small sample is indicative of a trend.
The 26-year-old's no-movement clause kicks in for next season, though it's unlikely that the Blueshirts could trade him – or that they would even try. Concerns linger that until last season, Trouba was at least partially protected in Winnipeg by Dustin Byfuglien, the huge right defender who handled plenty of the big minutes and top-line assignments, allowing Trouba to thrive in some lower-quality matchups.
Some of that worry was borne out in 2019-20, when the promising young pairing of Adam Fox and Ryan Lindgren had clearly passed Trouba and his various partners to become the top blue-line unit by the end of the season. It's worth noting that the lack of a consistent and, frankly, more competent player on his left likely didn't help Trouba's cause. He started the season paired with childhood friend Brady Skjei, a combination that proved to be an ill fit and was broken up early before Trouba found some stability with youngster Libor Hajek.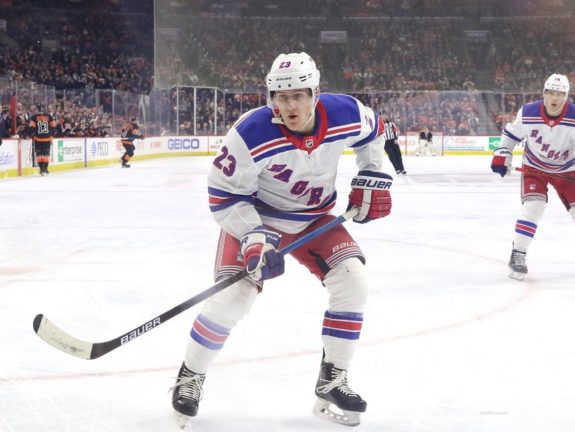 Hajek's season cratered, though, as he was unable to find his form after suffering a knee sprain that kept him out until mid-January. He was sent to the AHL after struggling in his first game back and never returned.
Coach David Quinn briefly tried promoting Lindgren to play with Trouba, but the pairing didn't work nearly as well as the Lindgren-Fox tandem, which was reinstated. Finally teamed with veteran Brendan Smith, Trouba played his best hockey of the season into the pause and then during the Rangers' three-game sweep at the hands of the Carolina Hurricanes in the qualifying round. (From 'Rangers Playoff Fallout Includes Jacob Trouba-Induced Dilemma', New York Post, 8/6/20)
Paying a second-pair defenseman first-pair money (Trouba is tied for the seventh-highest average annual value among NHL blueliners, $125,000 more than Tampa Bay Lightning star Victor Hedman) isn't what the front office had in mind when it bet on Trouba handling the lead-dog role through 2025-26. Perhaps Smith remains on Trouba's left next season, or maybe Hajek is ready to reclaim the role that he lost as Trouba looks to pick up where he left off.
For now, the Rangers remain confident that the 6-foot-3, 209-pound Michigan native is growing into the role they envisioned for him. With $48 million left on his contract, they really have no choice.
Chris Kreider
Excitement was again the dominant emotion around the Rangers, the front office and the fan base when Chris Kreider and the team ended a standoff and agreed to a seven-year, $45.5 million extension on the morning of Feb. 24, just hours before the trade deadline.
In the end, the Rangers felt they just couldn't lose all the positives that flow from the power forward on a daily basis: the uncommon combination of size, speed and strength that's so sought after, Kreider's outstanding work in front of the net, something sorely lacking from the rest of the Blueshirts' roster, and the preparation, professionalism and leadership that No. 20 provides for the young players that dot the roster.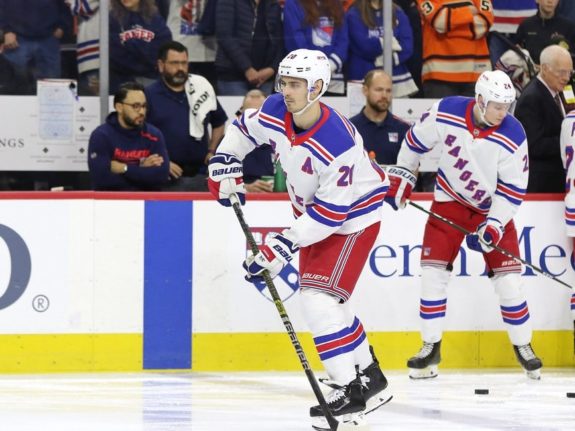 Of course, in buying the good, the Rangers get all the bad, too – and if there wasn't a sufficient amount of the latter, the contract negotiation never would have come down to nearly the last minute.
The appeal of Kreider has always been somewhat about what he could do, as opposed to what he actually does. In acceding to his desire for a seventh year in return for a lower annual salary, the Rangers knew they were accepting the disappearing acts and streaky production that are inherent in Kreider's game. For all of his talents, Kreider has never reached 30 goals in his seven-plus seasons since the Blueshirts drafted him 19th overall in 2009, and he's never totaled 60 points in a season.
In fairness, Kreider was on pace to finally reach the 30-goal mark last season, with 24 in 63 games before the shutdown. Yet it very well could have ended up being a familiar story: he's been close, only to succumb to injury and/or one of his trademark stretches in which you hardly know he played in a game.
In 2018-19, he scored his 26th goal in game No. 62 – and then proceeded to score two more goals over his final 17 contests. Kreider may have been hurt during that span – yet, as mentioned, that's been a part of his career, too: he's only reached the 80-game mark once and has played fewer than 70 three times.
That's disconcerting going forward, because Kreider isn't young in hockey years: he'll turn 30 next season, with six more to go on a deal that pays him $6.5 million per after that. His offseason training regimen has become the stuff of legend around the Rangers. Will that be enough to allow him to remain effective with his heavy type of game that often doesn't age well? Will the Rangers be rueing the decision to extend Kreider in a season or two?
The pleasantly unforeseen event that compounded matters occurred less than six months after Kreider's signing, when the Rangers won the draft lottery and the right to select left wing Alexis Lafreniere with the top overall pick. Fellow left-wingers Kreider and Artemi Panarin are both locked in long-term, leaving a logjam of talent and salary at the position. Of course, there's no way general manager Jeff Gorton could have anticipated winning the lottery when he re-upped Kreider, but one has to wonder if he would have done so if he knew he'd have Lafreniere in his pocket come next season.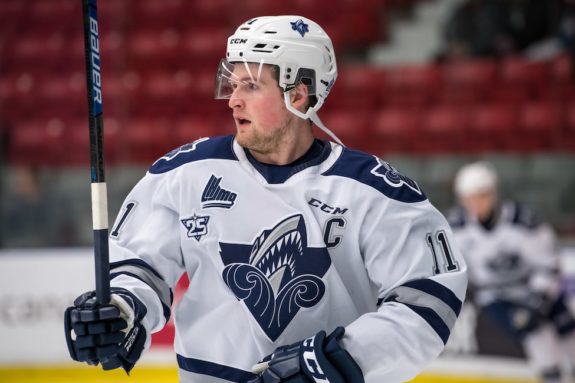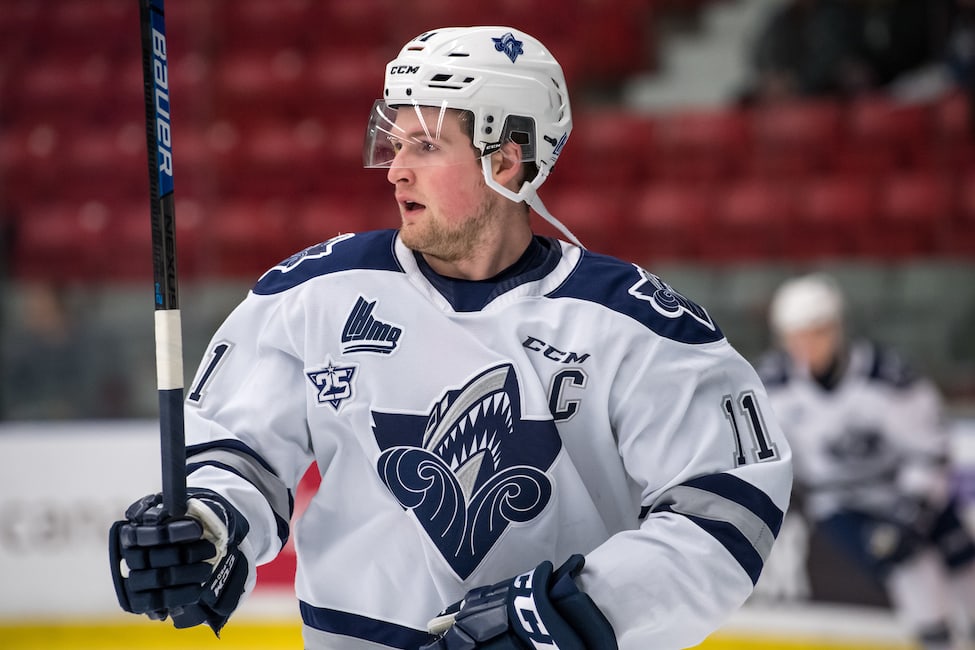 With the deadline bearing down on them and the need to either sign Kreider or trade him, the Rangers understandably blinked, unwilling to lose the kind of player they felt they'd spend the next few seasons searching for had they sent Kreider away. Yet this seems like the type of contract that brings regret in short order after the initial euphoria fades. The Rangers' salary cap will become a major challenge a few seasons from now, and they probably would have been better off allotting Kreider's $6.5 million slot elsewhere – most notably at center, where they are seriously thin – especially with Lafreniere now in the fold.
Kreider will have to do plenty to justify this expenditure, and there's little reason to believe the best is yet to come as the career Ranger moves into his 30s and out of his physical prime.
Brendan Smith
The contract of the veteran defenseman/forward isn't like the aforementioned other two – it only has one season left to run. Yet Smith's four-year, $17.4 million deal has been so disastrous for the Rangers, his $4.35 million cap hit for next season merits inclusion on this list.
The journey has been well-documented: the Blueshirts re-signed Smith after his 2017 trade-deadline acquisition and ensuing impressive playoff performance; he reported to camp the next season out of shape and played so poorly that he was demoted to the AHL, where he broke his hand in a fight with a teammate. He rededicated himself for 2018-19, yet still struggled and was eventually moved to a fourth-line forward role in which he performed fairly well; he found some redemption in sliding back to defense late last season and pairing effectively with Trouba.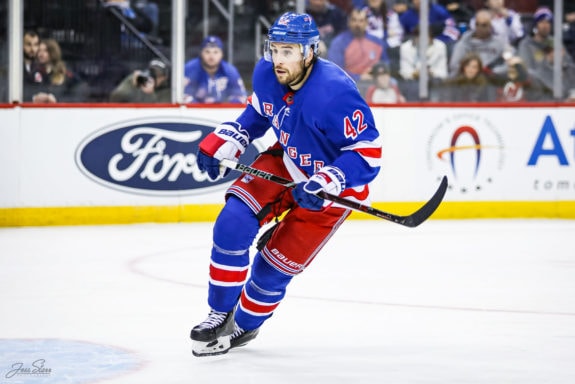 The bottom line: the Rangers can't wait for this contract, an overpay in both average annual value and length at the time of signing, to go away. It's still possible they'll bury Smith in the minors next season in order to save just over $1 million against the cap. A buyout seems less likely, but it's plausible.
The mercurial Smith could, ironically enough, end up playing an important role next season should he be reunited with Trouba, but that doesn't change the fact that team brass will pop open a bottle of champagne once Smith's deal goes away for the 2021-22 season.
Trouba, Kreider Deals Were Necessary Risks
Ultimately, general manager Jeff Gorton probably had little choice but to ink Kreider, and acquire and sign Trouba. The Rangers had no proven options at left-wing behind Panarin at the time, and Kreider was instrumental in helping carry a young team into playoff contention before the pause last season. Management was also well aware of the role Kreider played in the dressing room for the Blueshirts' youthful group.
Trading for Trouba and then signing him was also a no-brainer. The Rangers took advantage of the Jets' cap problems to acquire the type of commodity that's among the hardest in the NHL to procure – a top-pair, right-handed defender with size and skill. As for the contract, Gorton essentially paid the going rate for a player in Trouba's situation.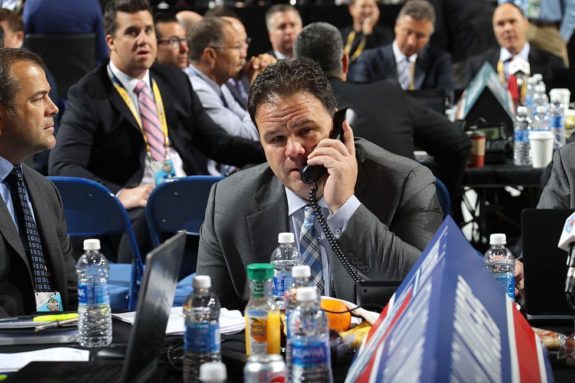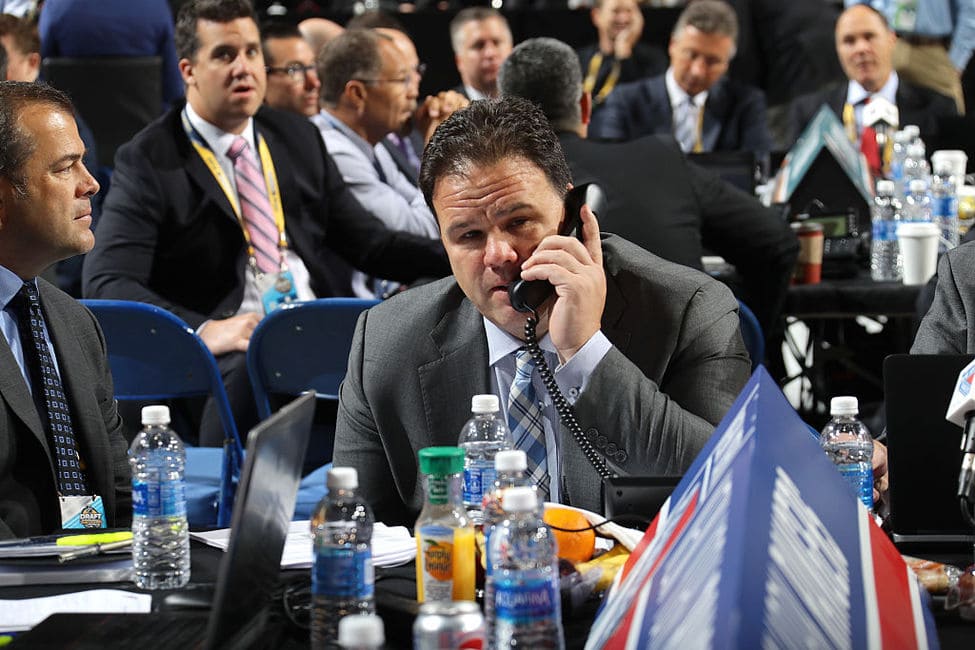 The Rangers just hope that the aforementioned reasons for handing out those deals read as validation of a pair of successful decisions years from now – and not as a defense of the thinking behind two bloated contracts gone wrong.
---
---