Montreal Canadiens prospect Jayden Struble has gotten off the mark with his first NCAA goal of the season. Anaheim Ducks third-round pick from the 2020 NHL Entry Draft Ian Moore scores his first United States Hockey League (USHL) goal and Los Angeles Kings prospect Alex Laferriere is starting to heat up after a slow start to the season.
Struble Grabs First of the Season
Canadiens prospect Jayden Struble bagged his first goal of the season for Northeastern University on Saturday in their 3-3 tie with Providence. The Cumberland, Rhode Island, native is playing in his sophomore season in the NCAA. Drafted 46th overall in the 2019 NHL Entry Draft, Struble amassed three goals and seven assists for 10 points in 21 games played during his freshman season. He was scoreless in his first game of the season, but put up two assists in Northeastern's 6-3 victory over Merrimack and one goal and one assist on Saturday.
THW's own Peter Kapelanski had this to say about Struble's game in his 2019 Draft Prospect Profile.
He possesses a strong stride to the outside which allows him to rush pucks up the ice with confidence and take control of his team's offence. In addition to his strong skating mechanics, the young defenseman has good agility and above average puck skills and doesn't shy away from delivering big hits. His mobility and athleticism allow him to walk the blue line with confidence on the power play, thus creating passing and shooting lanes.
With one goal and three assists for four points in three games played, Struble is already almost halfway to his point total from last season in 18 fewer games. With Alexander Romanov and Mattias Norlinder impressing, the Canadiens might have a trio of excellent young defenders on the way. With Shea Weber on the wrong side of 30 and Jeff Petry not getting any younger, it's about time Montreal had some youth in the pipeline.
Ian Moore Scores First USHL Goal
Ducks' prospect Ian Moore managed to score his first USHL goal for the Chicago Steel in their 6-5 victory over the Muskegon Lumberjacks on Friday. The win was the Steel's eighth consecutive victory bringing their record at the time to 10-2-0. Drafted 67th overall by the Ducks in the 2020 NHL Entry Draft, he was one of a few players to be drafted out of high school. Moore spent the 2019-20 season in the United States High School Preparatory system, playing for St. Mark's School. He amassed an impressive 12 goals and 34 assists for 46 points in 28 games played. He was named to the USHS First Team All-New England Team (East).
THW's Peter Baracchini had this to say about Moore's offensive ability in his 2020 Draft Profile.
Moore's offensive instincts make him extremely valuable. He is a great puck distributor and can find his teammates with strong and crisp passes. Along with his play-making skills, Moore has a powerful shot from the point. Given the opportunity, he's able to use his strength for a wicked release and can complete quick one-timers.
To begin his rookie season in the USHL, Moore has one goal and two assists for three points in 10 games played. The Massachusetts-born defenseman is committed to Harvard University for the 2020-21 season.
Laferriere Heating Up for Des Moines
It was a rough start to Alex Laferriere's sophomore season in the USHL. The Des Moines Buccaneers forward was pointless in his first five games of the season. However, he has turned things around in his last four games, recording two goals and two assists for four points. Drafted 83rd overall in the 2020 NHL Entry Draft by the Los Angeles Kings, Laferriere amassed 19 goals and 26 assists for 45 points in 42 games played during the 2019-20 season with Des Moines.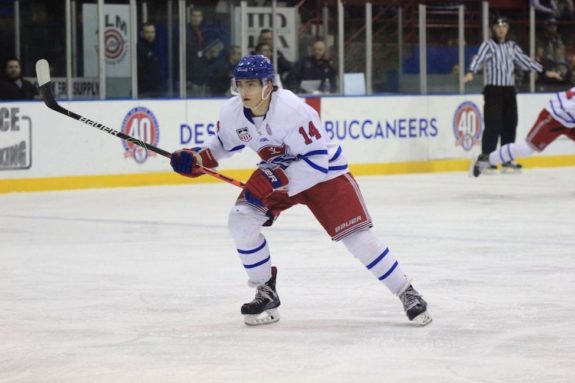 Laferriere was committed to Harvard University for the 2020-21 season, but with the Eastern College Athletic Conference suspending play for the time being he returned to the USHL. Hopefully, this is just the start to a productive season for Laferriere. He will attempt to lead the Buccaneers on a playoff run before he heads to the NCAA in 2021-22.
---
---