Justin Trudeau will be faced with several difficult decisions, as Canada's new Prime Minister.
Ditto for Dave Lowry, as the new head coach and spiritual leader of the national under-20 men's team for the upcoming World Junior Hockey Championship.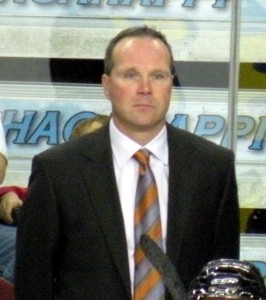 While Trudeau has his hands full with regards to refugees and legalizing marijuana, Lowry has his work cut out for him in trimming a selection camp roster of 32 hopefuls to 22 young men who will board a flight to Helsinki, Finland, for the annual tournament that begins on Boxing Day.
Cutting 10 prospective players — be it six forwards and four defencemen, or five of each — is certainly going to be easier said than done with this talented group. That Canada enters as the defending champion, having won gold in Toronto last January for the first time since 2009, makes it all the more challenging. Lowry, with the help of evaluators, will handpick the teenagers he's taking to battle overseas.
Trudeau pulled Canada out of its airstrikes against Syria and Iraq as one of his first orders of business, but Lowry needs his troops to be all-in from the get-go and to make sure he's got the right mix of foot soldiers.
Let's take a closer look at the weapons that Lowry will have at his disposal heading into this weekend's selection camp in Toronto.
The Returnees
http://gty.im/461100912
Brayden Point, C (WHL, Moose Jaw Warriors) — He made last year's team as the 13th forward but climbed Canada's depth chart throughout the tournament. He returns in a starring role and will be counted on as an offensive catalyst. Point had a strong showing at Tampa Bay's training camp, sticking around longer than expected for a third-round pick, but the undersized forward is outperforming his draft position and appears to be a steal for Steve Yzerman. The only concern here is Point comes to selection camp a bit banged-up, recovering from a shoulder upper-body injury that caused him to miss eight straight games before heading to Toronto. Point was reportedly close to returning but was held out of Moose Jaw's lineup this past weekend — because of soreness, and perhaps precautionary reasons for Canada's sake — so he should definitely be good to go by Boxing Day. Prior to getting hurt on Nov. 17, Point had been leading the WHL scoring race with 18 goals and 43 points in just 19 games and was the best player on the ice for Team WHL in two straight wins over the Russians on Nov. 9-10.
http://gty.im/460982464
Lawson Crouse, LW (OHL, Kingston Frontenacs) — He was one of two underagers on last year's team, along with Connor McDavid, but Crouse should be a man among boys this time around — literally, too, listed at 6-foot-3 and 212 pounds. He plays a power-forward game but hasn't exactly been lighting up the OHL this season, with only nine goals and 24 points in 22 games — and just one goal in his last 10 games, none in his last four prior to selection camp. Still, the 11th overall pick in this year's NHL draft, by the Florida Panthers, should be a force in this tournament and Crouse's spot on Canada's roster is considered safe. He also skates well for a big man, so that shouldn't be a concern on the bigger European ice surface.
http://gty.im/461067884
Joe Hicketts, D (WHL, Victoria Royals) — This is Lowry's boy, he's coached Hicketts for his entire four-year junior career, both arriving in Victoria in 2012. Hicketts captains the Royals and almost certainly wear a letter for Canada as well. If you enjoy a good underdog story, Hicketts is the kind of kid you want to root for. He was passed over in the NHL draft but signed as a free agent by the Detroit Red Wings, who know a thing or two about unearthing talents. Hicketts returned to dominating the WHL and was something of a surprise addition to Canada's roster last year — some were even surprised to see him at the selection camp. That's not the case this year, with Hicketts shining on that world stage — excelling in more of a shutdown role. Prior to that coming-out party, most had Hicketts pegged as an undersized offensive guy, but he proved capable of wearing many hats in that tournament. Hicketts has since continued to establish himself as one of the best blue-liners in his age group and currently ranks second amongst WHL defencemen in scoring with two goals and 30 points in 29 games this season. Hicketts also has a physical dimension to his game and initiates contact at every opportunity, as was evidenced by flattening a handful of Russians in last month's showcase.
NHL Reinforcements
http://gty.im/493123972
Jake Virtanen, RW (Vancouver Canucks) — There has been no official announcement, but it sure sounds like he'll be loaned to Team Canada, much the same as Curtis Lazar was last year by the Ottawa Senators. It makes sense with Virtanen in-and-out of Vancouver's lineup to this point in the season, not playing a key role for the Canucks with one goal and four points in 19 games to date. Vancouver's head coach, Willie Desjardins, guided Canada at the 2010 world juniors and was an assistant with the 2009 golden team, so he understands how attending this tournament is beneficial for top prospects. Vancouver's general manager, Jim Benning, recently hinted they were leaning towards loaning Virtanen, so you can pencil him in for Canada — providing he's healthy. Virtanen is currently on a conditioning stint with the AHL's Utica Comets but hasn't suited up since Nov. 30 when he was hurt on a cross-check by Anaheim's Ryan Getzlaf. Virtanen has recovered from that blow and is expected to play two more games at the pro level this weekend with Utica, before potentially reporting for duty in Toronto. If and when Virtanen joins Canada's junior team, he'll be thrust into the spotlight and could possibly serve as captain — again, like Lazar. Virtanen would be a frontrunner for that responsibility as another returnee from the 2015 golden team, now armed with NHL experience and mentorship from the Sedin twins.
http://gty.im/491903238
Virtanen will likely be the only NHLer on Canada's roster. His Vancouver teammate, Jared McCann, will probably be retained by the Canucks because he's a fixture in their top-nine forwards and helping fill the void for injured centre Brandon Sutter. Worth noting, McCann didn't make the cut for Canada ahead of last year's tournament.
Robby Fabbri would have been another returning winger for Canada, but he stuck with the St. Louis Blues out of training camp and there has been no indication from GM Doug Armstrong or coach Ken Hitchcock — both big Hockey Canada guys — that Fabbri could be freed up. Their silence suggests he'll be unavailable.
McDavid is still sidelined by a broken collarbone, but he wasn't going to be in consideration anyway — already the Edmonton Oilers' best player — nor is Aaron Ekblad, who remains age-eligible for the world juniors as well despite anchoring the Florida Panthers' blue-line as a sophomore.
The Other Locks
http://gty.im/498104558
Dylan Strome, C (OHL, Erie Otters) — The third overall pick in 2015, by the Arizona Coyotes, is fourth in OHL scoring and was the league's player of the month for November. Point may be the returnee, but expect Strome to be the centre of attention.
Mitch Marner, C/RW (OHL, London Knights) — The fourth overall pick in 2015, by the Toronto Maple Leafs, is tied for the OHL scoring lead with 58 points through 25 games. His playing style reminds many of another former Knights player who is leading a league in scoring, none other than Patrick Kane of the Chicago Blackhawks. Marner should shine as a flashy talent in this tournament.
Travis Sanheim, D (WHL, Calgary Hitmen) — The 17th pick in 2014, by the Philadelphia Flyers, is leading all WHL defencemen in scoring with eight goals and 31 points in 24 games. Sanheim is a big body who skates well, has a booming shot, makes smart plays all over the ice, and can engage physically as well. Essentially, Sanheim is this year's Darnell Nurse.
Hadyn Fleury, D (WHL, Red Deer Rebels) — The seventh pick in 2014, by the Carolina Hurricanes, captains this year's Memorial Cup host team and boasts many of the same attributes as Sanheim. Fleury isn't quite as offensive-minded, with seven goals and 20 points in 24 games, but he's very solid in his own end.
Mackenzie Blackwood, G (OHL, Barrie Colts) — The second goaltender taken in 2015, 42nd overall by the New Jersey Devils, is Canada's projected starter. However, he'll be forced to miss the first two games of the world juniors, barring a successful appeal of a heavy-handed eight-game suspension for a slashing incident in the OHL. It is unknown whether Hockey Canada officials have reached out to OHL commissioner David Branch about lessening that punishment, but it couldn't hurt to ask. Aside from that overhead chop that looked worse than it was — there was no injury sustained — Blackwood has been sensational this season, boasting an OHL-best .932 save percentage in 24 appearances. He's the main reason Barrie is topping its division standings. Zachary Fucale and Eric Comrie set the bar high at the 2015 tournament, but Blackwood certainly appears to be on their level.
The Bubble Guys
http://gty.im/499443048
Mathew Barzal, C (WHL, Seattle Thunderbirds) — The 16th pick in 2015, by the New York Islanders, was a draft faller but is now proving his doubters wrong. Barzal is tied with Point for third in WHL scoring, with nine goals and 43 points in 25 games, after making it to the last round of cuts at Islanders' camp. Barzal has a bright future and hockey fans should get a glimpse of it at this tournament, barring a flat-out bad selection camp. With five forward spots spoken for to this point (and that's assuming Virtanen is in the fold), there are eight more openings and Barzal is very likely to claim one of them. Very likely, but not necessarily a lock.
Anthony Beauvillier, C/LW (QMJHL, Shawinigan Cataractes) — The 28th pick in 2015, also by the Islanders, could be the lone QMJHL forward on Canada's roster. Beauvillier is one of only three invited to selection camp and the other two are draft-eligible underagers. But Beauvillier is having a strong season, second amongst league-leaders in points-per-game with 17 goals and 41 points in 21 games (1.95 Pt/G). That offensive ability will probably be coveted coming out of selection camp.
Rourke Chartier, C (WHL, Kelowna Rockets) — A fifth-rounder in 2014, 149th by the San Jose Sharks, Chartier broke out with 48 goals in just 58 games last season and was among Canada's final cuts for the 2015 team. Chartier missed two months at the start of this season with a broken bone in his hand but scored a hat trick in his return to Kelowna's lineup last Wednesday. Lowry is very familiar with the player here — the Rockets eliminated Lowry's Royals in the second round of playoffs this past spring — so that might give Chartier an inside track on a spot as long as he's up to speed at camp.
Nick Merkley, C/RW (WHL, Kelowna Rockets) — The 30th pick in 2015, by the Coyotes, has had a slower start to this season without his centre, Chartier, and having also missed the first few games with a collarbone injury from Arizona's camp. But Merkley put up 90 points, including 70 assists, in his draft year and was leading the WHL in scoring at last year's Christmas break. Again, Lowry knows all he needs to know about these Kelowna rivals, so if he likes them, they stand a good chance of making it. Chances are, if Lowry takes one, he'll take both as a tandem because of their chemistry.
Jayce Hawryluk, C/RW (WHL, Brandon Wheat Kings) — The 32nd pick in 2014, by the Panthers, is also hobbled heading into camp. Hawryluk was hurt in a game against Regina last Friday, but it's not believed to be a serious injury (listed as day-to-day, upper-body). He plays bigger than his 5-foot-10 frame suggests and could fit nicely on an energy line. Hawryluk had a good showing against the Russians to improve his chances of representing Canada.
http://gty.im/497172986
Michael Dal Colle, LW (OHL, Oshawa Generals) — The fifth pick in 2014, by the Islanders, hasn't lived up to his high draft position but remains a solid prospect. Dal Colle also has championship experience, winning a Memorial Cup with Oshawa in May, so that could help his case, but he'll need to impress at selection camp.
Brendan Perlini, LW (OHL, Niagara IceDogs) — The 12th pick in 2014, by the Coyotes, is in the same boat as Dal Colle and cut from the same cloth too. Perlini is an inch taller, at 6-foot-3, but both bring size and a goal-scorer's touch. The bigger-ice factor could raise question marks for them, but if they fill the net at selection camp, it'll be tough to tell them to stay home.
Travis Konecny, RW (OHL, Ottawa 67s) — The 24th pick in 2015, by the Flyers, is tops on his team in scoring and seventh among league leaders with 45 points in 29 games. Konecny's stats suggest he's more of a set-up man, with 38 assists to just seven goals, but he's shown an ability to finish and to elevate his play for big games in the past. Clutch is a word that comes to mind for Konecny, who was named most valuable player at the 2015 CHL Top Prospects Game. Hockey Canada's brass would be well aware of that trait, and the stage doesn't get any bigger than the world juniors, so consider Konecny in the mix.
Spencer Watson, RW (OHL, Kingston Frontenacs) — A seventh-round pick in 2014, 209th by the Los Angeles Kings, Watson is obviously a late-bloomer and most would label him a long-shot, both for making this team and the NHL. But Watson could be this year's Hicketts, albeit a forward version. Like Hicketts, Watson is also undersized at just 5-foot-9 but that hasn't stopped him yet. Watson was a standout for Team OHL against Russia, scoring three of the OHL's five goals and keying both victories to get Lowry's attention (the coach was in attendance). Watson is also a teammate of Crouse, so that could bode well for him. Definitely don't count him out.
http://gty.im/494521118
Thomas Chabot, D (QMJHL, Saint John SeaDogs) — The 18th pick in 2015, by the Ottawa Senators, is a real smooth defender who isn't afraid to get involved offensively or physically. But, most importantly, Chabot is reliable and responsible in his own zone. Expect him to quietly make the team. Well, unless he's too quiet during selection camp.
Brandon Hickey, D (NCAA, Boston University) — A third-rounder in 2014, 64th by the Calgary Flames, Hickey is a college guy and therefore has been off the radar for some Canadian hockey fans. But Hickey has a very real chance of making this team and opening a lot of eyes — as he did for Hockey Canada during the Summer Showcase to earn this follow-up camp invite.
Noah Juulsen, D (WHL, Everett Silvertips) — The 26th pick in 2015, by the Montreal Canadiens, doesn't get noticed enough on an offensively challenged Everett club. But, boy, did Juulsen ever make his presence felt against the Russians. He was arguably Team WHL's best defenceman in that series opener in Kelowna and one would think that performance probably vaulted Juulsen up the depth chart heading into this camp. Yet, you have to wonder, would Canada take four of seven defencemen from the WHL? If not, Juulsen is seemingly still behind Hicketts, Sanheim and Fleury.
Roland McKeown, D (OHL, Kingston Frontenacs) — A second-rounder in 2014, 50th by Los Angeles but since traded to Carolina, McKeown might be the best skater of all the blue-liners coming to camp. The big-ice factor will be working in his favour for that reason, but the rest of McKeown's skill-set may not be up to par with his peers. Selection camp will be telling for him.
Travis Dermott, D (OHL, Erie Otters) — The 34th pick in 2015, by the Leafs, is an offence-first defenceman and power-play specialist, almost reminiscent of Ryan Ellis and Ryan Murphy from their world-junior days for Canada. If Hicketts is cast in a defence-first role again, then Dermott could perhaps make it as the seventh guy on the back end who mans the point in man-advantage situations. He'd have to beat out at least one (and likely two) of Hickey, Juulsen, McKeown or this next guy.
Jakob Chychrun, D (OHL, Sarnia Sting) — Widely considered the top draft-eligible defender for 2016 and the potential second overall pick behind American forward Auston Matthews, Chychrun is skilled and savvy beyond his years. There are some similarities to Ekblad, who performed very well as an underager for Canada at the 2014 tournament. But Chychrun isn't Ekblad's equal — call him a poor man's version — so he'll have an uphill battle to crack this roster against older competition.
Mason McDonald, G (QMJHL, Charlottetown Islanders) — The 34th pick in 2014, by the Flames, was thought to be a lock as Blackwood's backup. That was, until Hockey Canada issued a late invite to McDonald's QMJHL rival, Samuel Montembeault. His presence has more to do with the aforementioned Blackwood suspension, but suddenly three's a crowd at selection camp. Neither McDonald nor Montembeault have a .900 save percentage on the season, but McDonald has the better pedigree and will now be Canada's go-to guy to start the tournament. McDonald has already been declared the Boxing Day starter, a big test against Auston Matthews and the Americans on Dec. 26.
The Long-Shots
http://gty.im/494522522
John Quenneville, C (WHL, Brandon Wheat Kings) — The 30th pick in 2014, by the Devils, would have to really shine at selection camp to force his way onto the roster. One scenario that could possibly play out is Quenneville lining up with his Brandon teammate, Hawryluk, and together outperforming Kelowna's tandem of Chartier and Merkley. That didn't happen in the WHL championship series this past spring, when Chartier and Merkley — with a whole lot of help from Leon Draisaitl — dominated that matchup in a four-game sweep to win the title. Of course, those teammates could all be split up throughout selection camp. We won't know until they hit the ice, but Quenneville would seem to be facing the longest odds of the four.
Mitchell Stephens, RW (OHL, Saginaw Spirit) — The 33rd pick in 2015, by the Lightning, is coming to camp under similar circumstances to Chartier, having also just returned from a lengthy injury absence. But that is all they have in common. Unlike Chartier, Stephens is a stranger to Lowry and he wasn't in the running for last year's team either. Stephens would need to blow the doors off camp to, well, get a foot in the door.
Julien Gauthier, RW (QMJHL, Val-d'Or Foreurs) — A draft-eligible forward, ranked 11th in ISS Hockey's latest top 30, Gauthier has been on Hockey Canada's radar for some time and turned his share of heads at the Summer Showcase. They like his size as much as anything, with Gauthier measuring up to Crouse as the biggest forwards coming to camp, both 6-foot-4 and more than 210 pounds. Some look at Gauthier and see shades of Anthony Mantha, who led Canada in scoring at the 2014 tournament, but Gauthier is probably a year away from getting his chance at the world juniors.
Pierre-Luc Dubois, LW (QMJHL, Cape Breton Screaming Eagles) — Another draft-eligible forward, currently ranked 14th by ISS, Dubois was a surprising invite to selection camp. He's another big body at 6-foot-3 and over 200 pounds, but most believe he's coming to Toronto more for the experience. But if Dubois believes he's there to compete for a spot and plays like he's possessed during selection camp, he might just shock the hockey world. Reality is, this is a weak year for QMJHL forwards, but Hockey Canada had to invite more than just Beauvillier to camp to avoid any accusations of prejudice or stereotype. So why not invite a couple kids who project as legitimate roster contenders for next year? It makes sense why Gauthier and Dubois are in Toronto this weekend, even if they don't have a realistic chance of making the team.
http://gty.im/498104510
Vince Dunn, D (OHL, Niagara IceDogs) — A second-rounder in 2015, 56th by the Blues, Dunn isn't nearly as much of a long-shot as the QMJHL youngsters. Selection camp is actually wide open on the blue-line beyond the top three or four, with at least a few spots up for grabs. Those spots are, by far, the toughest to predict, and Dunn's stats are definitely decent, with eight goals and 24 points in 26 games. Not too shabby at all, but Dunn's draft position is lower than most at this camp if that means anything. To fans, it might, but to Lowry and the evaluators, it's just another number. This is a chance for Dunn to let his play speak for itself, even if he's an underdog (on paper) heading into camp.
Jérémy Lauzon, D (QMJHL, Rouyn-Noranda Huskies) — Another second-rounder in 2015, 52nd by the Boston Bruins, Lauzon was a late addition to selection camp, invited only after Jake Walman (NCAA, Providence College) was unable to attend because of an injury. That fact alone has Lauzon playing catch-up to the rest of the pack in Toronto, but, hey, at least he's in the running now. Label Lauzon a dark-horse, but don't forget about him. Don't put money on him either.
Samuel Montembeault, G (QMJHL, Blainville-Boisbriand Armada) — A third-rounder in 2015, 77th by the Panthers, Montembeault is likely destined for Finland thanks to Blackwood and/or Branch, depending how you feel about that suspension. It is still unlikely that Montembeault will see any crease time, but stranger things have happened. If Blackwood or McDonald were to get hurt at selection camp, or if Montembeault was to absolutely stand on his head, then he could climb the depth chart. But, as of right now, Montembeault is a footnote on this roster and might be destined to be a trivia answer or simply the forgotten man.
Constructing the Roster
Pairs Up Front
More and more coaches, both at the junior and professional levels, are starting to prefer pairs instead of trios when it comes to forward lines. They will first look for two players that work well together and then try to find a fit for the third. The latter could even be a rotation of sorts, or ongoing experimentation.
If Canada goes that route at selection camp and progressing into the tournament, these pairs seem to make the most sense.
Line 1 = Strome-Marner
Line 2 = Point-Virtanen
Line 3 = Barzal-Beauvillier
Line 4 = Chartier-Merkley or Quenneville-Hawryluk
From there, the obvious omission is Crouse. It makes sense to try him on Line 1 from the outset. It really depends what Lowry wants as a complementary piece for Lines 2 and 3. Does he want one or two big bodies, those being Dal Colle, Perlini or possibly even Gauthier? Or does Lowry prefer smaller, faster, arguably more skilled options like Konecny and Watson? With Line 4, if Lowry goes with either WHL pair, does he make it an all-WHL line? Or does he drop one of the leftovers from those other five — Dal Colle, Perlini, Gauthier, Konecny, Watson — down a line?
Decisions, decisions . . . and it doesn't get any easier on defence.
Pairs on Back End
The obvious pairing seems to be Sanheim-Fleury, just based on their pedigrees and that they are quite similar in size and style. They would seemingly play well together.
Hicketts is obviously going to factor into the top-four, but who does Lowry put next to him? Chabot might make the most sense, seeing as how he appears the next closest to being a roster lock on the eve of selection camp.
The third pair is really anybody's guess at this point. Maybe it's Hickey-Juulsen? Or perhaps it could be Chychrun-Dermott? But what about Dunn-McKeown? Whoops, we almost forgot Lauzon. Mix and match, it'll be interesting to see what Lowry likes back there. It should be pointed out that, of the 11 defencemen competing for seven spots, only Juulsen and McKeown shoot right-handed. That matters to some coaches more than others — Mike Babcock was really big on lefty-righty pairings with Team Canada at the Sochi Olympics, it's the main reason a guy like Marc-Edouard Vlasic made the cut over Brent Seabrook — but you'd have to think Lowry would want at least one righty on the roster. Right?
Pair Between Pipes
http://gty.im/495485528
As discussed, the starting job is Blackwood's to lose, suspension notwithstanding. The backup job was supposed to be McDonald's, but now Montembeault will attempt to play spoiler on that front. When the dust settles, and by the third game of the tournament, the odds still suggest Blackwood as No. 1 and McDonald as No. 2.
My Projected Roster
Forwards
Lawson Crouse-Dylan Strome-Mitch Marner
Michael Dal Colle-Brayden Point-Jake Virtanen
Anthony Beauvillier-Mathew Barzal-Travis Konecny
Jayce Hawryluk-Rourke Chartier-Nick Merkley
Spencer Watson
CUTS = Brendan Perlini, John Quenneville, Mitchell Stephens, Julien Gauthier and Pierre Luc-Dubois. If Virtanen isn't loaned, then Perlini takes the final roster spot and slots in alongside Dal Colle and Point. Perlini's skill-set is somewhat similar to Virtanen — minus the next-gear speed — so he could work there.
Defencemen
Travis Sanheim-Hadyn Fleury
Joe Hicketts-Thomas Chabot
Brandon Hickey-Noah Juulsen
Jakob Chychrun
CUTS = Travis Dermott, Roland McKeown, Vince Dunn and Jérémy Lauzon. With three goaltenders on the roster, because of Blackwood's suspension, Canada may be forced to choose between 13 forwards or seven defencemen, meaning another skater would get cut instead of a goaltender. In that case, either Watson or Hawryluk could lose their spot up front, or if a forward has experience as a swingman and can move back, that numbers game could prove costly for a guy like Chychrun or Hickey. That suspension makes for an intriguing twist to say the least.
Goaltenders
Mackenzie Blackwood
Mason McDonald
Samuel Montembeault
---
Larry Fisher is a sports reporter for The Daily Courier in Kelowna, British Columbia, Canada, and has been an at-large contributor for THW since August 2014. Follow him on Twitter: @LarryFisher_KDC.
Larry Fisher is a senior writer and head scout for The Hockey Writers, having been an at-large contributor for THW since August 2014. Fisher covers both the NHL and the WHL, specializing in prospects and NHL draft content, including his annual mock drafts that date back to 2012. Fisher has also been a beat writer for the WHL's Kelowna Rockets since 2008, formerly working as a sports reporter/editor for The Daily Courier in Kelowna, British Columbia, Canada from 2008-2019. Follow him on Twitter: @LarryFisher_KDC.