Jonathan Marchessault knows how to score, does it often and he's become a valuable piece in the Tampa Bay Lightning franchise while currently honing his skills with their AHL affiliate the Syracuse Crunch. The Lightning have moved into a new era with no more connections to the 2004 championship club on their roster. The 24-year-old fits right into the game plan it seems that the club is aiming for, as their NHL roster only has five players at or older than 30-years-old.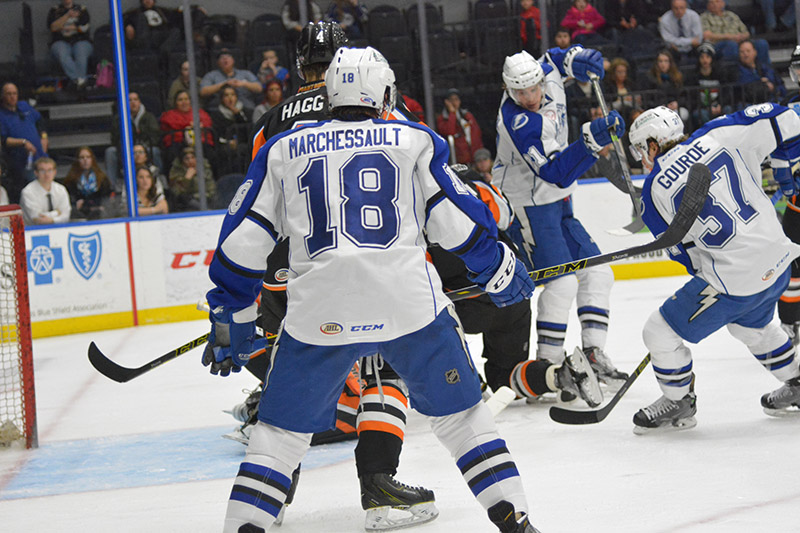 Every season since his second with the Quebec Remparts (QMJHL) Marchessault has produced at least 50 points and in four AHL seasons he has been an All-Star three times. Oh by the way, he also leads the Crunch in points (38) and assists (26) this season. After returning from the AHL All-Star Game in Utica, NY, Marchessault was nice enough to give The Hockey Writers a few minutes of his time in an exclusive interview.
The Hockey Writers: How disappointing was it to be undrafted after four really solid seasons in the QMJHL?
Jonathan Marchessault: I wasn't really expecting to be drafted actually because I was a smaller guy; I was over-aged too — I was born in late-December. I always worked hard and I know a lot of people didn't think I was going to make it in the QMJHL; and pretty much everybody didn't think I was going to make the AHL. But my first year I got an AHL contract, made the team and had a really good season so I was really happy with that.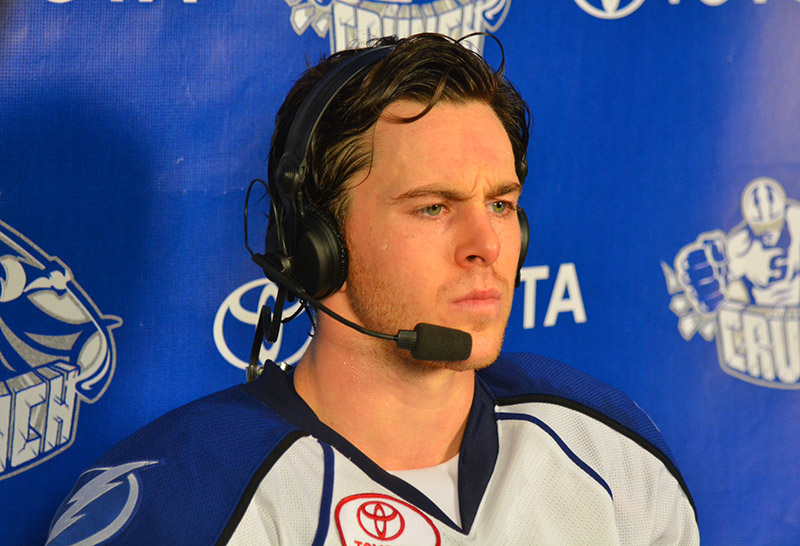 THW: As you mentioned, you eventually you signed with Connecticut in the AHL and in your first season there you tied for the team lead in points and led the team in assists; what led to that success and did you feel like you were proving people wrong?
JM: It was just a question of (me getting my) opportunity; every guy when they get here — it isn't easy. It's a different league, you have to adapt; I was more of a third/fourth line guy the first five or six games. Then there were some injuries; guys were getting called up (creating more ice-time for myself and others). I remember my ex-teammate Dale Weise (who's now with Montreal) got claimed off waivers by the Vancouver Canucks, and I got an opportunity to play more. I played alongside Kris Newbury who was already a really good player in the AHL; it was good for my development to play with a gritty player, a good offensive player also. After six or seven games everything went really well (for me) and I just continued to adapt.
Check out this spin-o-rama goal by Jonathan Marchessault in a shootout (2013):
THW: Then the Columbus Blue Jackets signed you to a contract, and eventually you got into two NHL games. Can you tell us about that experience, your memories and the emotions you went through?
JM: I remember I got called up, it was the year of the lockout and although I only played two games it was amazing. I remember my wife being there with my family; I played two games with Columbus. The first one was against St. Louis and unfortunately we lost, we were losing 3-0 after the first period so it was hard to come back from that. It was a good experience — obviously I was really nervous those two first games, they were hard and you don't know what to expect from the league. The year after I got called up for a day and didn't play in a game so I was kind of disappointed because I had a really good season going on.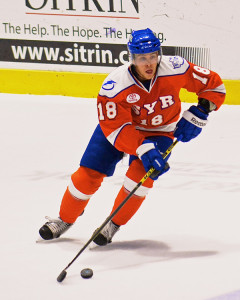 THW: You were part of a trade deadline day trade to Tampa Bay; were you a little shocked? Or more excited for another opportunity?
JM: I was actually really happy about it because things weren't working well for me in Springfield; the coaches weren't playing me as much as I wanted. I always felt like I had to start over after every game and it was hard for me. It wasn't going well; so my agent and I talked and I told him I wasn't really happy there. I know the trade deadline was at 3:00pm and I remember around five o'clock I received a phone call from one of my good friends who said 'you got traded.' I said 'No way' and then Julien Brisebois (GM of Syracuse, assistant GM of Tampa) called me and after the assistant GM from Columbus called me too. I was really happy with getting a new chance, a new opportunity for me.
THW: This season you are leading the Syracuse Crunch in scoring; what's it like playing in front of those fans?
JM: This year I've had a good season, the way that Syracuse treats me here; the coaching staff and the organization is really world class. I'm really happy to be where I am right now. The fans have been awesome; it's not a big rink, but it gets really, really loud. We have great fans and they even follow us on the road — it's amazing how the fans are, and the organization is; it's a fun environment to play in. I remember when I played here (as a visitor) it was a really hard rink to play in — I'm happy to be a part of that (now) and make it difficult on the other team.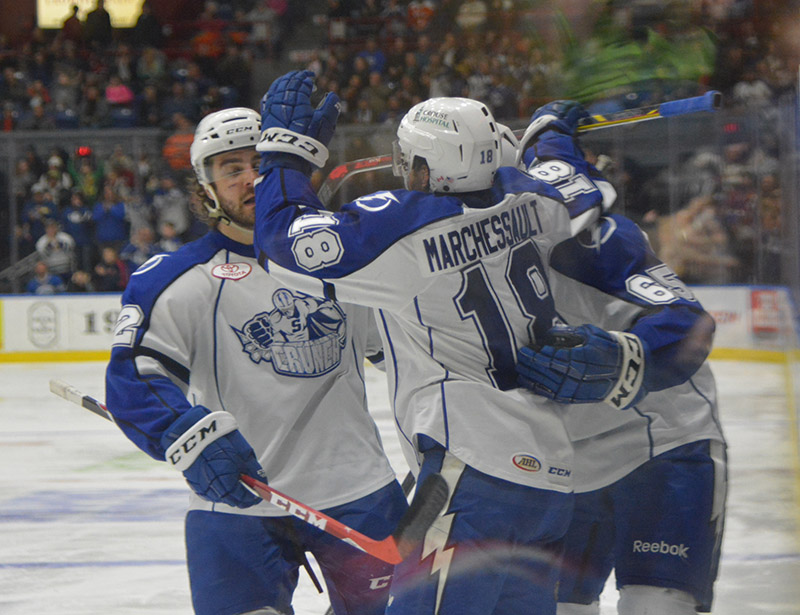 THW: What do you like best about what you have been able to accomplish this season?
JM: So far I think I'd say my consistency; maybe not the past two weekends but before that I've been showing up every game and working hard every game. Production (as far as points) comes and goes — I've been producing pretty much throughout the season and that helps me be a better and more complete player.
Jonathan Marchessault gets tripped on a breakaway & then scores on the penalty shot:
THW: You were added late this season to play in the AHL All-Star Game in Utica, NY. What did you take a way from that experience compare to your other two AHL All-Star experiences.
JM: It was fun, those weekends are always fun; it's fun to meet the other guys. It's another good experience to add to your resume; I was obviously happy to be a part of it, it's a great honor. My third time in four seasons, it's a great accomplishment.
A humongous BIG thanks to Kristen Denick (Sponsorship Services Intern for the Syracuse Crunch) for helping to put this together for myself and THW.
You can read another THW article on Marchessault from two years ago by clicking here via my buddy Josh Smith.
Dan Rice can be reached via Twitter: @DRdiabloTHW or via Email: drdiablo321@yahoo.com