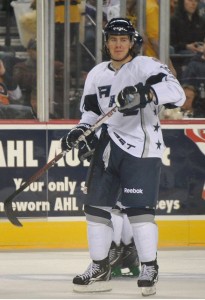 One of the newest members of the Blue Jackets organization might be one of the best unheralded free agent signings of the offseason if he can continue his steady growth as a hockey player.  Based on what he's done in Quebec and Connecticut, there's plenty of reasons to expect him to do just that.
The 21-year-old right-handed left winger was signed to a standard three-year entry level contract on the first day of free agency.  Audy-Marchessault played last season with the Connecticut Whale of the AHL, where he finished the year tied for tenth overall in the league in scoring.  A speedy, smaller forward, Audy-Marchessault or "JAM", as he's commonly called, will likely start the season with the AHL's Springfield Falcons, but should be expected to be one of the first call-ups to Columbus.   Blue Jackets fans will find his play to be reminiscent of Cam Atkinson. What Audy-Marchessault lacks in talent, he makes up for by bringing a bit more edge to his game.
Very proud to join the Columbus Blue Jackets' organisation! http://t.co/9SNPPguP

— Jon Marchessault (@JMarchessault18) July 1, 2012
The Whale's parent club, the New York Rangers, were trying to keep him in the organization despite a number of smaller, skilled forwards in the pipeline.
Adam Rotter of the SNYRangersBlog reports:  Prior to the draft, Rangers' Assistant GM Jeff Gorton praised Audy-Marchessault, saying, "He is a good kid with some upside and we are doing everything we can to get him locked up to an NHL deal."
The depth of the Rangers organization coupled with Audy-Marchessault's value may have prompted his departure.  Jim Cerny of Blueshirts United reported  that the Rangers had cooled on Marchessault, as they had too many other similarly-sized prospects in the organization and that they were hesitant to offer him the maximum entry-level contract amount. By signing with Columbus, Audy-Marchessault will have an much better opportunity for playing time in the NHL.  His skill and speed may help him to crack the Blue Jackets' lineup,  something that would have been nearly impossible for him to do in New York.
Bruce Landon, who covers the Springfield Falcons for MassLive.com, voiced his support of the signing:
"The signing of Jonathan Audy-Marchessault could be a real sleeper. This young man was an outstanding junior player and as a rookie last year in Connecticut posted 24 goals and 40 assists. He also led the team in assists and power play goals. As an assistant general manager from another NHL team told me by text, Audy-Marchessault has a chance to play in the NHL next year, but if he is in the AHL he could be a 90-point guy."
Measuring in at 5'9" and 175 pounds, Audy-Marchessault is often the smallest player on the ice.  Within the Blue Jackets' organization, only Cam Atkinson and T.J. Tynan are smaller.  Despite his size, or perhaps because of it, Audy-Marchessault plays with an edge to his game.   He racked up 50 penalty minutes in his first season in the AHL.  Even though he didn't drop the gloves during his time with the Whale, he's no stranger to fisticuffs, having found his way into a handful of fights in the QMJHL, including this scrap against Michael Haley:
AHL Career
The Connecticut Whale signed Audy-Marchessault to a two-way deal prior to the 2011-12 season with intentions of starting him with the ECHL-affiliate Greenville Road Warriors. The undrafted forward, though, had other plans. After standout performances at the Traverse City Prospects Tournament and at preseason training camp, he made the opening night roster of the Whale.  In 76 games, Audy-Marchessault scored 24 goals and 40 assists for a total of 64 points – tied for the team lead in scoring; he finished +1 with 50 penalty minutes.
"It's hard for a young kid to play at that level all season long. […] One of the reasons it wasn't quite as surprising to me is that when he started out, he was on the fourth line because he was such a hard worker and so responsible defensively. Because of that, he earned more ice time and more responsibility. Every challenge that was placed before him, he seemed to handle quite well. So he got the offensive responsibilities and the power-play responsibilities and he just seemed to flourish." – Whale coach Ken Gernander, via CTWhale.com
His strong performance helped the Whale qualify for the post-season, overcoming multiple call-ups of key players by the parent New York Rangers. In the playoffs, Audy-Marchessault scored four goals and racked up 26 penalty minutes. The Whale made it as far as the second round of the AHL playoffs before losing to the eventual-Calder Cup Champion Norfolk Admirals.  Here's Bob Crawford of Whale TV, speaking with Audy-Marchessault prior to the start of the playoffs:
Audy-Marchessault was also one of thirteen rookies named to the 2012 AHL All-Star Game, along with new teammate Cam Atkinson, then of the Springfield Falcons. He tied for the lead in All-Star scoring with one goal and two assists in the 8-7 shootout loss.   In the All-Star Skills Competition, Audy-Marchessault finished as the third fastest skater, just eight-hundredths of a second behind leader Brian Connolly of the Abbotsford Heat.
QMJHL Career
Audy-Marchessault spent his junior years with the Quebec Remparts of the Quebec Major Junior Hockey League, playing under head coach Patrick Roy. In four seasons with the club, Audy-Marchessault compiled 98 goals and 141 assists for 239 career points, along with 188 penalty minutes.  Each year, he improved his play and added to his points total, with his final year in Quebec his best, leading the team in goals (40), assists (55), and points (95), all career-highs.   Audy-Marchessault, a QMJHL First-Team All-Star, led the league in game-winning goals, with 11, and finished fifth in goals and sixth in overall points.  He also led the Remparts in playoff scoring, picking up 11 goals and 22 assists in 18 playoff games; his 33 points also led the league in post-season scoring.  His best game of the playoffs came against the Val-d'Or Foreurs, where he posted a hat trick:
Going into his first professional season,  Audy-Marchessault said,
"I told myself I don't want to waste a year in the East Coast [Hockey League].  So this summer, I starting thinking a lot that I wanted to be an AHL player. As a hockey player, you always have to want more. I wanted to have ice time, I wanted to have all those opportunities to do better."
 By signing in Columbus, Audy-Marchessault will have plenty of opportunities; it's up to him to be sure he takes advantage and makes the most of his chances.