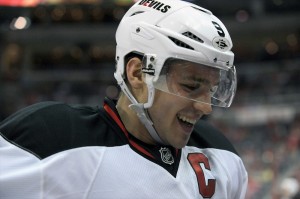 Early Wednesday afternoon, just shortly after noon, news broke that Zach Parise and Ryan Suter were the two newest members of the Minnesota Wild.
They were considered to be the best players available from a somewhat weak group of free agents.  The jury was out on which would be the more valuable signing, but most agreed both are top-calibre athletes. As a result, everyone knew the payday would be a big one for both of them, yet there weren't too many who knew the final result would see them landing with the Wild.
It was one of the biggest days in the history of Minnesota hockey. For Parise, a native of Minneapolis, MN, his signing with the Wild was a homecoming. Similar statements can be said of Suter, who as a native of Madison, WI, also returns closer to home. Suter's wife is also from Minneapolis.
"They [Parise and Suter] drove this bus, and we're just lucky they drove it to Minnesota," owner Craig Leipold said in an article from the Minneapolis Star Tribune. "These guys could go to any team. They were offered more money — we know it — by a number of teams. These guys decided this was the team."
The article also states, "it was Parise and Suter who came up with the idea of identical contracts." Parise and Suter have been linked together for years; they were both selected in the 2003 NHL Entry Draft, and sat beside each other in a photo of the top prospects. Now they have the opportunity to take their friendship to a Stanley Cup, and one that many fans in Minnesota are already dreaming about for next season.
However, before anyone gets too far ahead of themselves, the question arises: do Zach Parise and Ryan Suter make Minnesota a Stanley Cup contender?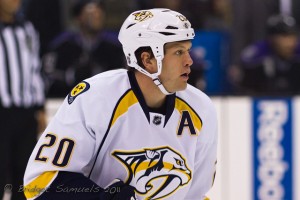 In short, the answer appears to be no, they don't. Having said that, just because it might not happen this year doesn't mean it won't occur anytime soon.
As it stands today, the Wild's opening night lineup will likely have a top line of Zach Parise on left-wing, captain Mikko Koivu at center, and either Pierre-Marc Bouchard or Devin Setoguchi on right-wing. After that, their forwards don't appear to be very intimidating offensively.
On defense, Minnesota could have a nice top-pairing of Ryan Suter and Tom Gilbert, who were paired together at the University of Wisconsin. Once again, aside from the top line/pairing, things appear to go a bit downhill. In net, Nicklas Backstrom is more than solid between the pipes, and the backup will likely be one of Josh Harding or Matt Hackett.
Many analysts from across radio and television networks don't even believe the Wild have a  team good enough to make it into the playoffs, never mind be considered as a Cup contender. On Thursday afternoon, a live sports show in Toronto was discussing the topic, and ended up having Los Angeles and Dallas as the final two teams to make the playoffs. Minnesota didn't make the cut.
While it's easy for many personalities to say the Wild aren't good enough, Minnesota fans need to remember that it's only the first week of July. The free agent market just opened a few days ago. And Suter and Parise have been members of the Wild for less than a week. There's plenty of time for general manager Chuck Fletcher to make some moves, sign some players, and make decisions regarding who will be invited to training camp in a few months.

On becoming one of the newest members of the Minnesota Wild, Parise said, "Every kid who's grown up in Minnesota would love to play for the Wild. That's the way it is. Ryan [Suter] and I had talked throughout the year, at the time you always say to each other, 'Wouldn't it be great to have a chance play with each other on the same team?'"
Their dreams have become reality, and the fans' dreams have come true as well. Many were joking in the days up to, and the days following the signings, that Twitter was going to "break" because of how many people were using it to speculate and post reactions. Even some players got in on the fun, with Mike Modano, the legendary American, jokingly asking if he could come to Minnesota too.
The two identical contract signings, $98 million each over 13 years, created quite a stir on social media platforms and raised more than a few eyebrows. There's no doubt Wild fans are ecstatic over Fletcher's additions to the hockey club, but fans in Nashville and New Jersey can't exactly say the same thing. Nashville general manager David Poile was clearly upset by Suter's decision, and made sure to point out he was never given the opportunity to counter-offer. Lou Lamoriello, the Devils' general manager, appeared to be calmer.
"There was never a talk about money after our initial meeting in Toronto," Lamoriello said in an Ottawa Citizen article. "The response was the money we offered would not be the issue. We did not get a return call from his representation that the money had to go up. The decision was based, on what Zach told me, on going home and playing with a player he played with growing up."
Ultimately, Minnesota's signings of Parise and Suter don't seem to have anything to do with money. Their decisions appear to be based around family, friends, and personal preferences. For players with their level of talent, it's hard to say they don't deserve the offers they were given. Both are also currently 27- years-old, and are entering their prime years.
While Minnesota can't be realistically considered legitimate contenders at the moment, over the next few seasons, with a multitude of young players rising through the system, the Wild could become one of the league's most feared teams in a very short amount of time.
________________________________________________
Follow me on Twitter: @DavidOConnor95    "Like" my page on Facebook: David O'Connor
David O'Connor is a managing editor with the Sunbelt Hockey Journal. His writing has been on the Los Angeles Times' website, among other places. O'Connor also does some scouting work for the local Junior B hockey club. Please feel free to contact him at davidoconnorhockey@gmail.com.