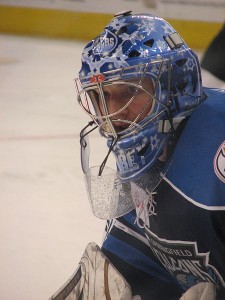 It's certainly been an eventful summer so far for the Edmonton Oilers. They drafted Russian sniper Nail Yakupov with the first overall pick at the NHL draft, adding to an already talented core of forwards. Then, they won the sweepstakes for the very highly touted prospect Justin Schultz, a defenceman from the NCAA. The Oilers beat out a reported 25 other teams who were bidding for his services, sparking the question of whether Edmonton will finally become a popular destination for free agents. In recent years, the Oilers lost franchise defenseman Chris Pronger, and were rejected by Dany Heatley, prompting many in the hockey world to label Edmonton as a non-desirable city for big name players. Whether or not the signing of Schultz gets the ball rolling remains to be seen, but with all of the talent this team in accumulating, the Oilers finally look to be on the right track.
Today, the team continued it's progress by locking up young goaltender Devan Dubnyk to a two year contract extension worth $3.5 million dollars. Dubnyk had 20 wins last season, posting a 2.67 goals against average. There were some questions as to whether or not Dubnyk, the Oilers first round draft choice in 2004, is a bonafide number one goalie. He split playing time last year with veteran Nikolai Khabibulin, who still has a year left on his current contract. The goaltending wasn't brilliant for the Oilers last season, but it wasn't terrible either. Clearly management really wants to give Dubnyk a good look to find out if he is their goalie of the future. The Oilers also re-signed defenseman Jeff Petry to a two year contract.
Dubnyk is happy to be an Oiler and is looking forward to continually progressing in his role.
"This is certainly the place I want to be and it's great to have that faith from the organization. It's good to know that they have the confidence in me and have that backing, knowing they want me to be a starter. I'm excited for the responsibility. This is obviously the biggest deal I've ever done, so it was exciting. I don't think much will change going into training camp this year as far as the things I do to prepare for the season. But I think the way I feel will change more from getting a chance to play a lot during the last half of the year. I feel pretty good in my game and it was good for me getting a chance to play all those games last year." (Edmonton Sun)
Marcy, a former hockey player, is a hockey correspondent on CTV News and TSN radio. She began her career as a Sports Journalist in 2009 and has been part of The Hockey Writers since 2010, where she is currently a senior writer and editor.