The New York Islanders had an eventful Summer. It started with the transfer of ownership from Charles Wang to Jon Ledecky and Scott Malkin, the signing of forwards Andrew Ladd, Jason Chimera, P.A. Parenteau, and ending with the news that the team can opt-out of it's "iron-clad" 25-year lease with Barclays Center after three seasons.
All attention can now be focused on the ice as the Islanders open training camp on Sept. 22. As with all teams, there are a few questions heading into camp that the team needs to address.
Who Replaces Frans Nielsen?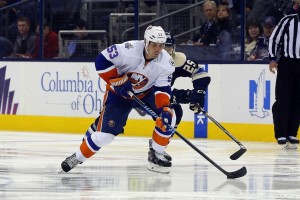 The 32-year-old played 10 seasons with the Islanders and surprised everyone when he turned down the team's offer of $5.5 million per season and signed a six-year, $31.5 million contract with the Detroit Red Wings. General manager Garth Snow was able to replace the departing Kyle Okposo and Matt Martin with Ladd and Chimera respectively, but he has not filled the void of Nielsen's departure. The organization will look in-house for his replacement.
Casey Cizikas will see his minutes increase. The 25-year-old signed a five-year, $16.75 million extension this summer. The center has averaged just over 12-and-a-half minutes of ice time per game in his career. He is now the team's best defensive center. With Martin's departure, head coach Jack Capuano will likely rotate his fourth line more, allowing Cizikas to play on the third line.
Ryan Strome will move back to his natural position of center. Snow admitted this Summer that it was a mistake to move him to the wing last season. If he is signed by the start of training camp, that is. Wang's rule regarding if a player is unsigned once training camp opens he cannot play during the season is still in effect. Strome will not replace Nielsen on special teams, though. That will fall to Ladd and Parenteau, who will replace him on the penalty kill and power play respectively. Nielsen had seven power-play goals last season, as did Parenteau.
Will Mathew Barzal Make The Team?
The 16th overall pick in the 2015 NHL Draft was the surprise of training camp last season. The 18-year-old was the final cut of camp. Barzal knows that this camp will be different, though.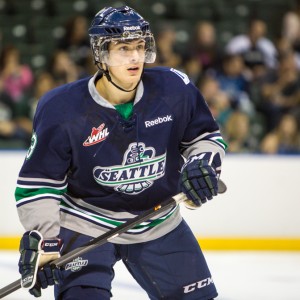 But just because I had a good camp last year doesn't mean I'm going to get anything given to me. I've got to go in with a humble mindset and try to make the team. – Matt Barzal
Now 19, Barzal has nothing left to prove in juniors. He scored 53 goals and 199 points in 161 games for Seattle of the WHL over the past three seasons. He is ineligible for the AHL due to their age restrictions. Barring a disastrous camp, Barzal will likely get the nine-game tryout before the organization determines his future. He spent this summer in the gym working on his 6-foot, 180-pound body, knowing he would be playing against men.
I've been working out really hard all summer trying to put on some size, because you go to the next level, and everyone's so big and strong. – Matt Barzal
The team has 13 (14 when Strome signs) forwards on one-way contracts. If Barzal makes the team he will have earned it.
Three's A Crowd?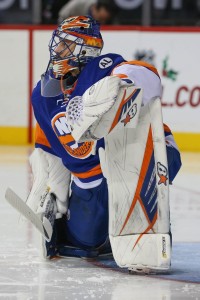 This is not a discussion about the Three's Company spin-off from the 1980s. Although let's hope the trio of Jaroslav Halak, Thomas Greiss and Jean-Francois Berube does not last longer than the one season the John Ritter show did.
Both Halak and Greiss are representing Europe in the World Cup of Hockey. An injury to Maple Leafs goaltender Frederik Andersen prior to the tournament opened the door for Halak to be named Team Europe's number one. The 31-year-old is using the World Cup to shake off the rust as he hasn't played an NHL game since March 8th in Pittsburgh. The Islanders are hoping he is healthy and plays well for Team Europe.
Snow can use this tournament to showcase Halak in a potential trade. Halak has two more years left on his four-year, $18 million deal. He has been vocal about the three-goalie system in the past. Greiss, who replaced Halak as the starter helped the Isles advanced in the Playoffs for the first time since 1993. Greiss has proven he can play in pressure situations. The 30-year-old started a career-high 38 games last season, 18 more than his previous high set with the Coyotes in 2013-14. Playing half of the games should not be an issue for him.
Let's add the third piece to this equation, Berube. Snow re-signed the goaltender to a one-year, one-way contract over the Summer. The Islanders would have to place the 25-year-old on waivers if they want to send him to Bridgeport. The team is very high on Berube but if there are no takers for Halak and he plays well for Team Europe, Berube could be the odd-man out.
Will Joshua Ho-Sang Make it Day Two?
In the "Hot Tub" episode of Seinfeld,  Olympic marathon runner Jean-Paul Jean-Paul missed the race due to a separate knob for the volume on the alarm clock radio. Joshua Ho-Sang never set an alarm and was late to the first day of training camp last season. The team made the young forward run laps and was sent back to the OHL. The whole experience was a wake-up call for Ho-Sang.
Right now I'm like the girlfriend who cheated on them. I've got to earn their trust back. Like, 'I promise. I won't do it again.' I feel I have to do that every day. Keep getting better. Keep showing them what I'm willing to do. There's no day off. There's not a practice I leave early. There's not an optional skate I don't skate at. It's optional, but not for me. – Joshua Ho-Sang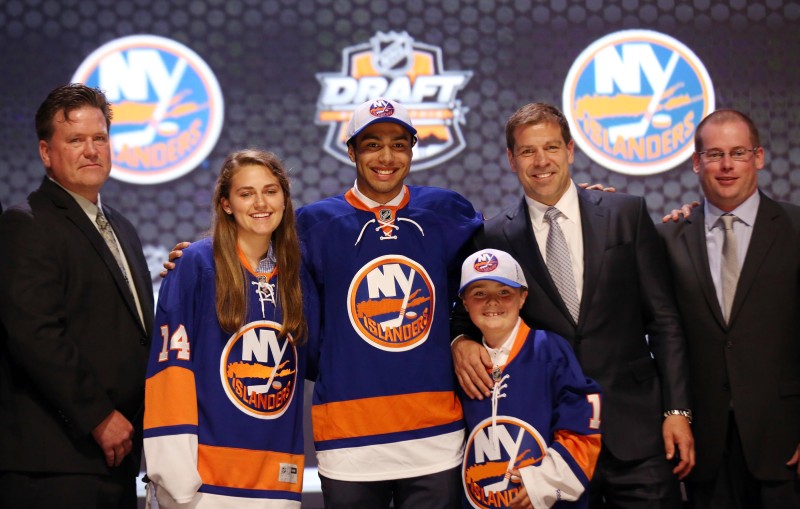 There's no denying how talented the 2014 first-round pick is.  His confident personality and bad habits were the likely reasons for his fall in the draft. The 20-year-old's final season in juniors ended with a trip to the Memorial Cup. Ho-Sang had 26 points in 17 playoff games. His professional career will most likely begin in Bridgeport. He said that last season's missed training camp was the best thing to happened to him. It seems like he got the message.