On Sunday, the hockey world lost two recognizable figures with the passing of legendary Soviet coach Viktor Tikhonov and former NHL player and coach Pat Quinn. The 84-year-old Tikhonov passed away at home after a battle with a long undisclosed illness. Quinn, who was unable to attend the Hockey Hall of Fame's induction ceremony earlier this month, passed Sunday night after his own battle with illness.
Quinn, a co-owner of the Vancouver Giants and chairman of the board with the Hockey Hall of Fame was 71 years of age. In a statement released by the Giants, majority owner Ron Toigo said, "Words cannot express the pain we all feel today for the Quinn family. Pat was an inspiration to all of us. He always said that respect was something that should be earned, not given, and the respect that he garnered throughout the hockey world speaks for itself. He will be sorely missed."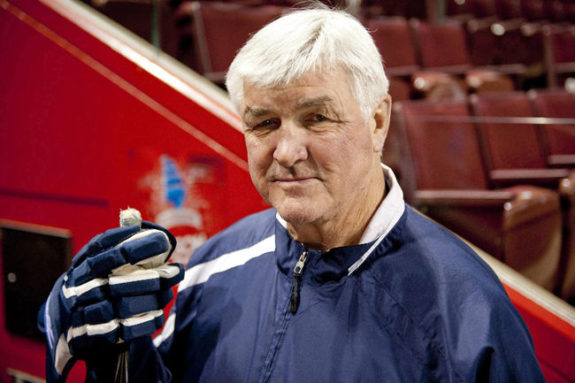 Pat Quinn: "The Big Irishman"
While Quinn certainly wasn't known for his offensive prowess during his playing days – only scoring 18 career goals – he wasn't a player that went unnoticed on the ice. His size and ferocity earned him the respect of opponents – forced to play with caution every time he stepped onto the ice.
While he only played nine seasons in the NHL, Quinn's physicality earned him a spot in the game's historical discussions. Playing for three NHL clubs – the Maple Leafs, Canucks, and Atlanta Flames – he maintained a dominant blue line presence no matter the logo on his jersey.
In over 600 career games, Quinn recorded 950 penalty minutes – a stat that can attest to the style of game "The Big Irishman" played. One of his most memorable moments as a player involved one of the greatest defensemen to play the game – Bobby Orr. It was the 1969 playoffs and Quinn's Maple Leafs were taking on Orr's Bruins. With Orr flying up the wing, Quinn stepped up and hit Orr in open ice knocking the Bruins star to the ice where he would lay unconscious. The hit led to a bench clearing brawl and cemented Quinn's on-ice presence.
Bringing the Playoffs to Toronto
As a coach, Quinn spent time with five franchises over 20 NHL seasons – the Flyers, Kings, Canucks, Maple Leafs, and Oilers. He won two Jack Adams Awards as the league's best coach (79-80 and 91-92), but it was his days in Toronto that showed how special he was as a bench boss.
He spent seven seasons with the Toronto Maple Leafs – wracking up a 300-196-52-26 record during the regular season and a 41-39 record in the playoffs. He led the Leafs to six playoff appearances during his tenure with the team making the Conference Finals on two separate occasions.
While he wasn't able to bring the Cup back to Toronto, his success behind the bench was undeniable. Not only did he coach the veteran Leafs to six straight playoff seasons, he was mostly to thank for the team they had – having taken on the role of general manager for most of his seven years in Toronto. Since Quinn, the Leafs have made it to the postseason just once – a testament to the coaching ability of the former defenceman and his ability to read the game.
The Leafs are often only remembered for winning their last Cup in 1967. Many forget the success they had in the early 2000's with the help of Pat Quinn.
Canucks' president Trevor Linden – a former player of Quinn's – released a statement saying, "I wouldn't be the person I am today if it weren't for Pat. He was a great leader and always a teacher."
Quinn finished his coaching career with 1,400 regular season games under his belt – winning 684 of those. But he didn't stop there. He led Canada to a World Junior Championship gold medal in 2009 in Ottawa and more importantly ended Canada's Olympic gold medal drought at 50 years when he led the men's team to Olympic gold in Salt Lake City in 2002.
Viktor Tikhonov: A World Hockey Leader
He was intense, sure, but Tikhonov's authoritative leadership seemed to work more often than not. In fact, during his 14-year tenure in charge of the Soviet team, he made his team a force within the international hockey world.
Viktor Tikhonov, the coach, was stern. But there's more. "He's just a normal grandfather," Viktor Tikhonov Jr. said in Sochi. "Really kind."

— Chris Johnston (@reporterchris) November 24, 2014
Winning was always part of Tikhonov's game – taking four Soviet titles in his playing days. But his years behind the bench – his ability to unify and build such a powerhouse – proved to be his true calling. He changed the way the Soviet team was viewed – turning them into the "Big Red Machine" and narrowly missing gold at the 1980 Lake Placid Olympics.
But his teams would eventually have success in international competition – winning Olympic gold in 1984, 1988, and 1992 (as the post-Soviet Unified Team). Along with eight World Championships, Tikhonov led CSKA Moscow to 13 straight league titles (1977 to 1989) and 13 consecutive European Cup titles (1978 to 1990).
For more, follow Andrew on Twitter at @AndrewGForbes or his THW column at @Tape2TapeTHW.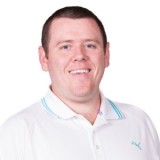 Andrew is in his 8th year reporting for The Hockey Writers covering the Toronto Maple Leafs. He began his broadcasting with CBC's Hockey Night in Canada team as well as being part of their coverage of the 2014 Winter Olympic Games in Sochi. He's the former play-by-play voice of the London Jr. Knights for Rogers TV and currently hosts the Sticks in the 6ix podcast. You can follow him on Twitter at @AndrewGForbes.