(Author's note – I wish to send my condolences to the family and friends of Pat Quinn, one of my all-time favourite coaches.  Very early in my daughter's television career, he treated her very well while she was an intern on TSN's Off the Record.  She describes Pat as the classiest guest she had the pleasure of dealing with, and she couldn't get over how nice he was to her. It's quite a coincidence that the incident related at the end of this article involves Pat – I was looking for a way to incorporate something about him in today's post and there it was, perfectly timed. Not quite the off-ice information we'd like to report, but nonetheless, Pat was making the news even that early in his career.  Pat played all 70 games for Tulsa in 64-65. scoring 3 goals, adding 32 assists and amassing a cool 202 minutes in penalties.  Rest in peace, Mr. Quinn)
Another very quiet day in hockey yesterday – no NHL games, a few Junior A contests, a few minor player moves and some Tulsa players are fined for a post-game fracas in Winnipeg.
OHA Junior A Action
There were three OHA Junior A games last night, and all featured lots of goals and a good deal of fisticuffs.  Niagara Falls buried the Kitchener Rangers 8-1, Oshawa downed Peterborough 5-3 and Montreal Junior Canadiens edged St. Catharines 5-4 with a last-minute goal.
The Flyers' potent attack against Kitchener was led by Don Marcotte, who registered three goals.  Singles came off the sticks of Mike Sherman, Jean Pronovost, Brian Bradley, Ted Snell and Bud Debrody.  Billy Hway replied for the Rangers.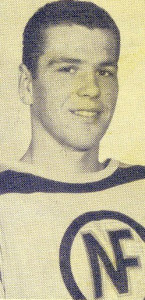 The Generals kept their home unbeaten streak intact thanks to a two-goal performance by Danny O'Shea.  Ron Buchanan, Chris Hayes and Bill Bannerman had the others.  Andre Lacroix netted a pair for Peterborough, with John Vandenberg getting a single.  A first-period brawl saw 56 minutes in penalties handed out to both teams.
Rene Drolet scored his second goal of the game with only 48 seconds to play to lift Montreal past St. Catharines.  Other Junior Habs goal-getters were Don Liesmer, Lucien Grenier and Serge Savard.  Tom Reid, Maurice L'Abbe, Wayne Maki and Ken Hodge had the St. Catharines markers.
The game was marked by an ugly incident in which Montreal's Guy Dufour broke his stick across the back of the Black Hawks' Brian McDonald.  Both were given game misconducts for engaging in a stick-swinging duel.
Pronovost back to AHL
The Detroit Red Wings have announced that they are returning veteran forward Andre Pronovost to the Pittsburgh Hornets of the American Hockey League.  He will report in time for the Hornets' Wednesday game in Buffalo.
Rangers recall Ratelle
The New York Rangers have recalled highly regarded centre Jean Ratelle from Baltimore of the AHL.  Ratelle had been playing himself into shape with the Clippers after holding out and missing training camp over a contract dispute.  The Rangers also announced that they will carry two goaltenders for the rest of the NHL season.  Both Jacques Plante and Marcel Paille have played well and according to new general manager Emile Francis, both deserve to be in the NHL.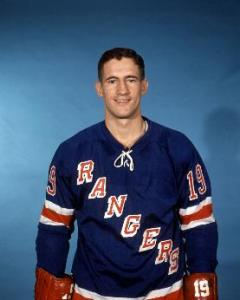 The Montreal Canadiens say that centre Henri Richard is fully recovered from the groin injury that has kept him on the sidelines for 14 of the team's 15 games this season and he is expected to suit up against Detroit on Thursday.
Bruins send out Balfour
Boston Bruins have sent forward Murray Balfour to the Hershey Bears of the AHL.  Balfour has managed only two assists in 15 games this season and the Bruins hope a stint in the AHL will get Balfour back on track.  He was acquired in an off-season trade last summer with Chicago and just hasn't been the player he was in Chicago so far.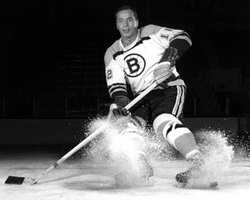 Sterner to AHL
The leading goal-scorer in the Central Professional Hockey League this season, Swedish import Ulf Sterner, has been promoted to the Baltimore Clippers of the American Hockey League to replace Jean Ratelle, called up to the parent New York Rangers.
Tulsa trio fined for off-ice Tussle
Three Tulsa Oilers (CPHL) players were fined for their parts in a chair smashing post-game brawl in a Winnipeg cocktail bar on Monday evening.  It is reported that two players assaulted a patron of the bar.  The players were apparently celebrating Tulsa's 3-0 exhibition win over the Canadian National Team.
The three players, all 21 years of age, are identified as Larry Roy Johnston, John Patrick Brian Quinn and William Donald Smith.  All three are Canadians.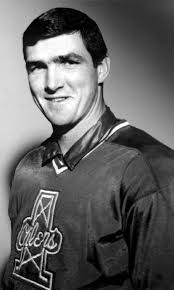 Johnston was fined $75 for assault and $50 for causing wilful damage.  He was also ordered to pay $40 to replace four chairs.  Quinn was fined $75 for assault.  Smith received a $50 fine for being disorderly.
Retired police detective, involved in hockey at all levels for over 50 years. Member of Society for International Hockey Research and presently a video analyst for the leader in advanced hockey analytics (we work exclusively for 2 NHL clubs, and provide advice on an ad hoc basis to many other clients). Currently the Assistant General Manager for the Pelham Pirates of the Greater Ontario Junior Hockey League. Previously owned the Faceoff computer hockey simulation and also provided all player ratings for the EA Sports series of NHL computer games from the late 90's into the mid 2000's.