The Philadelphia Flyers' defense corps is not among the upper echelons in the league. At best, it would fall somewhere in the middle of the league.
But if you thought the Flyers had a porous defense, just look at Team Czech Republic's for the upcoming World Cup of Hockey "best-on-best" tournament.
In a group of seven, six have played an NHL game, only four are NHL regulars and none are top-pairing defenseman. There are veterans such as Roman Polak and Zbynek Michalek, plus hopeful up-and-comers like Andrej Sustr and Michael Kempny, but the team is going to struggle in a World Cup group that includes Canada and the United States.
The last NHLer on the Czech blue line is Flyer Radko Gudas who helped improved the Philadelphia blue line last season in his first year in the orange and black. With the Czech's lack of top-tier talent and frankly, lack of bottom-end depth on the blue line, Gudas has a chance to make his name on the world stage.
Gudas' Play with the Flyers
If you're not a fan of the Flyers, you've probably heard of Gudas for one reason only: his dangerous, and sometimes stupid, play. You may even have him labelled as a liability on the ice as a slow-skating brute of a defenseman.
Has Gudas made some dumb plays that put other players in danger? Yes, absolutely he has and there's no defense for those types of plays.
But is he worthless on the ice for anything more than an intimidation factor? Well, that's where you'll need to pump the brakes.
Gudas got in some trouble last season that made national headlines. In December, he received a suspension of three games after a hit to the head of the Senators' Mika Zibanejad.
However, it was the month of February that earned Gudas persecution from fans and pundits. First, on Feb. 2, he was ejected from a game for clipping Canadiens forward Lucas Lessio. He delivered an unneeded, predatory headshot to the Sabres' David Catenacci that somehow went unpunished about a week later. Then was ejected again for a late hit on Bobby Farnham of the Devils.
Three arguably suspendable hits put Gudas in the dog house in half a month. Even Flyers fans who celebrated him after recovering from major knee surgery and helping the defense hit heights it hadn't seen since the 2014-15 season began to call for him to sit.
But Gudas was lucky. He wasn't handed another suspension and talks with coach Dave Hakstol and general manager Ron Hextall seemed to have a positive effect on the player.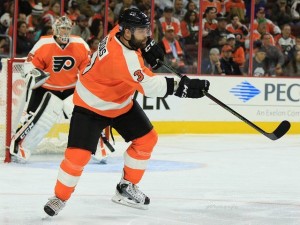 From there he started to really earn the trust of Hakstol by playing a controlled physical game. Gudas is solid defensively – both with his stick and body – plus the intimidation factor is evident when opponents are crossing the Flyers' blue line.
The part where Gudas' game gets scary is when he holds onto the puck too long. He makes a good first pass often, but if he attempts to get fancy in his own zone things can turn disastrous.
Because of that, he'll never be an offensive defenseman. He has a good shot and his speed won't hinder him like it did former Flyers (Nicklas Grossmann, Luke Schenn), but he'll likely never amount to more than a solid number three/four defenseman in the NHL.
Gudas on Team Czech Republic
The World Cup isn't the NHL even though it was created and will be run by the league, which means that the Czech Republic defensemen will need to play above their heads in the upcoming games.
One bright spot is that they'll have plenty of defensive guys. Michalek has excelled at shot blocking for years, while Polak is an older, slower Gudas. Sustr, Michal Jordan and Jakub Nakladal will fill out the last three remaining spots as the third-pairing and extra d-man.
Newly signed Blackhawk, Michael Kempny will be the one relied on for offense. He's a smooth skating defenseman that turned heads at this year's World Championship where he put up two assists.
The problem there is that Kempny hasn't played a game in the NHL yet and the World Cup is going to be harder than an NHL game or any World Championship game. He'll probably man the first power-play unit with a forward like the Flyers' Jake Voracek, but he can't be expected for over 20 solid minutes a night.
In fact, it's unrealistic to expect a ton of minutes from any of the Czech defensemen, except for Gudas. The Philly blueliner averaged the most ice time last season at 19:51 of any Czech defenseman. Polak is the only one that comes close, but he played the majority of the season with the rebuilding Maple Leafs.
Gudas may be thrown on the second power-play unit and forced to play over 20 minutes a night. While he may excel the most on the penalty kill, he could see less time there where the Czech's numerous defensively skilled players can handle the minutes so the 26-year-old can rest.
A large pattern of Gudas' play with the Flyers last season was that if he contributed a controlled game with a good amount of ice time, he could make a solid impact. The Czechs are going to need that Gudas if they want to make it out of the group stage.
Luckily for the team and the player, the opportunity's there for Gudas to make an impact with the Czech Republic.