Despite the lacking presence of any first round draft picks heading into this past weekend's entry draft, Glen Sather and the Rangers wound up having a rather busy couple of days. In the quick trip down to the "City of Florida," the Blueshirts have come out the other side with a team that's undergone some small changes.
Peter Chiarelli just thanked the city of Florida. Love it #cityofFlorida

— Pat Leonard (@PLeonardNYDN) June 26, 2015
How did they fare overall? Let's take a look.
Trade 1
Heading into the weekend, all the talk, and I mean all the talk, was about goalie Cam Talbot and where he may or may not end up.
It was another trade, however, that put the Rangers in motion in what turned into a very busy Saturday. With all eyes on Talbot, it was in fact Carl Hagelin who was the first Blueshirt to be traded. Just minutes into Saturday's second round, Hagelin, a 26-year-old pending RFA, was dealt to the Anaheim Ducks in exchange for another pending RFA, 23-year-old Emerson Etem.
Hagelin, a fan favorite and integral member of the Rangers' recent success, was to become a restricted free agent this summer, and keeping him would've cost somewhere in the area of $3.5 million. Etem on the other hand, while still an RFA, will command far less money as his expiring contract had an AAV of $900,000 per year, compared to Hagelin's $2.25 million.
While tough for the Rangers to lose a speedster such as Hagelin, in Etem they're getting a younger former first round pick who has found offensive success at every level he's played at leading up to the NHL. While he's yet to completely shatter the ceiling in the NHL, he's showed glimpses of greatness such as this goal he scored these past playoffs against Winnipeg in the first round:
At the end of the day though, this trade was a cap motivated transaction. Etem and Hagelin are both wingers. Hagelin is fast, Etem, at 6'1" 210 pounds, is big and tough. Hagelin should be a good fit for the Ducks, while Etem will likely be the same for the Rangers.
This was not an earth-shattering trade by any means, but with the situation the Rangers are in this summer – needing to find ways to save a little money here and there – a cheaper winger than Hagelin turned out to be the answer.
GRADE: "B"
Trade 2
At long last, after days and weeks of speculation as to when and where the transaction would go down, the Rangers finally dealt Talbot to the Oilers during the draft on Saturday morning, though the return wasn't what many had envisioned.
In a battle of wits and patience, Peter Chiarelli out-waited Sather regarding Talbot and was able to acquire the goaltender and a seventh round pick, for the low price of three draft picks; a second rounder, a third rounder, and a seventh rounder.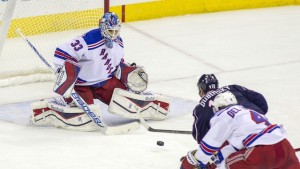 It was immediately evident that Sather, who many predicted would receive as much as a first round pick in return for Talbot, had held on too long and over-played his hand regarding the goaltender. The result was getting far less from the Oilers than they ever should have for a goaltender who went 21-9-4 this past season, with a 2.21 goals against average and a .926 save percentage.
Now, part of the issue there was that teams bit on the likes of Robin Lehner and Eddie Lack for a lower price than what was being asked for Talbot. That in itself hurt Talbot's value. Some of the blame, though, still must sit on the shoulders of Sather.
According to multiple reports, Sather had offers on the table for Talbot prior to the draft, one which included multiple second round picks, yet he turned them down, thus raising the asking price beyond what the market was willing to pay.
That left the Rangers in a very tough situation, and resulted in what many see as not having gotten enough in return for a goaltender who was invaluable to them over the past couple of seasons.
Chiarelli, on the other hand…well he made out like a bandit on this one.
Great job by Oilers GM Peter Chiarelli being patient on this deal. Didn't overpay

— Pierre LeBrun (@Real_ESPNLeBrun) June 27, 2015
GRADE: "D"
Trade 3
Once the Talbot deal was complete, to the surprise of nobody, the Rangers found themselves without a backup goaltender. So what did Sather do? He went out and traded for a proven number two for a pretty affordable price.
Antti Raanta, 26, was acquired by the Rangers in exchange for 22-year-old forward prospect Ryan Haggerty. Haggerty, who scored 15 goals and totaled 33 points in his rookie campaign in the AHL, is a highly touted prospect out of Rensselaer Polytechnic Institute.
Raanta comes to the Rangers after playing portions of the past two seasons with the Chicago Blackhawks. In 14 appearances for the Blackhawks this past season, Raanta was strong in net going 7-4-1 with a 1.89 goals against average and a .936 save percentage.
Trading Talbot was all but inevitable for Sather, but he got what will probably end up being the best replacement out there for a low cap hit. If it couldn't be Talbot, Raanta's a darn good alternative.
GRADE: "A-"
The Picks
Despite all of the attention of the past weekend going to the trades surrounding the Rangers, let's not forget that they did make a number of selections during the draft itself.
With seven picks in this year's draft, the Rangers went with five forwards – three wingers, two centers – one defenseman and one goaltender.
The Rangers' first selection in the draft at number 41, was 18-year-old Ryan Gropp. Gropp, a 6'2", 187 pound left winger played last season with the Seattle Thunderbirds of the WHL, collecting 30 goals and 28 assists for 58 points. The big winger was a direct result of the pick the Rangers received in return from the Ducks for Hagelin.
One other pick of note was Swedish winger Robin Kovacs, who was selected 62nd overall by the Rangers. Known for his talent and work ethic, Director of Player Personnel Gordie Clark said of Kovacs:
"He's one of the fastest skaters over in Sweden and he's very, very skilled. He can score goals. We'll give him the time to mature. We'll wait for him." –Gordie Clark to BlueshirtsUnited.com
Although it seemed as though it would have behooved the Rangers to fill their needs with the earlier picks, the Rangers did eventually get around to drafting a goaltender and a defenseman with their later picks in the draft.
At the blue line, it was 6'3" defenseman Sergey Zborovskiy who was selected 79th out of the WHL, while in net it was Adam Huska from Slovakia who the Rangers selected 184th overall.
Picks wise, it's tough the say the Rangers dropped the ball, but they also didn't do anything to make a big splash either.
GRADE: "C+"
Overall Assessment
The Rangers traded Hagelin. In return, they got a second round draft pick, and a maturing forward in Etem. Additionally, the move helped open up a little cap space so that the Rangers will have a little more wiggle room come this summer, as Etem will cost less to hold onto than Hagelin would have been.
That was a decent trade.
Then Talbot was traded. It doesn't take a rocket scientist to see that Sather overplayed his hand on this one. He waited and waited for the perfect deal to present itself, and when that didn't happen, he had to settle for less. Far less.
That trade, unlike the first deal, was not such a decent one.
Then Sather went out to find someone to backup his King, and he came back with Raanta. While he had to give up a fine looking prospect, he also needed a number two netminder as that is a position which is typically underestimated in value. To get a trustworthy goaltender in Raanta with a cap hit of $750,000 in exchange for a prospect?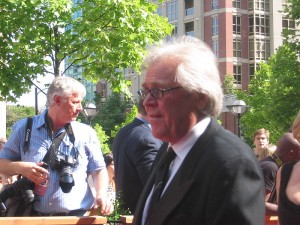 I'd say that acquisition could've gone far worse.
And finally, the picks themselves. While forward heavy, none of these picks jump out at you as the next Wayne Gretzky. But that's the beauty of the draft, you just never know what could come of a young player.
The team's immediate needs were ultimately and there seems to be some promise in a couple of the young forwards selected. Like almost everything else that Sather and co. did this past weekend, though, none of the picks were really that earth shattering.
All in all, the Rangers deserve a mediocre grade at best for the weekend. Picks were fine, two of the trades were fine, but the one glaring error in how the "Tale of Talbot" played out is what will be remembered from this draft on the part of the Rangers.
FINAL GRADE: "C+"
Jake Gittler is now in his second season as a contributing member of The Hockey Writers. After spending the 2014-15 season working in Communications for Adirondack Flames of the AHL and covering the New York Rangers here for The Hockey Writers, Jake's coverage has been switched over to the Colorado Avalanche for the 2015-16 season. Jake can be reached via email at Jakegittler@gmail.com, or on Twitter @Jgittler_hockey.