The 2015 NHL Draft was one of the most talked about drafts in recent memory, as there was a noticeable buzz surrounding the top of the draft. While the question as to who would be selected with the first selections was not as intriguing as the race to the top in previous seasons (Ekblad vs. Reinhart, Mackinnon vs. Jones), the top-end talent selected Friday night is expected to make a far larger impact on the NHL than the rookie crop of recent seasons.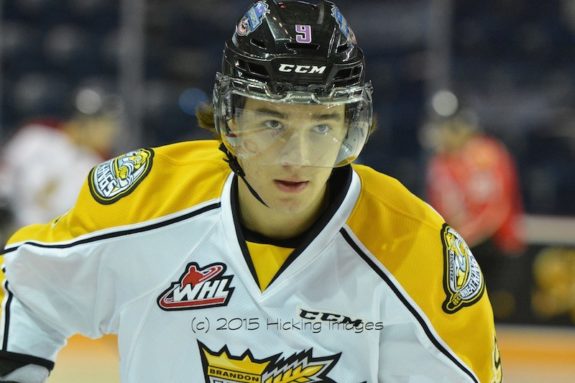 With the 2015 Draft in the books, here is a list, from the 30th prospect down to the 21st, of the top prospects currently affiliated with an NHL club (sorry, Auston Matthews). While certain players may not hold their rookie eligibility for long and are expected to make an impact on their respective NHL clubs in the fall, this list attempts to rank the prospects currently possessing rookie eligibility, which is explained in greater detail on NHL.com.
Part 3 (21-30)
30. Ivan Provorov
In one of the least surprising picks on Friday, the Philadelphia Flyers took Ivan Provorov 7th overall. While Philadelphia has a nice stockpile of young defenders, none have the game-breaking potential or explosiveness that Provorov possesses. After averaging a point per game in the WHL and capturing a silver medal at the World Junior Championships, Provorov looks like he's ready to make the leap to the NHL. And with the Flyers lacking high-end talent on the blue line, expect Provorov to get every opportunity to showcase his elite talent behind superstars Claude Giroux and Jakub Voracek.
29. Anthony Duclair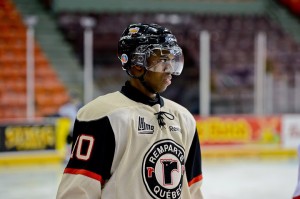 The 80th overall pick in 2013, Anthony Duclair has raised his stock tremendously since then, first potting 50 goals in the QMJHL in 2014 and then by winning a gold medal with Canada at the World Junior Championships in January. He was the main piece traded for Keith Yandle at the trade deadline, so expect Duclair to pair with fellow gold medalist and top Arizona Coyotes prospect Max Domi to lead Arizona out of the cellar in the near future.
28. Ryan Pulock
Ryan Pulock experienced a breakout season of sorts in 2014-2015, leading all AHL rookie defensemen with 17 goals and posting 29 points in 54 games for a weak Bridgeport squad that finished last in their division and missed the playoffs. Pulock combines great offensive ability with solid defensive play and the willingness to throw big hits on the ice, and looks nearly ready to join the Islanders at some point next season.
27. Robby Fabbri
A classic case of size vs. skill, Robby Fabbri has proven his doubters wrong with back to back huge seasons at the OHL level, posting a combined 138 points in 88 games. After being taken 21st overall by St. Louis last year, he added a World Junior Championship gold medal to his ledger with Canada, and despite missing 38 OHL games due to an injury and his participation in the World Juniors, still put up an astounding 25 goals and 51 points. While he could use a few more years of seasoning, expect him to put up big offensive numbers alongside rising stars Vladimir Tarasenko and Jaden Schwartz in the future.
26. Ivan Barbashev
A fellow 2014 draft pick of the St. Louis Blues, Ivan Barbashev brings the same explosive offensive talent as Robby Fabbri, but leaves no qualms about size or physicality. Barbashev made a huge leap in his third QMJHL season, jumping from 25 goals and 68 points to 45 goals and 95 points. He also captured a silver medal with Russia (losing to Fabbri's Canada), putting up 3 goals and 6 points in 7 games. A physical force who also put up 59 penalty minutes in 57 games, Barbashev's two-way game and offensive ability looks like a prototypical St. Louis Blues player who will fit right in with the likes of David Backes, Vladimir Tarasenko, and Jaden Schwartz sooner rather than later.
25. Oliver Bjorkstrand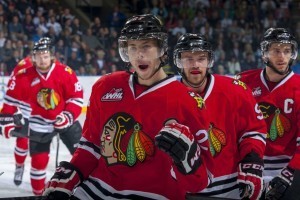 Oliver Bjorkstrand was selected in the third round of the 2013 draft, an unheralded pick out of the WHL that scored at under a point-per-game pace. In the two seasons since, Bjorkstrand has exploded, potting 50 goals in 2014 before adding 63 more in 2014-2015. A quick and shifty skater with a great shot, Bjorkstrand offers the most goal scoring potential amongst all of Columbus' young forwards. With nothing left to prove at the WHL level, expect Bjorkstrand to make a push for the NHL roster in the fall, providing young star Ryan Johansen with a sniping wingman in the not-too-distant future.
24. Josh Morrissey
A fellow 2013 draftee, Josh Morrissey came with much more fanfare as the 13th overall pick. Despite being slightly undersized at just 6'0″ and 185 pounds, Morrissey's high-end skating ability and offensive instincts made him one of the WHL's best defenders, putting up 111 points in 106 games since being drafted and capturing a gold medal with Canada at the World Junior Championships this year. Coming off a Memorial Cup finals appearance with Kelowna, Morrissey looks primed to make the jump to the pros with St. John's of the AHL next year, with an eye on the NHL the year after. Look for Morrissey to be a big part of Winnipeg's defensive corps for a long time.
23. Nick Ritchie
Taken by Anaheim with a pick acquired from the Ottawa Senators in return for Bobby Ryan, Nick Ritchie has blossomed into a power forward that the Senators, unfortunately, could very well use in their lineup. This past season alone, he put up more than a point per game and added 113 penalty minutes in 48 games to boot. His huge 6'3″, 225 pound frame allows him to bully his way around the ice and score goals in the less glamorous areas of the ice. Ritchie looks like the perfect wingman to Ducks stars Ryan Getzlaf and Corey Perry, and thanks to his great scoring ability and NHL-ready frame, expect to see him in Orange County sooner rather than later.
22. Jake Virtanen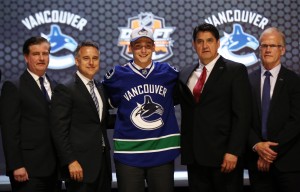 The 6th overall pick just last season, Jake Virtanen offers a physical, power forward game that is a departure from the notoriously skill-focused squad currently headed by the Sedin twins. Virtanen tallied 52 points and 82 penalty minutes in 50 games this year for the Hitmen, demonstrating he can play a physical game in addition to his elite skill set. Blessed with blazing speed and a heavy shot, the former first overall WHL draft pick got his first taste of pro hockey in the AHL playoffs this year. Expect Virtanen to develop a bit more before he brings his blue collar style of play to Vancouver.
21. Madison Bowey
Josh Morrissey's defensive co-anchor in Kelowna and the captain of the Rockets, Madison Bowey has far outperformed his modest second-round draft placement in 2013. He plays a gritty but skilled two-way game that resulted in 60 points and 66 penalty minutes in 58 games this season. He also earned a gold medal playing with Canada at the World Junior Championships in January, in the midst of a season where he led his Rockets to the best record in the WHL and a Memorial Cup appearance. His two-way game should fit in extremely nicely next to the strong blueliners that the Washington Capitals have assembled in recent seasons.