Although Paul Holmgren remains with the Philadelphia Flyers organization, his missteps are slowly fading away.
Ron Hextall, appointed the Flyers' general manager position on May 7, 2014, has worked tirelessly to erase mistakes made by the now team president. Hextall's first big move was shedding Scott Hartnell's $4.75 million AAV price tag; albeit, he acquired R.J. Umberger's $4.60 million baggage, but his contract ends after 2016-17 — two years before Hartnell's deal expires.
While rumors swirl that Hextall would like to remove Vincent Lecavalier's five-year, $22.50 million deal (three years remaining, $4.50 million cap hit), the Flyers GM did something more unthinkable than this.
Chris Pronger's albatross contract is no longer of any concern to the Flyers.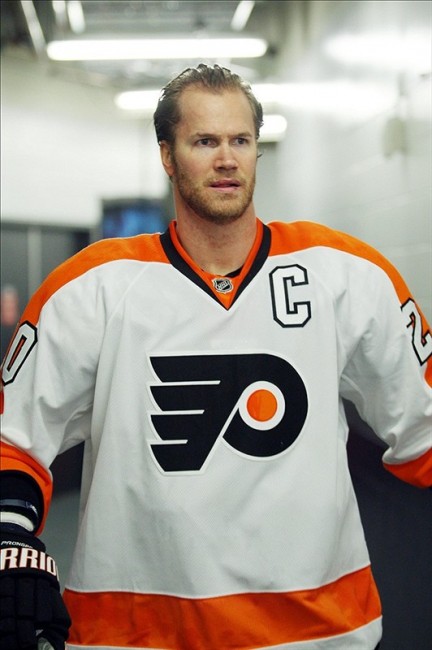 In the final trade of Draft Weekend, the Flyers acquired forward Sam Gagner and a conditional fourth round pick from the Arizona Coyotes in exchange for defenseman Nicklas Grossman and Pronger's contract — which had two years and $1.05 million remaining in actual salary, with an outrageous $4.94 million cap hit.
It's common knowledge that Pronger will never suit up for another NHL game, something he has not done since his last game on Nov. 19, 2011, as he now works for the NHL's Department of Player Safety. Pronger has suffered numerous setbacks in recovery from a serious concussion, ending his playing days abruptly.
However, his contract still remains very much intact. The only relief the Flyers received from the enormous cap hit was long-term injury reserve, which allow Philadelphia to omit Pronger's contract from the books. However, this can only be activated during the season, meaning the club had to be cap compliant to open each season. The Flyers had to be clever in acquiring personnel, as well as sending players between the NHL and AHL, to work around this issue.
Hextall alleviated the issue, unloading the problem on a franchise that has the cap room to spare (about $13.40 million according to Cap Friendly).
Add in that the Flyers picked up a stud defenseman in Ivan Provorov with the seventh overall pick, and the new-look Flyers are taking shape. Hextall may be the man behind the team, but he's quickly stepping into the limelight as a savior of the Broad Street Bullies.
For the big news from one of the biggest weekends in recent memory, take a look at Monday's NHL headlines:
There's praise all around for Hextall's trade from Flyers fans. [Broad Street Hockey]
Nicklas Lidstrom and Chris Pronger are expected to headline the HHOF class, to be announced Monday afternoon. [TSN.ca]
The Maple Leafs could be landing some albatross deals to improve in the long run. [Globe & Mail]
Penguins are expectedly to go after UFA forwards. [Hockey Buzz]
There is still plenty to figure out in the goalie market, despite multiple trades this past weekend. [Pro Hockey Talk]
Oilers GM Peter Chiarelli was pleased with his weekend. [Edmonton Journal]
Reportedly, Dougie Hamilton was not a favorite in the Bruins' locker room. [Hockey Feed]
Mike Richards was put on waivers; expected to be bought out. [Today's Slapshot]
Rich Clune was placed on waivers, buyout also expected. [On The Forecheck]