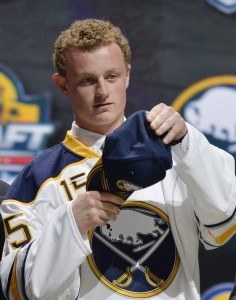 Jack Eichel, drafted by the Buffalo Sabres second overall, was one of the most renowned second overall picks in NHL Draft history. It's pretty widely accepted that the Hobey Baker winner would've gone first overall in most drafts, had it not been for fellow phenom Connor McDavid. The 18-year-old forward out of Boston University joins an impressive list of second overall picks, some of whom have proven that old childhood saying to be true, second really is the best.
Here's a look at some of the best 2nd overall picks in NHL history.
Brian Bellows, 1982
Drafted by the Minnesota North Stars in 1982, Brian Bellows was, as said by Sports Illustrated, "the hottest prospect since Wayne Gretzky." He went on to play ten seasons with the North Stars, scoring 342 goals in 753 games. He was known around Minnesota for his ability to score, and helped lead the team to the Stanley Cup Final in 1991.
Bellows also demonstrated leadership capabilities from a young age, and was named interim team captain (at the age of 19) when North Stars captain Craig Hartsburg was injured.
After ten years with the North Stars, Bellows was traded the Montreal, where he went on to win a Stanley Cup in 1993. That season, he recorded 88 regular season points (and 15 playoff points) en route to lifting Lord Stanley's Cup.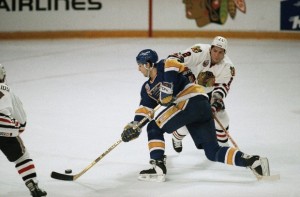 Brendan Shanahan, 1987
Shanahan was drafted by the New Jersey Devils in '87, and had extremely high expectations to live up to in the NHL after putting up strong numbers in juniors. Shanahan went on to play for five different NHL teams, including the Detroit Red Wings, whom he helped carry to three Stanley Cups.
The Shan-Man scored 656 goals and tallied 698 assists in 1524 NHL games, and tallied two 50+ point seasons with the St. Louis Blues in '93-'94. Shanahan also reached the playoffs in 19 of his 21 seasons, an impressive feat in itself.
He also represented Canada at several Olympic Games and World Championships throughout his career, capping off his international play with a gold medal in the 2002 Olympic Winter Games.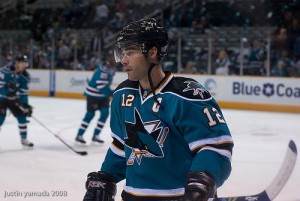 Patrick Marleau, 1997
Patrick Marleau, drafted by the San Jose Sharks, has become one of the game's best defensive forwards. With the ability to be effective on either end of the ice, Marleau was successful for 12 years of NHL action with San Jose.
He reached the playoffs in 11 of his 12 years in the league, and is San Jose's all-time leader in goals (456), points (998), and games played (1,329). He also captained the Sharks for four seasons, and is the youngest of 56 NHL players to reach 1,300 games played.
On top of that, Marleau won gold medals with Canada in both the 2010 and 2014 Olympics, and was nominated for the Lady Byng Memorial Trophy twice.
Jason Spezza, 2001
Jason Spezza, selected by the Ottawa Senators behind Ilya Kovalchuk, spent eleven seasons with the Sens, before heading to Dallas, where he currently plays. The long-time Senator has played in two All-Star Games, and also won the Les Cunningham Award as the AHL's MVP.
He tallied a total of 268 goals and 481 assists in 768 games to date, and remains a major offensive threat for opposing teams.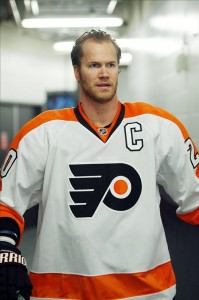 Chris Pronger, 1993 
The future Hall of Famer was drafted by the Hartford Whalers in 1993, and went on to play for five NHL teams over the course of his 18-year NHL career. After 1167 career games, Pronger has been remembered for many different things.
The Hart Trophy winner captained the Blues, Ducks, and Flyers, and was selected to play in six All-Star Games (one of which he missed due to injury). He's also known as one of the NHL's dirtier players, which explains why he's currently assisting the NHL Player Safety Division.
Pronger has also won a Norris Trophy as the league's top defenseman, two plus-minus awards, two Olympic gold medals, and a Stanley Cup.
Dany Heatley, 2000
Heatley was drafted in 2000 by the Atlanta Thrashers, and has played for five NHL teams since. In 869 games to date, Heatley has tallied 791 points (372 goals and 419 assists). He was awarded the Calder Memorial Trophy as the league's top rookie in 2002, and has been voted into the All-Star game five times.
He has also represented Team Canada in six World Championships (winning gold twice), two Olympics (with a gold medal), one World Cup of Hockey, and two World Junior Championships.
Eric Staal, 2003
Eric Staal, drafted by the Carolina Hurricanes, became a huge part of the Canes' 2005 Stanley Cup run. In that season, Staal scored an astonishing 45 goals, and tallied 55 assists en route to winning the Cup.
He still remains a dangerous member and captain of the Hurricanes, and holds Carolina's record for post-season points, with 43.
In 846 games, Staal has 312 goals and 430 assists, all as a member of the Carolina Hurricanes.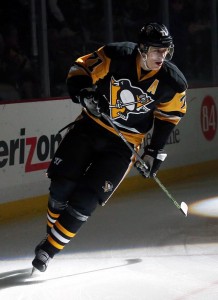 Evgeni Malkin, 2004
Drafted by Pittsburgh in 2004, Evgeni Malkin has become one of the league's most dominant forwards on a consistent basis. "Geno", as he is called, has already tallied 268 goals and 434 assists in just 587 games with the Pens, and helped them win the Stanley Cup in 2009.
On top of a Stanley Cup, Malkin has also received a Calder Memorial Trophy, two Art Ross Trophies, a Conn Smythe, a Hart Trophy, and a Ted Lindsay Award.
He has also represented his home-nation of Russia in several Olympics and World Championships, with 64 Senior International points in 53 games.
Bobby Ryan, 2005
Bobby Ryan was drafted by the Mighty Ducks in '05, and served in Anaheim for five seasons before being traded to Ottawa in 2013. In 526 NHL games, Ryan has tallied 391 points, and continues to be a threat for Ottawa today.
Bobby Ryan won silver with the United States in the 2010 Olympics, and has also taken the ice for the US in both the World Junior Championships, and World Championships.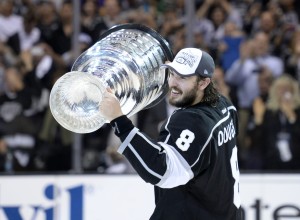 Drew Doughty, 2008
Drafted by Los Angeles in 2008, Drew Doughty has quickly become one of L.A.'s most dominant defensemen. In 524 NHL games, Doughty has tallied 267 points, and played a big factor in two Stanley Cup Championships for the Kings.
He has also won two Olympic gold medals with Canada, a silver at the World Championships, and gold at the World Junior Championships.
His offensive threat continues to intimidate teams today, matched by his strong defensive game.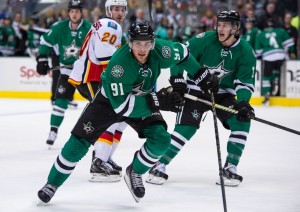 Tyler Seguin, 2010
While still young, Tyler Seguin's numbers have certainly justified his placement on the list. Drafted by the Bruins in 2010, Tyler Seguin went on to win a Stanley Cup in his rookie season in 2011.
Seguin posted solid numbers for the Bruins, but really broke out after being traded to Dallas in in 2013. He has racked up a total of 282 points in 354 games, and has already been voted into two All-Star games.
He has also represented Team Canada at the 2015 World Championships, in which he took home gold.
If Seguin can continue on his current pace, he can certainly earn a permanent spot on the list of best 2nd overall picks.
What do you think? Will Jack Eichel one day be featured on our list?
Cam is a Broadcast Journalism student at the University of Maryland. He's the Boston Bruins Beat Writer at The Hockey Writers, and is an avid college hockey fan. Find him on Twitter @CamHasbrouck!