The Philadelphia Flyers have just had one of their best weekends in years. Between their stellar drafting and a wizardly trade, the Flyers look to have accelerated their road back to being a contender.
Here are three important takeaways:
1. Flyers Finally Valuing Skill At The Draft
It has been a long time coming, but it seems as if the Flyers are beginning to understand that a high skill level is the most important aspect when evaluating a prospect.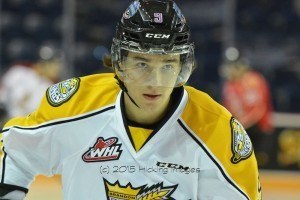 With their two first round selections the Flyers drafted Ivan Provorov and Travis Konecny. Both players have exceptional skills and have racked up impressive point totals at the junior level. In the later stages of the draft the Flyers took small but skilled prospects like David Kase out of the Czech Republic and Cooper Marody from the USHL. Both players have some skills, but are generally raw all-around prospects.
In the long run, the best way to build a prospect pool is through skill. Even though the Flyers have done well in the first round of previous years, they still took players with more "intangible" assets than skill. Players like Scott Laughton and Sam Morin are quality prospect, but neither player is known for their high skill level. With the drafting of players like Provorov, Konecny, and Kase, we are beginning to see a new brand of Philadelphia Flyers.
2. Ron Hextall Loves His Draft Picks
"We've got to start keeping our draft picks."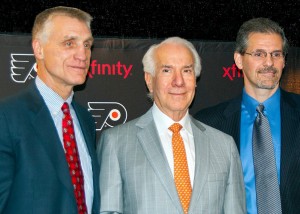 Ron Hextall said that during the press conference in which he was announced as the General Manager. While he said it, both Paul Holmgren and Ed Snider nodded in approval. Like most of the Flyers fanbase, my reaction went something like this: Actions speak louder than words.
During his tenure as the Flyers General Manager, Hextall has backed up his words with action. In each and every trade Hextall has made since becoming the Flyers GM, at least one draft pick has come to Philadelphia. Take a look:
Scott Hartnell – 2015 4th round pick
Tye McGinn – 2015 3rd round pick
Braydon Coburn – 2015 1st and 3rd round picks
Kimmo Timonen – 2015 and 2016 2nd round picks
2015 Draft Round 1 – 24th overall pick *although he traded away 2 picks in this deal and only got 1 back
2015 Draft Round 4 – 104th overall pick and 2016 6th round pick
Nicklas Grossmann/Chris Pronger – conditional 2016 4th round/2017 3rd round pick
Hextall has made it clear that he intends to build through the draft. When he took over the Flyers, they had a total of five picks in the 2015 Draft, only one of which was in the first three rounds.
By the time the draft rolled around, the Flyers had seven picks in the first 100 and ten picks overall. Although they did trade away one pick, the still had four picks in the first three rounds, six picks in the first 104 picks, and nine picks overall.
Assuming the Arizona Coyotes decide to give the Flyers their 2016 4th round pick (they have the option of giving up that pick or their 2017 3rd round pick), then the Flyers already have ten draft picks in 2016. They have all of their own, plus Chicago's 2nd rounder (Timonen), Arizona's 4th rounder (Grossmann), and Los Angeles' 6th rounder (trade back at 2015 draft).
When the Trade Deadline and Draft roll around next year, Hextall will have plenty of currency with which to make trades. If he elects to keep the picks, then the Flyers could be looking at another great draft one year from now.
3. The Flyers Have Gone International
Out of the nine players the Flyers selected in the 2015, six of them were born outside of North America. Between the 2014 and 2015 NHL Drafts, the Flyers have taken nine (of their 15 picks) European born players.
In the grand scheme of things, the nationality of a player should have nothing to do with whether or that player is drafted.
What makes this so exciting is the idea of seeing a plethora of Flyers prospects at the World Junior Championships and other International tournaments. Take a look at the Flyers that will be eligible for the upcoming WJC, many of whom will be eligible next year as well:
Sweden – Oskar Lindblom (LW), Felix Sandstrom (G)
Russia – Radel Fazleev (C), Ivan Provorov (D), Mikhail Vorobyov (C), Ivan Fedotov (G)
Slovakia – Matej Tomek (G)
Czech Republic – David Kase (RW)
United States – Cooper Marody (C/RW)
Canada – Travis Sanheim (D), Nicolas Aube-Kubel (RW), Travis Konecny (C/RW)
Not every player listed will play in the WJC. Players like Cooper Marody, Mikhail Vorobyov, and the three goalies listed will all have a hard time making their team in the upcoming season. Travis Konecny and Nicolas Aube-Kubel will also face some tough competition to make the Canadian team.
On the bright side, Oskar Lindblom is a lock (barring injury) to be back on the Swedish squad. Likewise Travis Sanheim is all but guaranteed a spot on Canada's blue-line. Two of the Flyers 2015 draft picks, Ivan Provorov of Russia and David Kase of the Czech Republic, played for their WJC team last year as double under-aged players, so they will be called upon to take leadership roles on their teams in the upcoming years.
Again, having international prospects does not make much of a difference in the long run. But when the high profile international tournaments come around, it is always nice to see the Flyers well-represented.