The NHL's free-agency period begins on July 1, and the Nashville Predators could make more noise in the free-agent market than once believed.
A month ago, general manager David Poile said he was not going to be too active in free agency because was pleased with the team's core. However, with the uncertainty surrounding the re-signing of top-line center Mike Ribeiro, the Predators may have to find a replacement for the upcoming season, in addition to a few necessary assets needed to construct a Stanley Cup contender.
Below are four players the Predators should attempt to sign this offseason.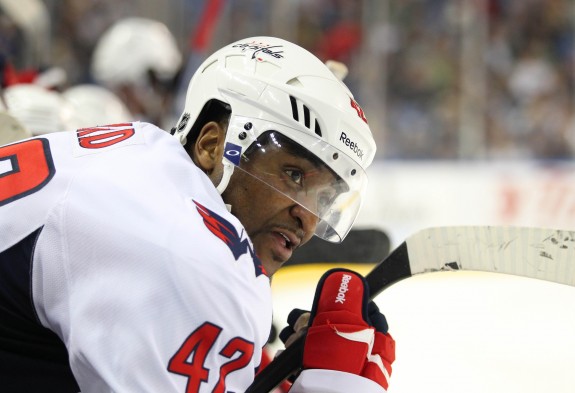 Joel Ward
Last season, Nashville was horrendous on the power play, ranking 25th in the NHL, despite having multiple scoring weapons in Shea Weber, Roman Josi, James Neal and Filip Forsberg, to name a few. The reason for the absent scoring on the man advantage was due to a lack of net-front presence to screen the goalie or deflect shots. Nashville lost that after trading Patric Hornqvist to the Pittsburgh Penguins a year ago. Re-acquiring Ward, who played three seasons with the Preds from 2008-11, could turn everything around for the team's power play.
Ward, 34, scored 34 points (19 g, 15 a) in 82 games with the Washington Capitals last year.
According to the Washington Post, Ward is seeking a four-year deal, which would likely last him through the end of his NHL career.
Chris Stewart
If Ward's four-year contract request is too much to swallow, the Predators should look at a similar, younger player in Stewart. At 6-foot-2, 231-pounds, he is a big bodied forward not afraid to play a physical style. Nashville lacks size and physicality, but acquiring Stewart would fill those voids.
Stewart, 27, was traded by the Buffalo Sabres to the Minnesota Wild at the trade deadline, and he had 36 points (14 g, 22 a) in 81 total games last season.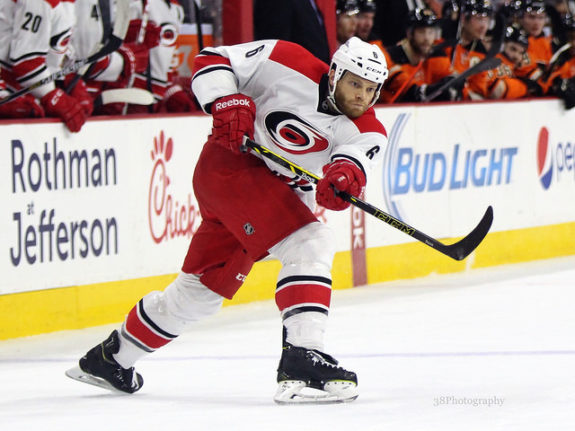 Tim Gleason
Since the Predators have parted ways with defensemen Cody Franson and Anton Volchenkov, the team will have to make a decision whether to sign a new defenseman or promote the current defenders from within. Poile has stated he favors promoting from within, but in order to once again have one of the best defense corps in the league, Nashville will have to sign a free agent.
The best option available is Gleason, a grizzled veteran who played three seasons under current Nashville head coach Peter Laviolette from 2006 to 2009 with the Carolina Hurricanes.
In 72 combined games with the Hurricanes and Capitals last season, Gleason scored nine points (1 goal, 8 assists), blocked 108 shots, made 167 hits and averaged 16:20 of time on ice per night.
Gleason is a left-handed shooter and would be a perfect partner for either Ryan Ellis or Seth Jones, who are both right-handed.
Brad Richards
After winning a second Stanley Cup weeks ago, Richards will hit the free-agent market since the Chicago Blackhawks will be unable to re-sign him due to salary cap issues.
Richards, 35, had the worst season of his career statistically in 2014-15, scoring just 37 points (12 g, 25 a) in 76 games. However, that can be credited to not being relied upon as much to generate offense.
Throughout Richards' career, he has been considered an elite scoring forward. He has had two 91-point seasons with the Tampa Bay Lighting in 2005-06 and Dallas Stars in 2009-10.
If Nashville is unable to re-sign Ribeiro, the best replacement available is Richards. From 2008  to 2011, Richards and Predators winger James Neal were teammates on the Stars. Continuing that chemistry would bode well for the Preds. Also, Richards' 48.4 face-off winning percentage was significantly better than Ribeiro's 43.2 percent last year.
Subscribe to our Predators stories to get email updates every time a new story is published.
Colin Fitts is a Nashville Predators staff writer for The Hockey Writers. You can follow him on Twitter, @FittsTHW.