Time will tell whether the New York Rangers' trade deadline moves this season prove to be among the most impactful in the NHL. What's not at all in doubt, however, is the fact that no team embarked on a greater saga to make consequential acquisitions before the March 3 cutoff.
A four-day break couldn't have come at a better time for the Blueshirts, who endured weeks of blockbuster trades and ongoing speculation about blockbuster trades, along with salary-cap machinations, ill-timed suspensions and injuries that left them in a short-handed roster situation which was likely a first in the history in the league. With the deadline mercifully behind them, no more trades on the horizon and the probable return to a full (if changed) lineup when they resume play March 9 against the Montreal Canadiens, the Rangers should, in theory, begin to look and feel like a normal team again.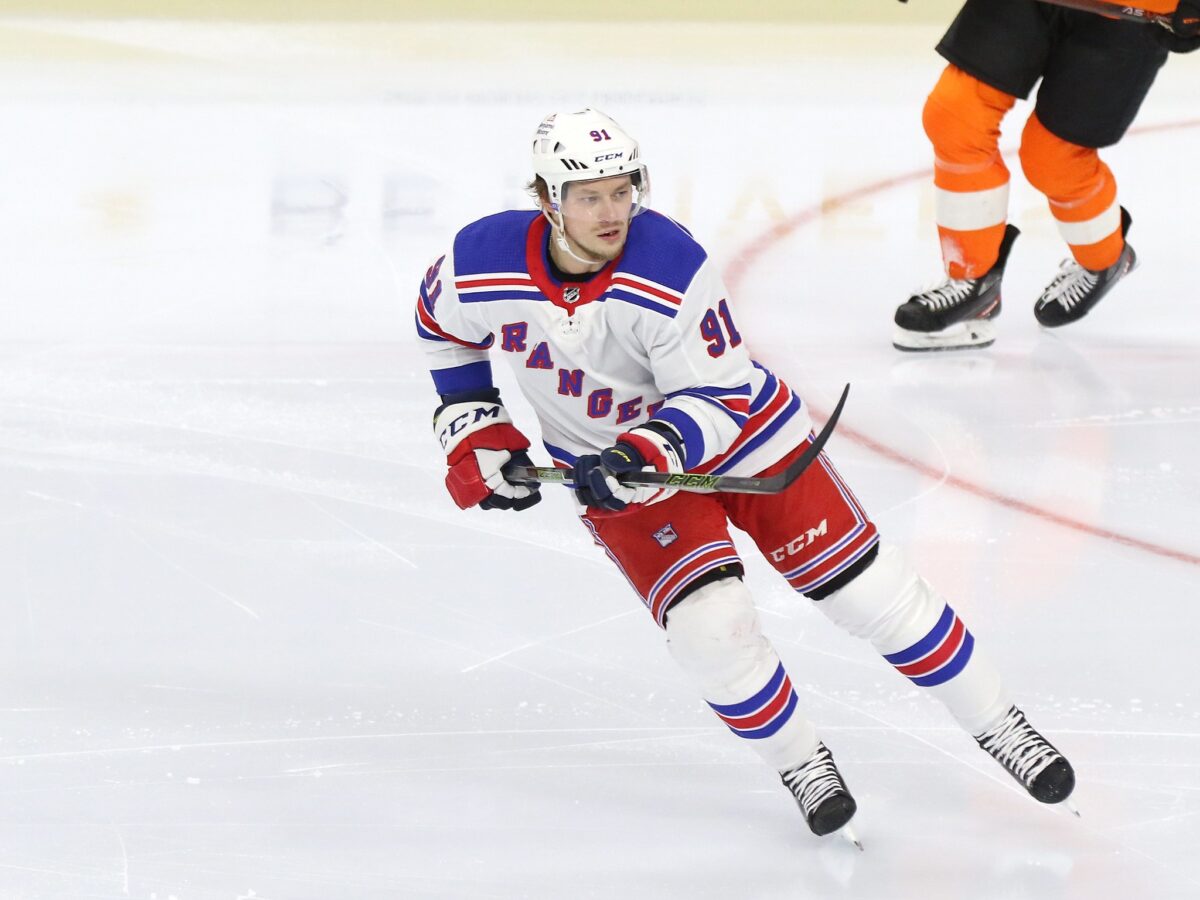 Let's recap and evaluate a wild month that's brought the club toward the home stretch with a loaded-up roster, one that's brought big expectations but will still require time to jell as the Blueshirts head toward what they hope will be another extended playoff run.
Rangers Acquire RW Vladimir Tarasenko and D Niko Mikkola From St. Louis Blues
Not long after the archrival New York Islanders kicked off an absurdly early trade deadline season by making a stunning deal for the Vancouver Canucks' Bo Horvat on Jan. 30, the Rangers took the baton, pulling off an equally surprising trade for Vladimir Tarasenko and Niko Mikkola on Feb. 9. General manager Chris Drury sent a conditional 2023 first-round pick, a 2024 fourth-round pick, left wing Sammy Blais and minor-league defenseman Hunter Skinner to St. Louis.
---
Latest News & Highlights
---
The Rangers making a move for a scoring right wing was entirely predictable. The fact that it came so early in the process, and which scoring right wing it turned out to be (more on this shortly), was not. The Blues had signaled to the rest of the league that they were open for business after deciding to sell amidst a disappointing season, and the Rangers GM was more than happy to start talking to a team that could fill two key needs on Broadway.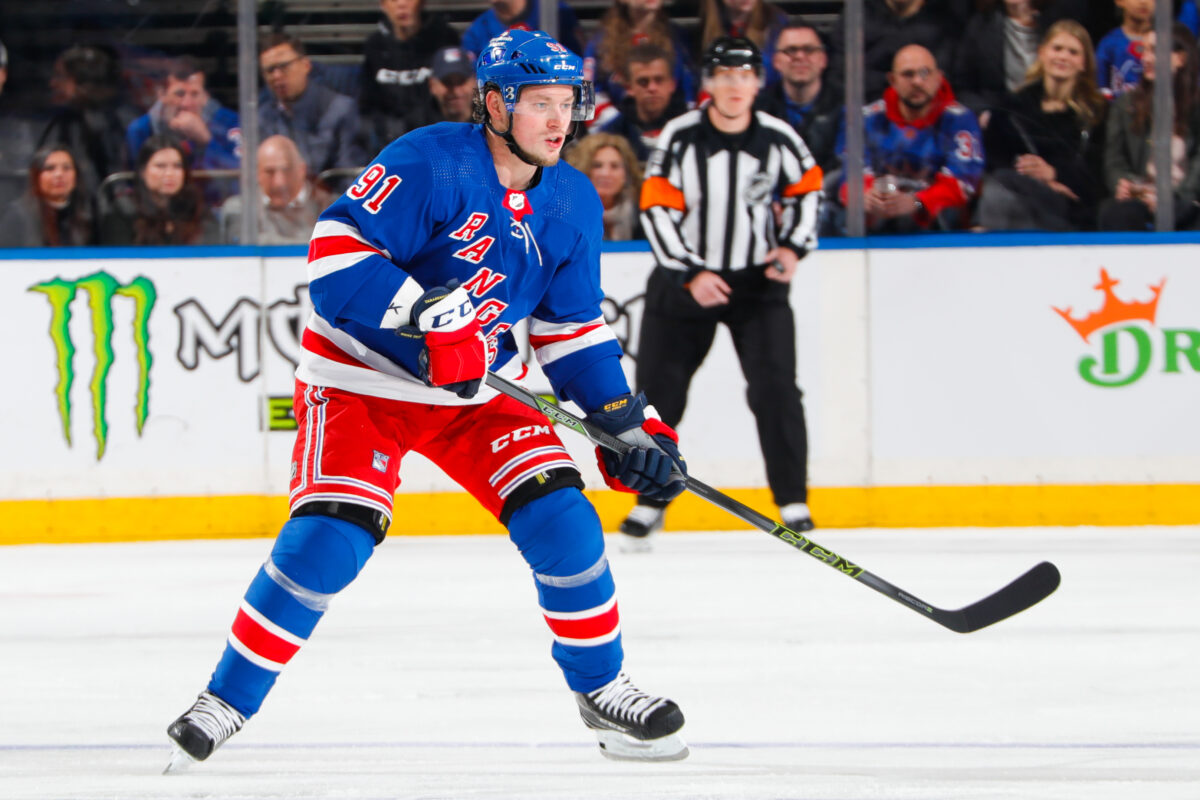 Tarasenko, a 31-year-old pending unrestricted free agent, immediately energized the team and fanbase, the six-time 30-goal scorer and 2019 Stanley Cup champion vastly upgrading the desperately thin right side up front. Tarasenko scored just 2:49 into his first game in a Blueshirt, converting a centering feed from old friend Artemi Panarin in a 6-3 home victory Feb. 10. Growing pains crept in after that storybook moment, however, with a new team and different system and style of hockey admittedly creating some issues for Tarasenko, who managed only one goal in the next eight games.
The comfort level then began to rise, however, the big-bodied and skilled winger beginning to perform like the player for whom the Rangers traded. Tarasenko has two goals and three assists in the past three games, with his one-goal, two-assist performance against the Philadelphia Flyers on March 1 being capped by a spectacular overtime tally to give his team a 3-2 victory. Perhaps just as important, Tarasenko appeared much more at ease and confident with his new mates during those contests, maybe hinting that he's about to become the same force for the Rangers that he was in 10-plus seasons with the Blues.
Though Mikkola has also been finding his way to an extent in 12 games on Broadway, he's been precisely what coach Gerard Gallant was looking for at the back end, bringing size and nastiness to the third defense pair with second-year player Brendan Schneider. Drury insisted on Mikkola being part of the Tarasenko trade, an indication of how committed the GM was to strengthening and solidifying the defense – a problem he also needed to address at last year's deadline.
The price the Rangers paid for the duo seems appropriate. The Blueshirts possessed an extra first-round pick in 2023 from their trade of defenseman Nils Lundkvist to the Dallas Stars, and the Blues will get whichever of the Rangers' two first-rounders is lower in the draft.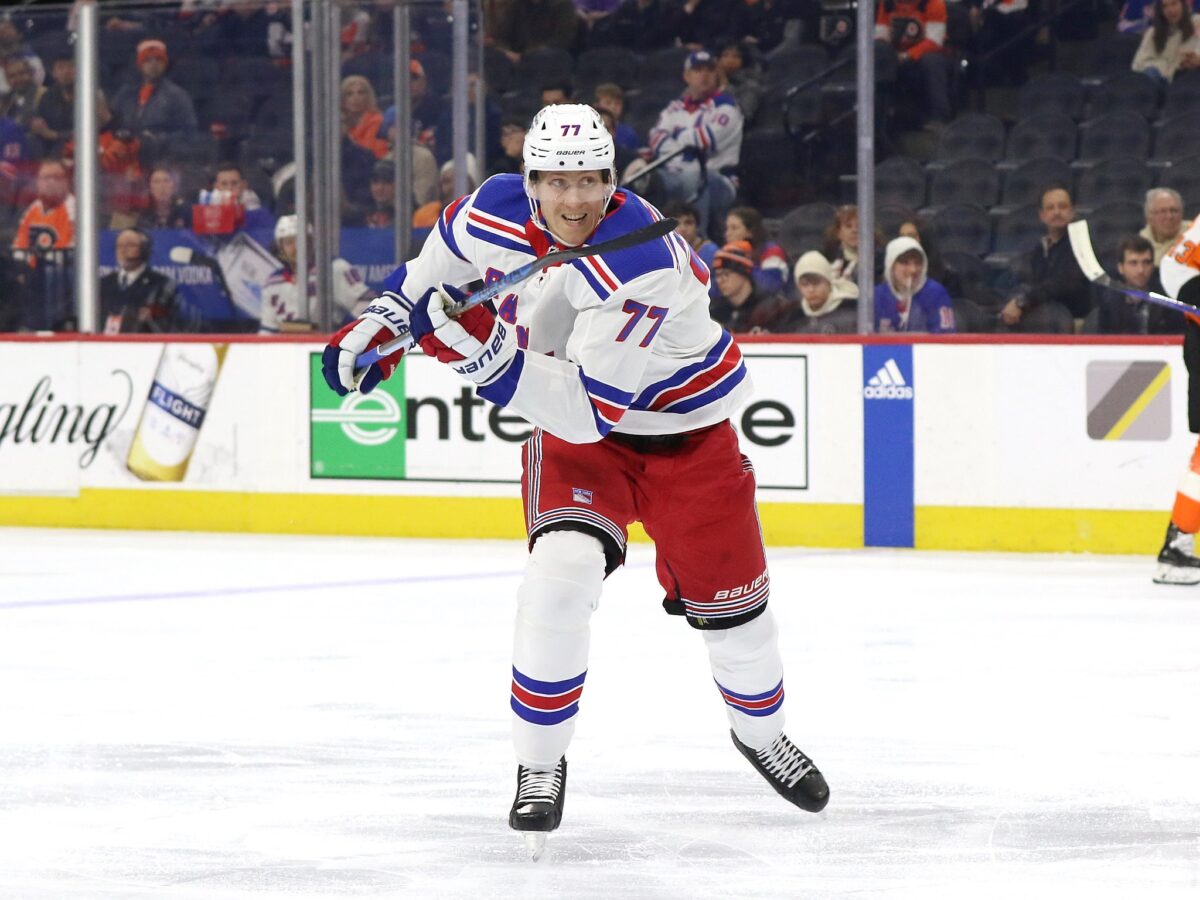 Next year's fourth-rounder was an easy throw-in, and Drury deserves further credit for getting the Blues to not only retain 50 percent of Tarasenko's $7.5 million salary-cap hit, but to take back Blais and his $1.525 million hit. Skinner, 21, isn't seen as much more than an AHL roster filler. The Rangers GM nailed this one.
Grade: A
Rangers Acquire F Tyler Motte from Ottawa Senators
Drury kept the good feelings going with another trade Feb. 19, this time for Tyler Motte, who he acquired for the second straight season before the deadline. Though a much less impactful move than the Blues deal, it made the faithful happy, the Rangers fanbase having largely fallen in love with Motte's pesky, dynamic play from the fourth line during the Rangers' unexpected run to the Eastern Conference Final last season.
Unfortunately, history repeated itself twice for Motte and the Rangers: The 27-year-old lasted five-plus games in a Blueshirt before getting injured, leaving a 5-3 loss to the Ottawa Senators after being elbowed in the head by Austin Watson, his status going forward unclear. Motte played nine regular-season games with the Rangers after being obtained last season before suffering a shoulder injury that kept him out for the rest of the regular season, but returned to make an impact in the playoffs. The Blueshirts would probably sign up for a similar scenario this year if necessary.
Motte's return to Broadway, assuming he can get back on the ice at some point, provides a big boost to a fourth line that was much in need of one. Expected to team with Barclay Goodrow and Jimmy Vesey, the unit will in theory be a fast, defense-oriented trio that can be deployed against an opponent's top six periodically.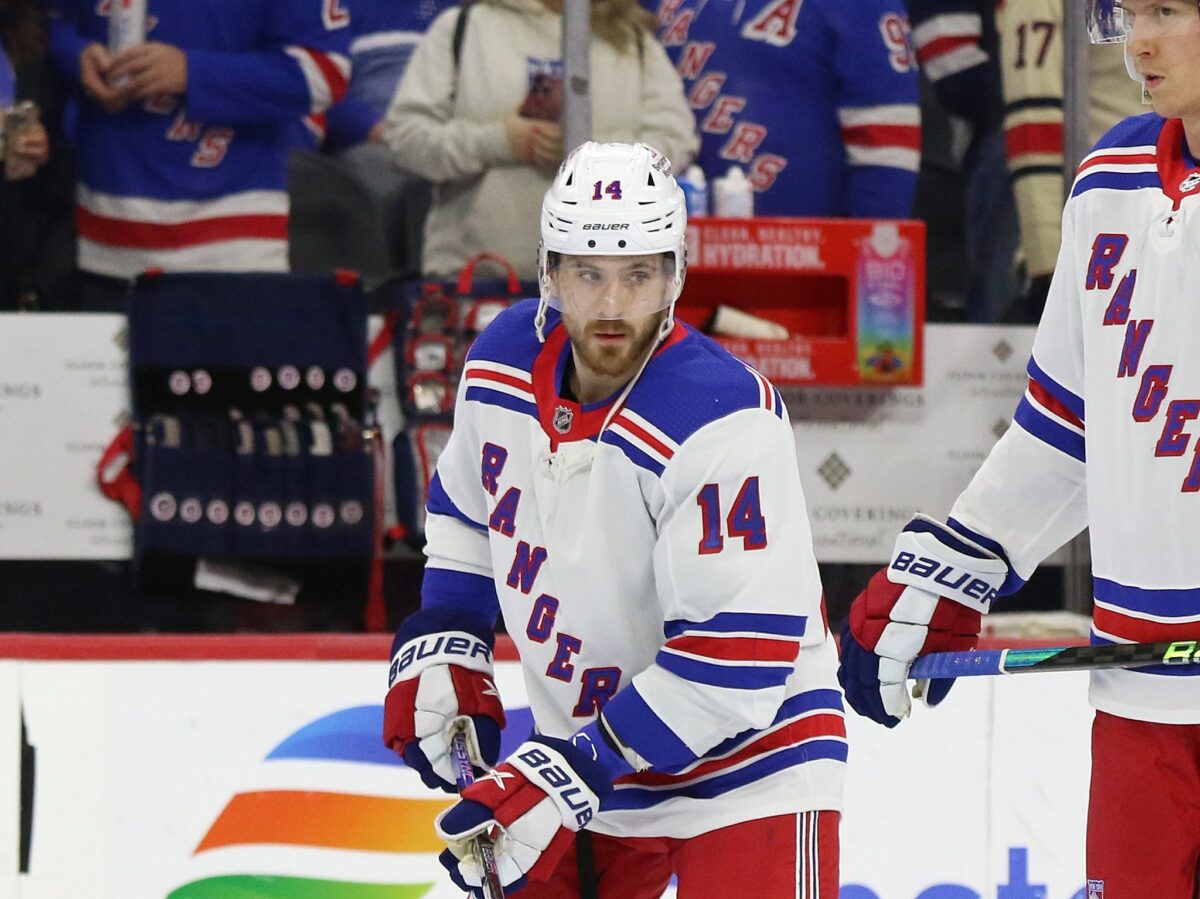 The price, though, might prove to be a big one. Power forward Julien Gauthier failed to secure a consistent spot in the Rangers' lineup over parts of four seasons and wasn't a good fit for the club's current lineup, but he flashed potential and will get a better chance to develop with the Senators. The Blueshirts may regret this deal in the coming seasons with Motte, a pending UFA, likely to depart again this summer.
Ottawa also received a conditional seventh-rounder in the deal, with the pick becoming a sixth-rounder this year if the Rangers advance to the second round of the playoffs. Call this a necessary but potentially risky "now" deal for Drury and the Blueshirts, especially if Motte's injury keeps him sidelined for an extended period.
Grade: B
Rangers Trade RW Vitali Kravtsov to Vancouver Canucks
This move was long in the making, but that doesn't make it any less disappointing. The Rangers brought the long Vitali Kravtsov ordeal to an end Feb. 25 by trading the ninth overall pick in the 2018 draft to the Canucks out of necessity, with his salary needing to be subtracted for the Rangers to pursue their second superstar acquisition of the deadline season (again, more on that shortly). A questionable pick by the previous front-office regime, there were rumors that Drury was not high on Kravtsov's future prospects in a Blueshirt.
Whatever the case, it was apparent by the end of his often-bizarre time in New York that Kravtsov no longer fit in the team's future plans, even though he was a right wing with offensive upside on a team sorely lacking long-term solutions at the position. The return from Vancouver was predictably minor – winger William Lockwood, a speedy and irritating Motte-type player who like Motte went to the University of Michigan, but whose small frame will probably limit him to an American Hockey League career, along with a seventh-round pick in 2026.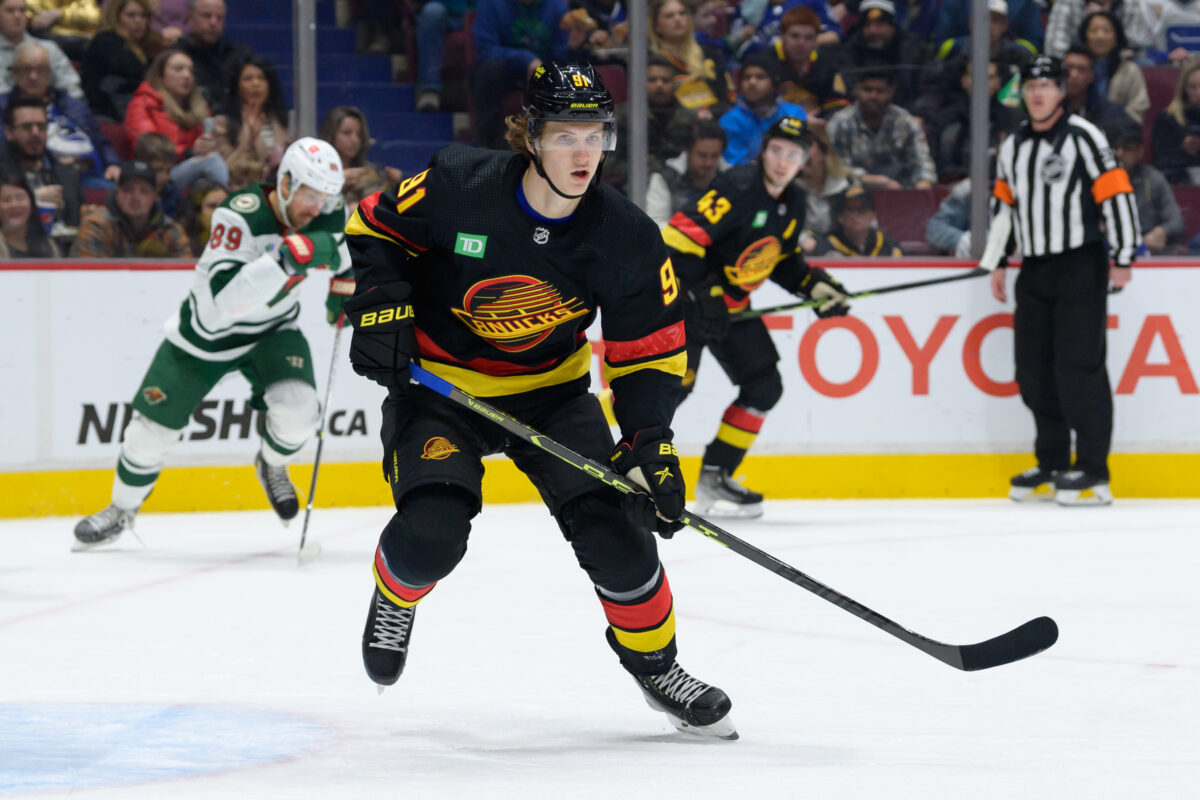 The Rangers having to essentially give away a top-10 draft pick fully stamps their Kravtsov experience as a failure, with errors committed by both team and player during their time together. There was little doubt Kravtsov needed to start anew somewhere else, and the Blueshirts had to trade the 23-year-old, but there's no way around the frustratingly disheartening nature of the experience.
Grade: C-
Rangers Acquire RW Patrick Kane From Chicago Blackhawks
If Drury's goal in obtaining Tarasenko and Mikkola so early was to limit deadline distraction and drama around his team, he "failed" miserably – even if it was hardly his fault, and he eventually achieved a goal that he hardly thought he'd be able to meet.
Let's explain.
Chicago Blackhawks star Patrick Kane was the scoring right wing that had been linked to the Rangers for more than a year, with endless speculation that he would be the perfect fit to come to New York to rejoin former teammate Panarin. With his contract expiring after this season and in possession of a full no-move clause, the belief was that Kane might use it to direct himself to the Rangers before this season's deadline.
Then Drury traded for Tarasenko. One day later, Kane emphatically confirmed that the rumors of his desire to come to the Big Apple were anything but unfounded. In a startlingly candid interview, the 34-year-old future Hall of Famer seemed despondent over the Rangers' acquisition.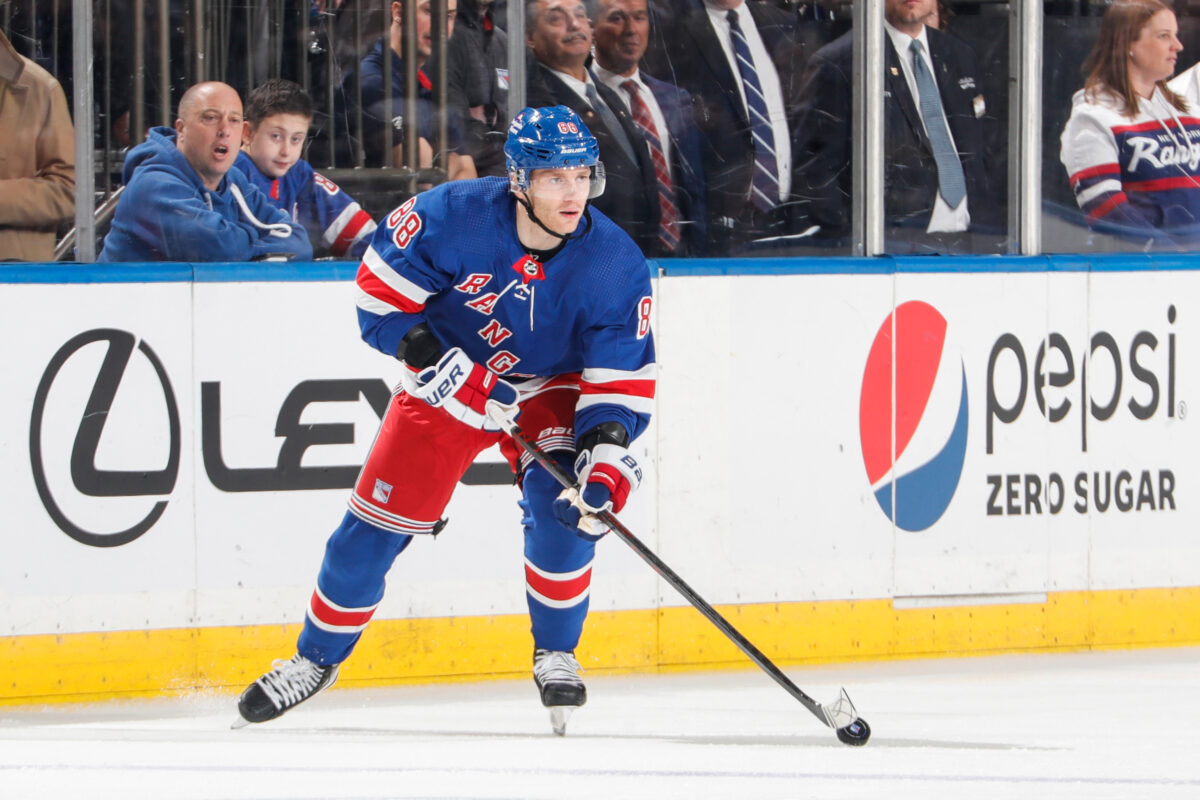 It turned out, however, that Drury and the front office, even with scant cap space left, had hardly given up on the idea of also acquiring Kane, who had yet to indicate whether he was even willing to waive his NMC and leave Chicago. Perhaps further emboldened by Kane's comments, Drury embarked on a difficult, convoluted and probably unprecedented path that landed the three-time Stanley Cup winner.
Amidst a wild week-plus of short-handed rosters that were both intentional to accumulate cap space (trades, waiving players) and unintentional (injuries to Motte and defenseman Ryan Lindgren, and a spitting suspension to defender K'Andre Miller), Drury got his man – or, second one, after Tarasenko – on Feb. 28. The Rangers sent a conditional 2023 second-round pick, a 2025 fourth-rounder and two minor-league defensemen to Chicago for Kane and defenseman Cooper Zech. He also traded a 2025 third-round choice to the Arizona Coyotes to have them take on 25 percent of Kane's $10.5 million cap hit after the Blackhawks retained 50 percent of it – the only way the Rangers could make Kane fit.
Take a breath. Everyone got that?
With the craziness of that stretch, during which the Rangers went 2-2 without playing once with a full 20-man lineup, seemingly over, it's clear that Drury deserved major kudos for doing what was necessary to pull off a daring, all-in move that should make his team infinitely more dangerous in the postseason. Willing to temporarily compromise his club's chances on the ice in order to bring in a rare talent, it turns out that Drury wouldn't compromise on limiting the Blackhawks' return for Kane when he didn't have to.
Aware that Kane was unwilling to waive his no-move protection for anyone but the Rangers, Drury refused to give up his second first-round pick in what's considered to be a very strong 2023 draft. The second-rounder the Blackhawks received becomes a first-rounder if the Blueshirts reach the conference final, but that selection moves to either 2024 or 2025.
Related: Even With Kane, Remade Rangers Still Lacking Playoff Grit
The rest of the return appears to be largely inconsequential for Chicago, which wasn't able to pry any of the Rangers' top prospects away in the deal. As impressive as this trade looks for the Blueshirts, however, it gets slightly downgraded as compared to the Tarasenko/Mikkola acquisition, given the higher level of risk on several fronts that Drury has taken on here.
With essentially zero cap space remaining, there's no ability for the Rangers to manage players' minutes amidst an extremely busy schedule down the stretch in preparation for the playoffs. In fact, with Motte injured, they needed an emergency callup exemption to field a full lineup for the matchup with the Canadiens.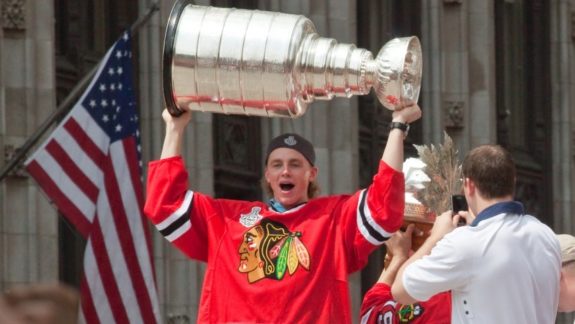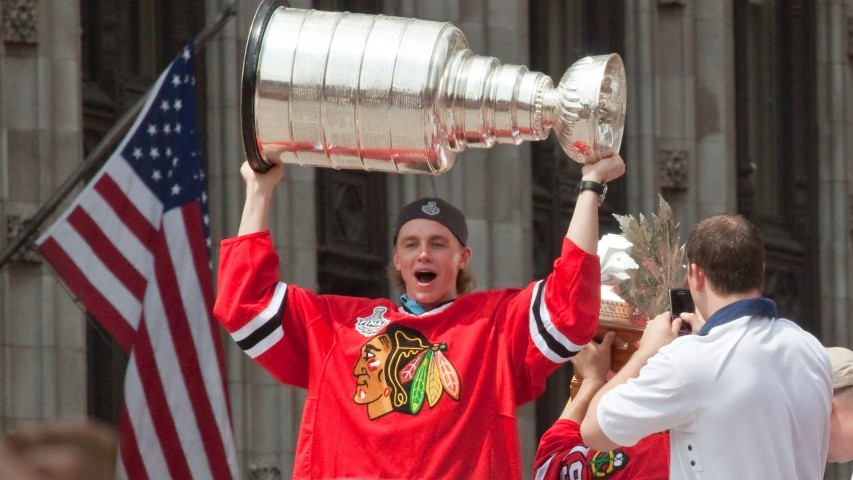 There's also the thorny question of whether acquiring Kane in addition to Tarasenko, similar high-skill players, will prove to be overkill. The assumption before Kane began his push to land in New York was that Drury would follow up the Tarasenko trade by using his scant remaining cap space to add some toughness and grind. Instead, the Rangers' roster has little of that.
This deal also cost the club an extra draft choice in the third-rounder that went to Arizona, the broker team. And for the second straight year, a certain level of success in the playoffs will cost the Rangers, who will have to fork over a first-rounder instead of second should they advance to the conference final. Drury fashioned a similar deal with the Winnipeg Jets last season in the Andrew Copp trade, and the Rangers indeed ended up having to hand over their 2022 first-round choice.
As Drury rightly pointed out, the opportunity to acquire someone like Kane doesn't come along very often – especially for such a low price – and his boldness and perseverance in upgrading his team is admirable. That doesn't mean the move is without some potential downside.
Grade: A-
Drury's Big Splashes Didn't Cost Rangers a Mint
In the end, Drury probably had little choice to make the moves he did, given their relatively low cost and the fact that a generational player insisted on joining his team for a postseason run. Even with Tarasenko in the fold, it would have been difficult for the GM to rationalize not acquiring Kane without having to give up any of his top prospects and losing at most a future first-rounder, especially if the Rangers ended up flaming out in the first or second round.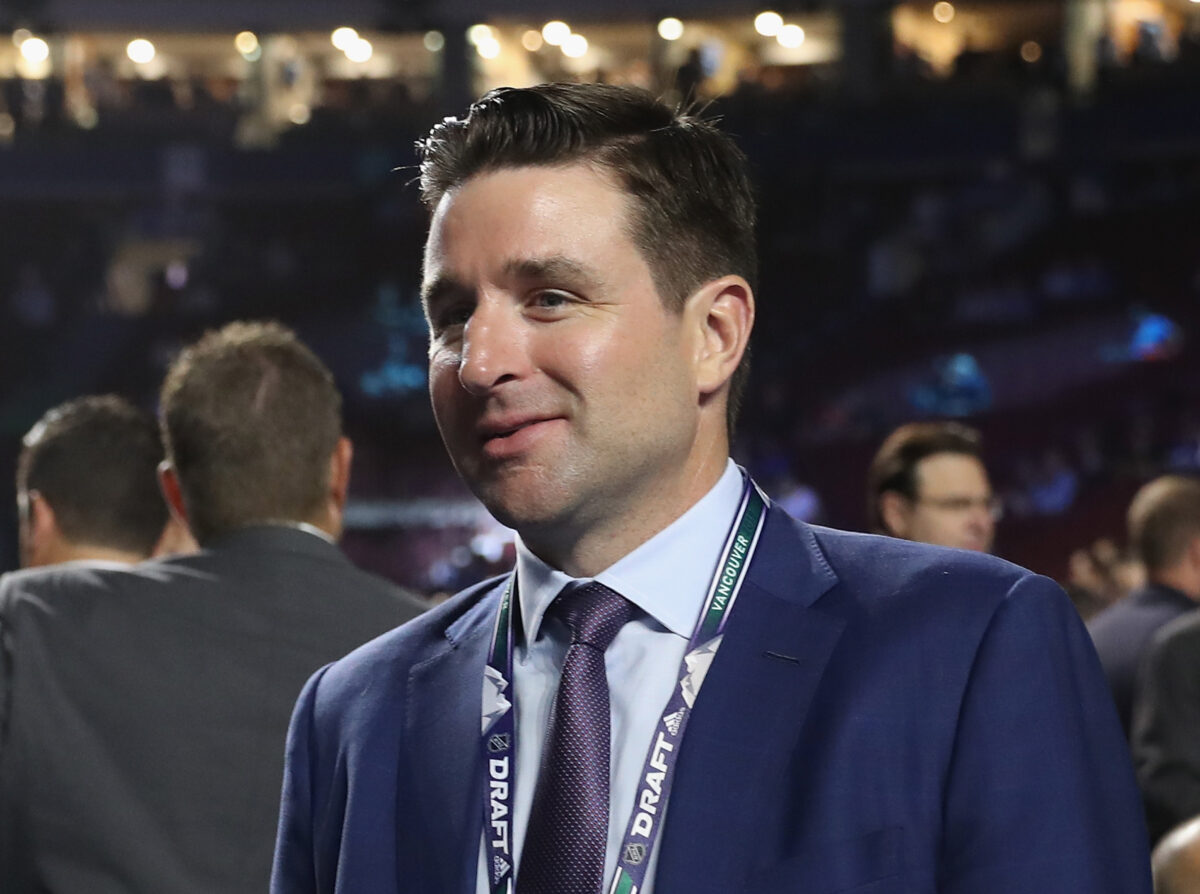 The Blueshirts are rolling with a star-studded roster, with the focus now on Gallant to make it all mesh as soon as possible. Fortified by a flurry of big trades for the second straight season, the Rangers are going for it yet again, and their future hasn't been compromised the high-end reinforcements brought in for the postseason push. Ultimately, Drury's decision to double down on elite skill was probably the most realistic course of action for this club – even if the roster could still end up lacking come playoff time.
2023 Trade Deadline Grade – B+