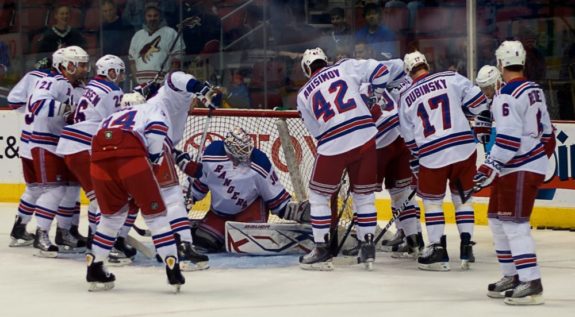 When the New York Rangers' offense exploded for seven goals against the Philadelphia Flyers this past Sunday, people might have ran to their windows to check and see if pigs were flying above their homes; or ran to the telephone to call Hell and see if had frozen over.
If it was another team that has seen offensive struggles as much as the Rangers have, that rattled off seven goals against the best team in the Eastern Conference, then maybe pigs would be flying and Satan would be busting out the North Face.
This is ordinary for the Rangers, however.
For an offense that is anemic as New York's is, the Rangers sure have posted some impressive dents in the scoreboard this season.
The Rangers peculiar offensive journey started the very first night of the 2010-11 season, when they posted six goals against the Olympic hero Ryan Miller, defeating the Sabres, 6-0.
About a month later, the Rangers once again exploded for an unusual scoring binge, when they welcomed former head coach Tom Renney back to the Garden, trouncing the Oilers, 8-2.
Just like a month prior, when Derek Stepan let everyone in the NHL know who he was by recording a hat trick in his very first game in Buffalo, Marian Gaborik netted three against the Oilers.
Again, fast forward the calendar a month, and we have the Rangers taking on Washington Capitals. Keeping up with their one brutal beating per month, the Rangers crushed the Capitals, 7-1.
Just two short weeks later, breaking their monthly habit, the Rangers gave the Islanders a Christmas present that they'd rather not have received, a 7-2 thrashing.
Back on their regularly scheduled smack-down schedule, the Rangers annihilated the Maple Leafs, 7-0, in mid-January.
What happened one month from then?
You guessed it; the Rangers had another embarrassing victory. This time the Capitals came back for round two, once again taking a severe beating from the Broadway Blueshirts, 6-0.
For an offense that regularly struggles to put even one or two goals on the board, the Rangers sure have made it a habit of putting outlandish goal totals in the boxscore. Of course, this only happens once every four weeks or so.
If the Rangers could transition whatever they're able to muster together during these beatings that they've handed out, maybe they would be able to generate a more substantial form of offense on a regular basis–rather than once a month.
It would sure help out Henrik Lundqvist, who on most nights, needs to be just about perfect for the Rangers to take home the victory.
Judging by their pattern, on April 7, Atlanta Thrashers better watch out, because that's more than likely the next time the Rangers will strike!