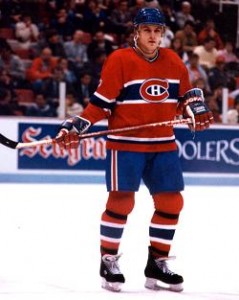 During the 1985-86 season, Claude Lemieux played 10 regular season games with the Montreal Canadiens, scoring one goal and adding two assists. It was the start of a stellar career that would span 19 seasons, 1,215 career games, 379 goals and 786 points. He wore the uniform of six different teams in his career – Montreal, the New Jersey Devils, Colorado Avalanche, Phoenix Coyotes, Dallas Stars and the San Jose Sharks.
While Lemieux's legendary career may have started quietly with that lone goal in his first ten games, once the 1986 playoffs began, he and a young goaltender named Patrick Roy played integral roles in the run to the 23rd Stanley Cup in the storied history of the franchise. The 20 playoff games in '86 foretold his future playoff success, as he scored 10 goals and added 6 assists that year. For the young man from Buckingham, Quebec, winning a Stanley Cup with the Canadiens was a dream come true.
Claude Lemieux Dreams of Red White and Blue
"I dreamed of playing for the Montreal Canadiens my entire childhood, playing street hockey pretending to be Larry Robinson or Guy Lafleur, depending on the position I was playing at the time," Lemieux explained. "It all came fairly quickly for me and to this day, those memories are very special. It's amazing how a childhood dream can become reality if you work hard enough and you are stubborn enough to pursue your dreams."
When the annual quest for the Stanley Cup began, Lemieux elevated his game to a new level every time. He is one of the greatest playoff performers in the history of the league, scoring 80 goals and adding 78 assists in 234 playoff games. He ranks fourth on the all-time list for career playoff games and his 80 goals places him ninth on the all-time playoff scoring list. That's one goal ahead of Jean Beliveau and two behind Maurice Richard.
"Playing youth hockey during the 1970's, the Montreal Canadiens were winning the Stanley Cup every year and I think nothing but winning a Cup was a failure. I grew up thinking that was just the way it was and that is how you needed to measure your performance – nothing short of a Stanley Cup."
"Growing up, I was fortunate to play on some really good teams and I had the chance to have some success in youth hockey. We always had really solid teams and we were always competitive, we won a lot of youth tournaments. So, I seemed to perform better when the building was packed and the stage was set for big games. It worked out well for me."
Third Most Playoff Game Winning Goals
During his career, Lemieux was on a playoff team 18 times – including an astounding streak of 14 seasons in a row (1986 – 1999). His 19 game-winning playoff goals are third highest on the all-time list, only five goals behind Wayne Gretzky's record. He added to his reputation as a valuable playoff performer in 1995 by winning the Conn Smythe Trophy as a member of the New Jersey Devils.
"There are guys that are great regular season performers and then seem to struggle down the stretch at playoff time. For me, it always seemed the opposite. I always felt the regular season was exciting but it was a stepping-stone to getting yourself into a playoff spot. It's saving your best for last. I always said I would trade a 50 goal season anytime for a great playoff opportunity."
A four-time Stanley Cup champion, Lemieux is one of only nine players in the history of the league to win a Stanley Cup with three different teams (Montreal Canadiens – 1986, New Jersey Devils – 1995 and 2000, and the Colorado Avalanche – 1996). Any time you lift the Stanley Cup in victory, it is a tremendous accomplishment. However, when asked, he said the first Stanley Cup in his rookie season with Montreal would always hold a special place in his heart.
"They all meant something different because of the players I was with, the team I was on and the city I was playing in – knowing the parade and the celebrations that would follow. The first one was really special based on having grown up near Montreal, winning with the Montreal Canadiens, being a rookie. I had an important role in winning the Cup that year – I played well and scored a lot of goals. I had four game winning goals that year so that first one will always be special."
In 2008, media reports began to surface that Lemieux had intentions of returning to hockey. After playing two games with the China Sharks in the Asian Ice Hockey League, he signed a contract with the Worcester Sharks, San Jose's AHL affiliate. He played 23 games in the American Hockey League and on January 20th, 2009, the comeback was complete as Lemieux stepped onto the ice in San Jose for a game against the Vancouver Canucks.
"It was a crazy idea that I had after being retired almost six years," he said. "I have no regrets, it was a lot of fun and I'm very proud that I got to play some games. I'll always remember when I got called up, I think it was January 10th, I got to play my first game a couple of days later. Having been at home all those years, watching TV and becoming a hockey fan, no longer a player, just to be there listening to the national anthem in a full building – it was great."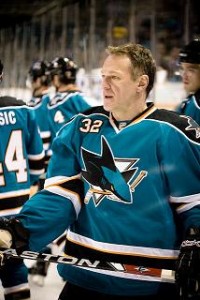 "Getting called up to the NHL felt just like it did the first time," Lemieux said with a laugh. "I was pretty worn out, we were on a long road trip and we had been in Norfolk. We had a long bus ride, we got to Hershey at 5 or 6 in the morning and when I got to the hotel, they had my plane ticket there. I think they probably felt that 'if he makes it through this weekend and he doesn't quit, then we have to call him up because he's paid his dues.' I think I played 23 games in the minors and I was proud of the way I played. I managed to score a few goals, play on the power play and the PK."
"When I got to San Jose I didn't play very much but I got to understand what my former teammates used to say about being on the fourth line – it's difficult to get into the rhythm of the game; especially nowadays with al the penalties, the fourth line doesn't get used much at all."
A star in the NHL for 19 seasons, Claude Lemieux returned to a different NHL when he came back to the league. The clutching and grabbing of the 80's and 90's had disappeared. The post-lockout game had evolved, with less interference and more room for the star players to dazzle their fans.
"The game is faster now, I don't think the athletes are dramatically faster, but the game itself is not quite as physical as it used to be – it's easier to move around and that's what makes the game faster. There is no holding and grabbing and obviously, it's much easier to skate and forecheck or break out of your own end when you don't have to carry a couple of guys on your back."
In January, Lemieux took on a new challenge, joining 4Sports and Entertainment to help the company establish a presence in North America. With offices in Switzerland, Sweden and now in Canada, their client list includes golfers Justin Rose and Paul Lawrie, and former Montreal Canadiens forward Glen Metropolit to name just a few.
"I have a couple of different roles right now," explained Lemieux. "I'm the President for 4Sports and Entertainment in North America. Our company represents athletes in golf, hockey, downhill skiing and soccer. My role is to develop the business by recruiting player agents and building partnerships with existing agencies. We strive to support players the way they need to be supported and representing them both on and off the ice. Hopefully, I bring something different to the company – coming from a player's point of view. I think that's important because you can share with them what they are going through at that time and when they are in need, you are there for them."
"I have also recently joined Graf Canada, the hockey skate company, as the new chairman. It's all related to hockey – skates, sticks and equipment, so it is a lot of fun. When you have been in the hockey world your whole life, it's nice when you can stay involved with the game but at a different level."
As an active NHL Alumni member, Lemieux takes part in the Alumni Hockey Tour as well as a number of fund raising events for various charities. The Alumni events provide a great opportunity to reminisce with old friends and old foes who have now become friends through their love of the game and desire to help others as part of hockey's greatest family.
"It's not like we have a senior tour in hockey like they have in golf or tennis, but it's a nice time and it's good to contribute and get the players back together. We tell a few stories and then go out on the ice. We don't move real fast but we pretend that we are! I do a lot of events with the Alumni tours, whether it is with the Montreal Canadiens Alumni or the NHL Alumni. I also play some games as part of the Legends Tour and all of those events raise money for different charities. Sometimes we play some good teams and we have to work a little harder to keep up so it's a lot of fun."
As is the case each month, after sharing a story or two for the "Ask the Alumni" articles, the spotlight shines on our THW readers and your questions for our NHL Alumni guest. Here are your questions for Claude Lemieux and the answers, straight from the four-time Stanley Cup Champion. This month for the first time ever, we also received a question from a fellow Alumni member…
Some Questions for Claude
Sheena in Montreal, QC: Would you ever consider a coaching job in the NHL?
Claude: You know, I thought about it, especially when I retired from playing again. I had been so close to the game and felt ready for the challenge. I did have some opportunities but I decided to pass on them because I didn't feel it was the right fit at the right time. The city where I was going to coach was very important to me and it had to be a good city for my kids, for my wife and the whole family in general. We decided not to opt for that route, for now anyway.
It has turned out great though – I can be a personal coach for all our players that we represent and I can live in one place and not worry about where I am going to live next year. You have to be willing to move and be prepared to be on the go – you are hired to get fired. So, we thought about it and decided not to pursue it.
Jill in Campbell, CA: The fans here were really excited to have you here on the team, hoping your presence and experience could help us get a little closer to a Cup. Did you feel the love from the fans? Did you enjoy your time in San Jose?
And… Do you have any plans on pursuing a singing career? (You did a great job with Leonard Cohen's Hallelujah!)
Claude: The fans in San Jose are probably some of the best fans, right up there with the Montreal and Colorado fans. They love their team – they have unconditional love for their team and the players. They are 5-star hockey fans out there. I only dressed for one playoff game and we didn't play well, but it was a great run and it was a lot of fun.
That was just in the heat of the moment of competing (singing Cohen's Hallelujah during Battle of the Blades), I was trying to find an edge to beat my competitors and we raised some money for the Make a Wish Foundation. I do like to goof around and sing a little, but nothing too serious.
Wendy in West Milford, NJ: I am a big fan and I am familiar with what a good human being and talented hockey player you are. I didn't always enjoy when you got under the skin of opposing players but you performed that task well when it was needed. It is disappointing that your reputation as a "dirty player" constantly comes up years after you retired. How do you feel about this reputation and has it been a problem?
Claude: No, it doesn't bother me because I did push the envelope and I did go too far sometimes. I was very competitive and I was willing to bump around – it's part of my competitiveness. I was playing in an alumni game a week ago and a guy much older than me decided he was going to rough me up, and push and shove a little bit. I couldn't help it, I had to lean into him and I thought, this is so goofy, but that's just the competitor in me. I was a very physical player and I wouldn't call it dirty, but I was definitely a very intense guy.
Mike in Utica, NY: I've been an Avs fan since I was about 10 years old (24 years old now) and I am curious as to what your favourite memory is as a member of the Colorado organization. What are your thoughts on the current Colorado-Detroit rivalry, do you think the rivalry is still there?
Claude: Obviously, it was winning the Stanley Cup. We didn't win the Cup in Colorado, we won it on the road, but the parade that we had in Colorado was pretty special. I didn't expect that at all and with the amount of people that came out, it was way above any expectations that I had. It was great to have all that fan support. I remember my first game there too. I had only skated a couple of times all summer, I hadn't been on the ice much and to jump out there and play against Detroit in my first game; we won 3-2. Then to finish the season off in Florida winning the Cup, it was incredible.
I think the rivalry died down quite a bit once some of the existing players that were part of the original rivalry were gone. These rivalries are built when teams battle year after year in the playoffs and the teams really start to dislike each other, but Colorado has not been as competitive as Detroit the last few years, so there is not that same spark.
Robbie in Elmira, ON: Salut Claude! Your name is synonymous with success in hockey and ultimately being a part of some classic Stanley Cup winning teams. With all of those playoff appearances, was there ever a series that you played in, that after winning the final game you said to yourself, "Yes – that was it… that was like the Stanley Cup final game right there."
Claude: For me, when we beat Detroit with Colorado in '96 I felt like we won the Stanley Cup. I felt we were way stronger than the team we were going to face in the Finals (the Florida Panthers) and then it was such an accomplishment because of how good Detroit was. For two seasons in a row, I was going to be part of a team that knocked off Detroit. Sweeping them the year before and then that year, so that one time, I did feel that way.
Jason in Montreal, QC: You played as a junior in Montreal with the Verdun Canadiens and now another Canadiens prospect is playing his junior hockey in the city. The team's first round pick, Louis Leblanc, is a member of the Montreal Juniors. Was there a lot of pressure being a Canadiens prospect playing in Montreal?
Claude: Well, there is pressure but that's just part of playing in Montreal – that's also the beauty of it. I always say if a kid can make it there, he can make it anywhere. I think it's a fun pressure because when things go well it is so rewarding and you are so loved by your fans. I know Louis, he's a good kid. He's got to get a little bigger, a little stronger, but I think he has a really nice future.
Theoren Fleury in Calgary, AB: Ask Claude about his temper on the golf course – I've seen him throw some clubs before…
Claude: (he laughs) You know what, I have a much better temper now because I'm playing awful, so I have kind of come to terms with not playing as well as I want to play. I've realized that being a dad, golfing, working, coaching, being a husband, it takes too much time to be really good at golf. When I was decent, I was spending a lot of time on the golf course. Now that I'm not, I'm definitely not as good. So yeah, to answer his question, my temper is definitely much better today because I don't take it as seriously.
On behalf of myself and everyone here at The Hockey Writers, thank you Claude for taking the time from a very busy schedule to join us for this month's edition of "Ask the Alumni" – and thank you to Dylan Wade at the NHL Alumni Association as well for helping to set up all of our "Ask the Alumni" interviews.
For more information on the NHL Alumni Association and their members, visit their website: NHLAlumni.net
You can also follow the NHL Alumni on Twitter
Image Resources:
Claude with the Montreal Canadiens – NHL Alumni Association
Claude with the San Jose Sharks: Jill Goodell
Andrew Rodger is an independent sports columnist and member of the Canadian Association of Journalists. Along with operating The Voice of Sport, he covers the Ottawa Senators and writes the "Ask the Alumni" series here at The Hockey Writers. He is the resident writer for the NHL Alumni Association and a contributor on CBC News Now.