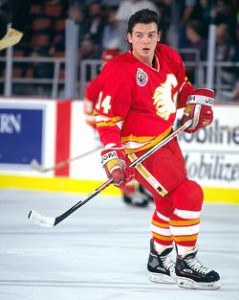 "Now, if I have inspired you in any way, it is your turn. Go inspire somebody else, and remember, don't quit before the miracle." – Theoren Fleury in Playing with Fire
In his best-selling autobiography Playing with Fire (October 2009 – HarperCollins), Theo Fleury describes the moment when he stepped onto the ice for the first time as a five-year-old, how the feeling of gliding on the ice seemed so natural. A star in junior hockey, he was told he would never make it to the National Hockey League because he was too small. Knowing that he was destined to be in the league, he worked hard to master the game. With his never-quit attitude, along with having the heart of a champion, Fleury overcame tremendous obstacles on the ice and in his life. He went on to become one of the greatest goal scorers in the history of the Calgary Flames franchise and the entire NHL.
Coming into the league with the Calgary Flames in 1989, Fleury joined a team filled with all-stars and future Hall of Fame members – Lanny McDonald, Doug Gilmour, Joe Nieuwendyk, Gary Roberts, Al MacInnis, Mike Vernon and Joe Mullen to name just a few. He proved himself to his teammates with his play on the ice, and in his rookie season, they won the Stanley Cup against the Montreal Canadiens at the famous Montreal Forum.
"Well, for a young guy that was just trying to break into the league I couldn't have been put in a better situation," Fleury recalled on the telephone from his home in Calgary. "They were a big, strong, tough team that was extremely talented with great goaltending. When I think about that team, the thing that stands out the most is the quality of human beings that we had, just real solid guys, great guys. For a young guy like myself to be tutored by those guys on how to be a professional, how to handle the media and all that, it was incredible."
"When you are coming into the league, you just want to play and you don't realise that part of your responsibility as a professional hockey player is that you have to deal with the media on a day-to-day basis. They were great guys to learn from – Lanny, Peplinski, Hunter, and the list goes on and on."
As a junior player and during his time in the NHL, Fleury represented Canada at International tournaments on many occasions. He captained Team Canada to a gold medal at the 1988 World Junior Championship and he wore the national colours at the 1991 World Championship, winning a silver medal. He was also part of the team that won the 1991 Canada Cup and finished in second place five years later at the World Cup.
"I think that the World Junior Tournament is probably the best tournament in the world to be involved with and play in," said Fleury. "I have so many great memories from the 1988 World Junior's when we went right into Moscow, the year after the brawl, and we beat the Russians and went on to win the gold medal. It was an incredible experience, and it was my first opportunity to win something of that significance on a big stage. Not only that, but being honoured with the captaincy of that team, it was an incredible, incredible experience."
"It really left me wanting more of those winning experiences – the feeling at the end of it all is one of the most incredible feelings you can experience as an athlete. It was a pretty wild 18 months for me – I won a World Junior tournament that Christmas, that Spring I won a Turner Cup (with Salt Lake – Calgary's farm team at the time), and the following year, I won the Stanley Cup with the Flames. Within 18 months I had three championship rings, so it was an incredible couple of years!"
After a disappointing trip to the 1998 Olympics in Nagano, Fleury was eager for another chance at Olympic glory. Team Canada General Manager Wayne Gretzky included him on the roster for the 2002 Games in Salt Lake and he helped to bring the Olympic gold home to Canada for the first time in 50 years.
"Any time you put the Maple Leaf on your chest, not only is there an extreme amount of pressure but the expectations are incredibly high. After what happened in Nagano in '98, obviously, it was an incredible experience. The team that they assembled for that Olympics – I remember walking into the dressing room for the very first time. I look to my left and Mario Lemieux is sitting beside me, I look to my right and there's Joe Sakic. It was pretty amazing to be part of that team."
In his best-selling autobiography, Fleury is very open and honest about his personal life, as well as life in the NHL. For some, the truths within its pages were difficult to read, but he hoped by stepping forward and sharing his own story, others would be inspired as well and begin the healing process. The book helped with his own recovery and gave him the opportunity to explain to his fans the challenges he faced on and off the ice.
"I think people have to realize that it is my opinion and you don't necessarily have to agree with it. I think in the end though, I knew for the book to have the biggest impact, I needed it to be as open as it possibly could and as honest as I could possibly be," Fleury said. "I looked at it as, here I am in the beginning of the 2000's, being in New York and Chicago and then all of a sudden, just disappearing without anything. I thought I really owed it to my fans and the people that supported me through all those years, I felt I owed it to them to explain the reason why I was so messed up and why I left the game when I did."
"I really wanted the book to help people to look at their own stuff and realize, you are not the only person that has gone through this and that sometimes the truth hurts, but I think in the end, the truth will set you free. That has been my experience."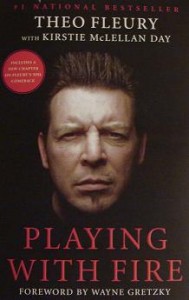 The paperback edition of Playing with Fire, which was released in 2010, includes several new chapters and brings the story full circle, as he shares the story of his famous comeback and his shootout goal in the pre-season against the New York Islanders. His journey back to the Calgary Flames gave Fleury the opportunity to end his career on his own terms, surrounded by his family and as a member of the Flames organization.
"In the end, I got everything out of that experience that I could have possibly asked for. Obviously, the competitor inside me would have loved to have played another year in the NHL, but I think in the end, the coolest thing of that whole experience was that moment of redemption. The way that game played out was incredible. Olli Jokinen shoots the puck in the net with no time on the clock and instead of the red light the green light goes on and that set the stage for redemption. Movie people can't write scripts like that!"
"I just remember when Brent (Sutter) told me I was going to be the second shooter, standing out on the ice, and I was thinking for this to all make sense, I have to score. I can't go in and miss. I kind of went into auto-pilot and went in and scored. I think after the puck crossed the red line, they could have opened up the Zamboni gate and I could have skated off, got into my truck and went home; I would have been completely satisfied!"
Fleury now spends a great deal of time speaking with a wide variety of groups about many issues, abuse, addiction, and overcoming the challenges life can throw our way. It is very rewarding for Fleury personally, as he shares his experiences to help others.
"What I did was that I changed the way that I thought, I changed my way of thinking," Fleury explained. "I think that people are so filled with fear when it comes to making these drastic changes, you have drank or done drugs or made some bad choices for such a long time, that it becomes part of you."
"To be able to change your thinking and move into a different realm of thinking, choices and support, that's what I try to teach when I speak. To let people know that it is a scary proposition to make these changes in your life but when you go through the experience and you come out on the other side, you are an amazing, incredible person that has become empowered. Now it is about helping people, just being of service to people. If I can help one person change their life, that's what it is all about."
During my "Ask the Alumni" interview with Lanny McDonald, a reader asked, "What can today's players learn from your generation?" His response was that on the 1989 Flames, any player would have gone through a wall for his teammates, there was a closeness on that team that is difficult to match in the current salary cap era. Since Theo was part of that Flames team in 1989 and was mentored by players like McDonald as he came into the league, I posed the same question to him, looking for his perspective on the topic.
"Well, I think back in our era, every single night we competed at the highest level that we could possibly compete at – that is what made that era so great. There were some tough, tough, tough guys in those days!"
"Today's game is completely different now. You have an eighteen year old that's going to the draft and he has an agent, a nutritionist, a personal trainer and he's got an accountant; he is going there as a business within the business. You have 23 businesses within the big business and that doesn't work. This young man is now responsible for a lot of people within the structure of being part of a hockey team. How can he concentrate on playing hockey when he has all this extracurricular stuff going on behind the scenes?"
An important element of the "Ask the Alumni" series each month is you, our THW readers. Here are your questions for Theo Fleury and the answers, straight from the Calgary Flames legend himself!
Renee in Ottawa, ON: This season, you were a contestant on Battle of the Blades and on week 4, performed a song that you wrote. You have mentioned before that music has always been a big part of your life, but with all that has happened to you, do you find that you are going to music more often as an outlet?
Theo: Yeah, absolutely! The book was such a huge success and I know that it helped a lot of people. I just feel that music can do the same thing. It is something that you can listen to over and over again and hopefully, you make a connection with the lyrics that cause you to change something about your life.
Jim in Chicago, IL: With rule changes limiting interference that have benefited smaller players like Patrick Kane, how do you think you would do in today's NHL?
Theo: I don't know – I get asked that question a lot. My answer has always been I just love the era that I played in. That's when men were men and you had to be incredibly tough to play in the era that we played in; I just loved that era.
When you watch those NHL Classic games and you see when Montreal made that run of five Stanley cups in the 1970's, there was only one coach on the bench – Scotty Bowman, and that was it. Now, each team has seven or eight coaches, so the way I see it, it is basically like they are playing X Box with these kids. Everything is so structured and so controlled, your number two, three and four lines on your team are not allowed to play one-on-one; get it to the red line and dump it in. That doesn't sell tickets.
Ed in Elmira, ON: When you started with the Flames in your Rookie year, which veteran on the team took you under his wing and helped you get accustomed to life in the NHL. Similarly – did you pay it forward to a rookie later on in your career?
Theo: Well, obviously I had so many guys on that team. One guy that stands out is Jim Peplinski; he helped me out a lot. He was always dragging me out somewhere with him which was great. When Jarome (Iginla) came to Calgary, I tried to help him out as much as I could.
I always connected with the European guys for some reason. I don't know why that was. It was a tough transition for them; they had to learn the language and they were such a key part of your team because they brought a skill set that some of the North American guys didn't have. The more comfortable they felt in the dressing room, the better they were going to perform, which was good for the team.
Chris in St George, ON: If you made one more comeback and could pick any two current NHL players to be on your line, who would you choose?
Theo: Obviously, I would go to Pittsburgh and play with Sidney Crosby. You can pretty much pick anyone to play the other wing and it would work! Anybody that is an elite athlete, like Sidney, they want the puck on their stick, that's what it is all about.
Ron in Kitchener, ON: Hello Theo, I grew up in Calgary and lived in Gleichen too – You are by far my favourite Flame of all time. I received your book as a gift from a friend and 5 days later, I had it read! Your book answered so many questions and gave me a window as an outsider to see into the NHL, what most people would never have known… Not only do I have to say, "Cool" but "Thank-you" as well! The question I would like to ask you, if you were to put on the GM cap, would you move Iginla, thinking of the Flames age and the future, or would you allow him to retire a Flame?
Theo: Well, I think it is important that Iggy does retire as a Calgary Flame; I think it is important for the league as well. You look at guys like Sakic and Yzerman that had that opportunity to play for so many years for the same organization and have success – I think that is important. It's about identity right? You trade Jarome Iginla, then who are the Calgary Flames? What are the Calgary Flames?
I never wanted to leave Calgary, I wanted to stay here and play my whole career here. That's why I live here now, because I have a connection to Calgary and I always will.
Jeff in Hagersville, ON: What are your thoughts on the level of hockey while you were playing in Ireland in the British Elite League? What percentage of those players are from Canada?
Theo: Well, I would compare it to really good Senior Triple-A hockey over here in Canada. I would say that about 40% of the guys that play over there are from Canada. It was a great experience to play over there.
Darren in Rockland, ON: You really changed a lot of attitudes when you came into the league, organizations could no longer say, "This guy is too small." What motivated you to keep aiming for an NHL career when so many people probably told you that you couldn't do it?
Theo: I always knew that I was better than the majority of the big guys that were playing in the NHL. I knew that there was something I could bring to the table that teams needed. I was never intimidated, I was never afraid – I think I was the opposite; I was the bully on the playground. I think I was just a highly motivated guy and I need to succeed, and I need to always prove too that anything is possible.
On behalf of all the contributors and readers here at The Hockey Writers, thank you to Theo Fleury for taking part in the "Ask the Alumni" series. His courage has inspired his friends and his fans, and there is no doubt he will continue to inspire and help those in need of guidance.
To learn more about Theo and his upcoming projects, visit his website: TheoFleury14.com or follow him on Twitter TheoFleury14.
To learn more about the NHL Alumni Association, the NHL Alumni Hockey Tour and all of their wonderful charitable work, visit their website: nhlalumni.net
The NHL Alumni Association is also on Twitter: @NHLAlumni
Theo's website has some very important links and I have included them here as well. Remember, if you are in need of assistance, you are not alone; help and hope are within your reach.
The Men's Project: Support and counselling for men and their families
1 in 6: Support and information for men
Alcoholics Anonymous: Support for men and women dealing with alcoholism
Mind Your Mind: A site for youth, by youth – providing resources and tools to help manage stress, crisis, and mental health issues
Andrew Rodger is an independent sports columnist and member of the Canadian Association of Journalists. Along with operating The Voice of Sport, he covers the Ottawa Senators and writes the "Ask the Alumni" series here at The Hockey Writers. He is the resident writer for the NHL Alumni Association and a contributor on CBC News Now.