Players like Tom Poti, Michal Rozsival, and Wade Redden are names burned into New York Rangers' fans heads for all the wrong reasons. All three failed to take control of a Rangers defense in desperate need of a number-one defenseman post-Brian Leetch. Each guy was clearly overwhelmed by the task and never lived up to the expectations that management and the fans had for them, and for years the Rangers were never able to find that go-to defenseman.
Rangers Acquire McDonagh
On June 30, 2009, Rangers general manager Glen Sather was able to pull off the biggest trade heist in the franchise's 92-year history. The Rangers acquired defense prospect Ryan McDonagh as part of a blockbuster trade with the Montreal Canadiens, with center Scott Gomez being the major piece going the other way.
Sather then said, "McDonagh is certainly a player that's going to play in the NHL." Sather was not wrong as McDonagh became a stabilizing, number-one defenseman many teams covet.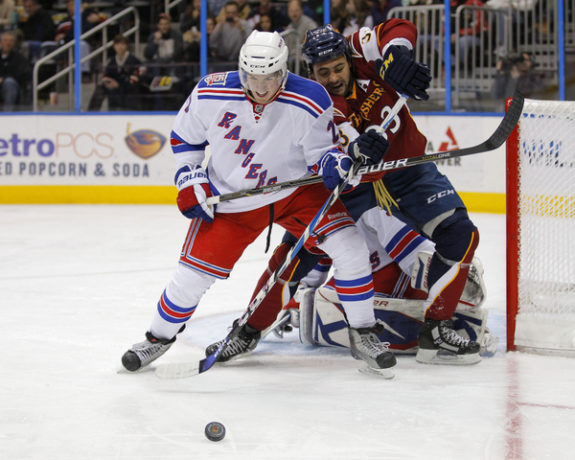 The team didn't wait too long for locking McDonagh up. At 24 years old, McDonagh re-signed with the Rangers in the summer of 2013 on a six-year deal.
The following season, McDonagh was a major part of the Rangers' Stanley Cup run in 2013-14 that came up just short against the Los Angeles Kings. McDonagh tallied 17 points in 25 playoff games that spring. After the year concluded, it was evidently clear that "Mac" was something special.
McDonagh Named Captain
Right before the season started in 2014, the Rangers made McDonagh the 27th team captain in the club's history. That season, McDonagh led the Rangers to the Presidents' Trophy. Unfortunately, the Rangers fell a period short of returning to what would have been a second consecutive Stanley Cup appearance. Already without top-six winger Mats Zuccarello, the club released information on injuries about several key players, including the captain. McDonagh had played most of the Eastern Conference Final against the Tampa Bay Lightning with a broken foot.
The craziest thing about hearing the news of McDonagh breaking his foot was that he still had put up nine points in 19 playoff games. Prior to game seven at Madison Square Garden, McDonagh was not on the bench at puck-drop which left many fans sick to their stomach. After the 2-0 loss on home ice in which the club fell short of their ultimate goal of making it back to the Cup, head coach Alain Vigneault had confirmed that McDonagh played a couple of games with the broken foot.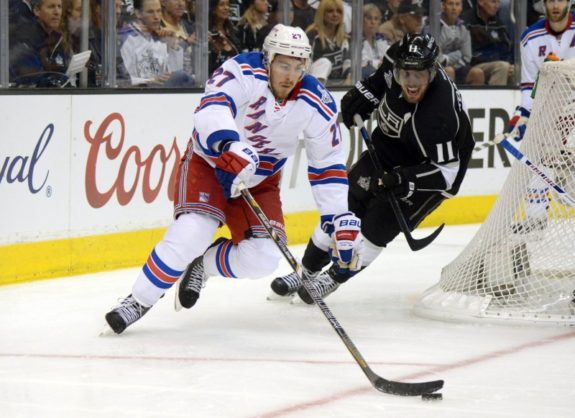 McDonagh averaged 23:30 of ice time during the 2015 playoffs. The three previous playoff runs his ice time averaged at 26:49, 25:52 and 26:48. The drop in ice time was obviously an effect of the broken foot. Broken foot and all, McDonagh froze the foot pregame and went out there for the last three games, leaving everything he had on the ice playing through severe pain.
McDonagh to Lightning in Blockbuster
This year's trade deadline was chaotic, as well as exciting. The Rangers realized they were going nowhere and sent McDonagh to the Lightning along with forward J.T. Miller. The choice was a tough one for general manager Jeff Gorton, but it was the smart move. With McDonagh approaching his 29th birthday in June and having suffered various injuries the last few seasons, the Rangers knew it was time to cash in.
The Rangers stocked their barren cupboard of prospects, most notably adding talented 20-year-old defenseman named Libor Hajek. Hajek broke out at the World Junior Championships, tallying eight points in seven games while logging 23:28 of ice time per game. The 20-year-old Czech skates well for somebody who is 6-foot-2 and possesses good shutdown potential. Many believe Hajek has legitimate top-four upside.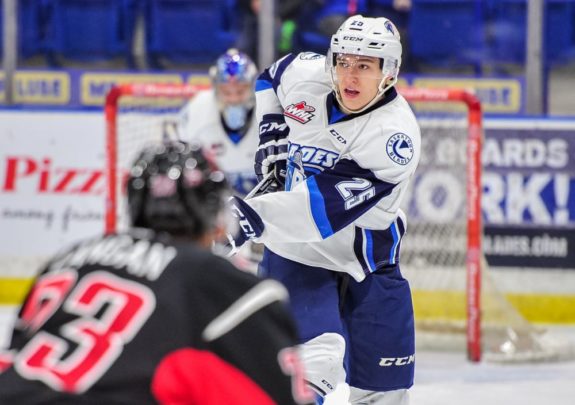 Jeff Gorton had accomplished what he set out to do at the trade deadline. He acquired young assets and high draft picks. The Rangers have eight picks from rounds one through three. This is not a long rebuilding phase as Eddie Eisenman had pointed out recently.
Skjei'ds of the Future on Defense
Marc Staal and Brady Skjei. Those are likely the only two players on defense that any fan has ever heard of outside of New York. Staal is 31 now and has been a significant member of the team's defense since he debuted in 2007. Staal has never been a big point producer but he has always possessed important shutdown qualities. A serious eye injury in 2013 derailed what could've been a better career. He has been everything the Rangers could've asked for when they traded up to get him with the 12th pick in 2005.
Eventually, Dan Girardi's time came and he was bought out. It is possible the Rangers do the same with Staal this offseason as he is clearly nearing the end of the road.
Skjei was selected 28th overall by the Rangers in 2012, and many right off the bat drew comparisons to Ryan McDonagh. Skjei's skating ability is by far his strongest asset. Along with his skating, Skjei is a good passer and has shutdown potential. He enjoyed an incredible season last year in his first full NHL campaign. He registered 39 points in 80 games.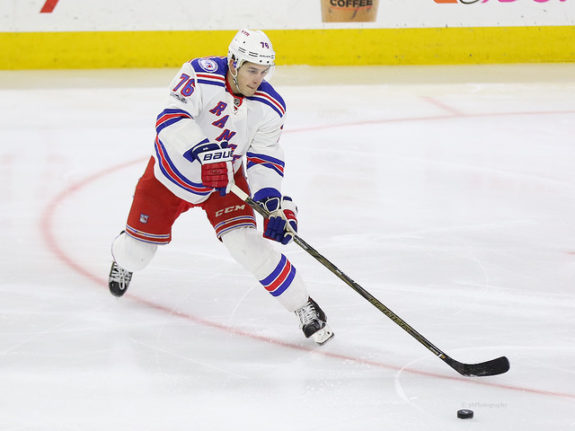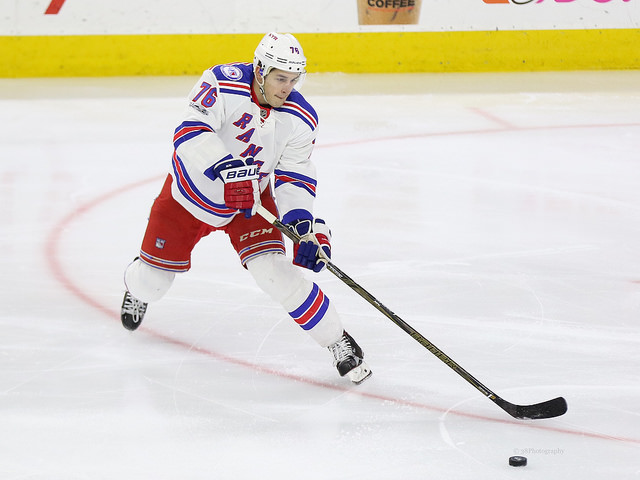 This year, Skjei has struggled to match the totals he put up last year. So far, he has 20 points in 69 games while earning 20:42 of ice time. Last year, Skjei played 17:27 a game and was impressive alongside Brendan Smith in the playoffs. Now, Smith is in the AHL and Skjei is battling through a "sophomore slump." However, growing pains come with all young players. Besides, Skjei is still only 23 years old. The top-four upside is definitely there. Skjei will most likely headline the Rangers' defense for the foreseeable future.
Wild Cards on Defense
The rest of the defense in front of Henrik Lundqvist consists of Tony DeAngelo, Neal Pionk, John Gilmour, and Rob O'Gara. DeAngelo and Pionk are both right-handed shooting defensemen that are 22 years old. The upside is there for both as puck-moving defensemen. DeAngelo's skating ability is excellent but his play in his own end must improve if he ever expects to defend quality NHL forwards who are bigger and stronger. The Rangers acquired DeAngelo in the Derek Stepan deal with Arizona.
Pionk signed with the Rangers in 2017 out of the University of Minnesota-Duluth. He is a solid puck-moving defenseman much like his teammate DeAngelo, but is more responsible in his own end and settles for the smart, effective play most of the time.
Pionk isn't the fastest skater but he makes up for it with smarts. He is averaging 21:22 of ice time per game and has seen most of his minutes come with Brady Skjei and Marc Staal. The Rangers see the upside in Pionk or he wouldn't be playing over 21 minutes a game next to prominent names like Skjei and Staal. Pionk has a good chance of being in the top-six heading into next year.
John Gilmour is similar to Pionk. Both are college free agents signed by the Rangers within the last two years. Gilmour is a 24-year-old defenseman who packs excellent skating ability as well as the ability to join the rush. A graduate from Providence, Gilmour won the 2015 national championship as a member of the Friars. He was a key piece on the blue line during their title run.
Gilmour has seen close to 19 minutes a game on the Rangers defense in 15 games. His skating ability makes him an intriguing prospect. If the Rangers decide to keep Staal through next year and depending what they want to do with their defense pairs, there could be one more spot for a left-handed defenseman. If Alain Vigneault is still coach, he has said he prefers a lefty-righty balance.
The last man on the current Rangers blue line is 24-year-old, Rob O'Gara. O'Gara is 6-foot-4 and is known as a steady defender. O'Gara brings little offense but his game isn't built around that. His game is defending. So far through 15 games (nine with the Rangers, six with Boston), O'Gara has one point. The 24-year old out of Massapequa has averaged 15:58 for the Rangers so far.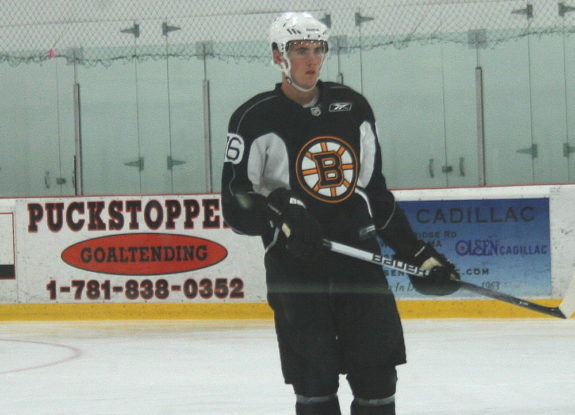 He is a solid depth defenseman upside for a club in need of a defender who can kill penalties and offer stable play in his own zone. It is not yet clear whether the Rangers view O'Gara as a long-term solution or not, but the chance is still his for the taking.
I am 21 years old and attending Stony Brook University. Writing about sports is more than a passion. I have written for the Western Student Press publication for Suffolk County Community College and for ET Week Media. I am also a staff writer for the Stony Brook University Statesman newspaper. I am excited to be working with The Hockey Writers.