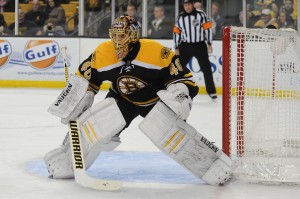 With a win over the New York Rangers on Thursday night, the Bruins have now tied their longest winning streak of the 2014-15 NHL season, victorious in five straight. They're also playing some of their best hockey of the year.
It helps, too, when their goaltender is playing at the top of his game.
Tuukka Rask made 30 saves in Thursday night's 3-0 win over the Rangers, securing his second shutout of the season. It's been an up and down year thus far for Rask whose .915 save percentage is the lowest of his career. While you could blame the porous defense that was in front of him when Zdeno Chara was out of the lineup, many of the goals allowed by the Bruins this season have been the fault of Rask's. But when he's playing at the top of his game, there's not a better goalie in the NHL.
"I have played good but then again, when the team plays good in front of you, it makes it that much easier," said Rask who picked up his 19th win of the season on Thursday. "Having the scoring chances down a bit, you know earlier in the year it used to 15-20 scoring chances, the odds are you are going to give up two or three goals. Now when it's close to 10, or if it's 9 or 11, it helps a lot. I have felt pretty much the same all year, but now I'm not getting stupid bounces and we are playing a really good team defense so that results in goals against going down."
Rask is now 7-0-3 in his last 10 starts – his last regulation loss coming against the Winnipeg Jets on December 21 when he stopped 25 of 27 shots. That's pretty much where the real, awe-inspiring numbers stop. In those ten games, he has an average save percentage of .906 and has allowed an average of 2.2 goals per game. So, nothing great. Those aren't Vezina numbers and they probably aren't numbers for a goalie who is making $7 million per year. Granted, yes, this is a story being written after Rask shutout the Rangers and made some impressive saves throughout the game, but he's still an elite goaltender – very much so. He's further proof that great players step up when necessary.
"He was really good for us tonight," said Bruins coach Claude Julien. "This team has a lot of speed, the Rangers, and we acknowledged that before the game. They certainly displayed it at times and when there was the odd breakdown and they had opportunities to score, Tuukka was up to the task there and made some big saves for us. No doubt, in my mind, he was our best player tonight."
While his save percentage does leave a lot to be desired, it's important to note that Rask is seeing a ton of shots this season. Rask's 920 saves are good enough for sixth in the NHL, behind Cory Schneider, Pekka Rinne, Braden Holtby, Carey Price, and Kari Lehtonen. Though only Lehtonen has a lower save percentage than Rask , even though Schneider's .919 is close, the remaining three goaltenders are potential Vezina candidates.
There were some bad bounces, a few unlucky deflections, and plenty of legitimate, good goals that Rask allowed this season. But Rask is still on top of his game and his teammates are well aware of just how important he is for the team.
"I thought Tuukka played unbelievable tonight," said Chris Kelly. "Not only in the first period, but that breakaway by Nash in the second – it's a different game if he doesn't make a big save there. He was our best player tonight, and he's been our best player for a while, so it's good to see."
There's a lot to factor in when evaluating how Rask has played so far this season. It's been good. Rask isn't going to win the Vezina this year, and barring a super strong second half, probably won't be a nominee, but he's been good. If anything, his numbers are a bit deceiving to what he's done for the Bruins in net in the first half.
Like he said, as the team in front of him gets better, just like we saw the past few games, so will Rask's numbers.
Follow Mike on Twitter for more Bruins updates, news, and commentary.