Richie Dunn had a smile that could lighten even the darkest of locker rooms.
The long-time Buffalo Sabres and Rochester Americans defender died on Sept. 20 at his Western New York home in Clarence from a heart attack. He was just 59-years old.
After a standout junior career with Kingston and Windsor, Dunn signed as a free agent with Buffalo on Oct. 3, 1977, cracking the NHL ranks as a 20-year old rookie with the Sabres in 1977-78, appearing in 25 games and registering three assists. Honing his skills with its then-AHL affiliate the Hershey Bears, Dunn bounced back and forth for two seasons before cementing himself with the parent club in 1979-80 appearing in all 80 games while recording seven goals and 31 assists. He would add another 10 points in the playoffs for the Prince of Wales Conference champion Sabres that season, guiding Buffalo to the Stanley Cup semifinals before falling to the eventual champion, New York Islanders.
"We lost a good one," Ric Seiling, who broke in with Dunn as rookies with the Sabres in '77, said. "It was a shock to all of us.
"I remember the first time I met him in training camp, coming down the hallway to the hotel lobby in St. Catherines and just started trading junior stories," Seiling said. "We played against each other in junior, him in Kingston and Windsor and me in Hamilton, but struck up a friendship… that was the day we became friends and we've been friends ever since."
Dunn improved upon those numbers in 1980-81, tallying seven goals and a career-high 49 points in what would go down as the best season of his professional career.
"He went undrafted," Larry Playfair, a teammate of Dunn's for five seasons in the blue and gold, said. "He and Billy Hajt played against other team's best players. He was an offensive defenseman but rarely got the opportunity to show it. He was relatively aggressive too, and for an American that was unusual at the time. Richie was a good solid player for a long time."
We are deeply saddened to learn of the death of Sabres alum Richie Dunn at age 59. Our thoughts and prayers are with his family and friends. pic.twitter.com/TsGRLDiCVu

— Buffalo Sabres (@BuffaloSabres) September 21, 2016
In a trade that would help shape the Sabres the next several years, Dunn was dealt on June 9, 1982 to the Calgary Flames along with goaltender Don Edwards, Buffalo's 2nd round choice at the 1982 Entry Draft (Richard Kromm) and Buffalo's 1st round choice (Dan Quinn) in 1983 in exchange for Calgary's 1st (Paul Cyr) and 2nd (Jens Johansson) round choices in 1982 as well as its 1st (Normand Lacombe) and 2nd (John Tucker) round choices in 1983.
Collectively, the trade had positive ramifications as Lacombe, Tucker, and the late Paul Cyr would go on to amass 213 goals and 257 assists for Buffalo.
"Is He Done?"
Dunn, who would go on to play for the Hartford Whalers for two years, returned to the Sabres organization for his final four seasons where he established a reputation for making frequent trips up and down the NY I-90. He developed strong ties within the Western New York community, a loyal fan base with the Rochester Americans — and a nickname that stuck with him the rest of his life.
It was one of those demotions, Richie affectionately earned the nickname, 'Izzy.'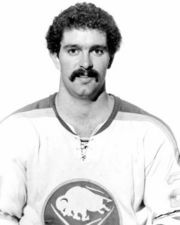 After Buffalo sent the left-handed defenseman down to Rochester yet another time during the 1985-86 season, teammate and Amerks captain Paul Gardner asked, "Is he done?"
Dunn embraced it and the nickname stuck. Dunn even went so far as to label his Koho sticks "Izzy."
Dunn excelled in the American Hockey League. A "tweener" with previous NHL experience, he led by example while serving as a mentor for a number of future Sabres coming up the pipeline. He proved invaluable to Rochester, helping lead the Americans to the Calder Cup in 1987.
"One thing I wanted to do was win a Stanley Cup, but to win a championship at the next level, just as good right now. I'll keep that," Dunn said at his induction into the Rochester Americans Hall of Fame in March. "I still have the ring for it and I'm always proud to wear it. I'm still thrilled to be part of that organization that won that cup."
A three-time AHL All-Star, Dunn was named a First Team defenseman in 1985 and 1987, earning Second Team honors in 1986. He recorded 40 goals and 120 assists for 160 points in 276-career games in the American Hockey League and was also the recipient of the Eddie Shore Award in 1984-85 while skating for the Whalers' farm club in Binghamton, honoring the AHL's top defensive player.
Sabres Legacy
Richie Dunn retired following the 1989-90 season leaving behind an NHL track record of 36 goals and 140 assists in 483-career regular season games over the course of 12 seasons from 1977 to 1989, adding another 18 points in 36 playoff games for Buffalo.
But it was his smile and his light-hearted nature that endeared him to Sabres' players and fans alike. Making the Buffalo suburban sleepy little town of Clarence his home, Dunn was a fixture throughout his career at prestigious events such as the Sabres Carnival, Molson Slo-Pitch Softball Summer League and the annual "Dinner with the Sabres" benefit auction at Samuel's Grande Manor in Williamsville.
Dunn remained active long after retirement making regular appearances with the Buffalo Sabres Alumni Association as well as a number of golf tournaments, functions, and charity events.
"When I was President of the Sabres Alumni Association, if I asked, he would always do it," Playfair recalled. "If he had a hole in his schedule he would do it. He would always show up with a smile on his face and have fun. As President, it sure made my job a lot easier. He was a good guy."
"Sitting there in church next to his immediate family it occurred to me I've known him as long or longer than most of the people there," Seiling added. "Everyone said, 'We lost a good one' and we did. In early September of 1977, we struck up a friendship and remained friends long after our playing days. Richie — he was a good one."
A native of Boston, Dunn was a member of the U.S. National Team at the 1981 Canada Cup and the 1986 World Championships. He is survived by his wife, Cathy, and sons Brian and Kevin.
"My friends, my family, the fans, my fan club — they were great when I was here," Dunn said in one of the last interviews he ever gave. "I have to thank my teammates, everyone that helped me get to this position. I had something that I enjoyed doing over my life."


Richie Dunn, former @AmerksHockey, @BuffaloSabres defenseman, dies
"He was one of the good ones"https://t.co/kfwdDF6rfG pic.twitter.com/Y7jYwwQVIP 

— D&C Digital (@DandC) September 22, 2016
Special thanks to the Rochester Americans