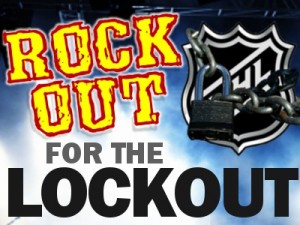 With the NHL lockout concluded and training camps set to get underway, we gladly take this opportunity to bring a fitting end to the 113-day long lockout – and our musical tributes.
Join us as we Rock Out for the Lockout one last time.
---
There's no better way to end the lockout than with a song that celebrates the game of hockey by a man who truly embodies the Great White North.
Stompin' Tom Connors – "The Hockey Song"
Stompin' Tom Connors is a Canadian institution.  He's been around since the 1960s and has released over 25 albums – 12 of which include the word "stompin'" in their titles.  You can tell the man is serious about his trademark footwork.
Connors had a handful of number one country songs in Canada, including "Big Joe Mufferaw", "Ketchup Song", and "Moon-Man Newfie".  Released in 1972, "The Bug Song" was his sole foray into the Canadian Adult Contemporary charts.   His most well-known song, though,  is one that never made it to the charts.
"The Hockey Song" was included on Stompin' Tom's aptly named 1973 album, Stompin' Tom and the Hockey Song.  Here is is in all its glory, courtesy of a 2004 appearance on the Conan O'Brien show:
In a 2004 CBC poll of the greatest Canadians of all time, Stompin' Tom ranked thirteenth – behind Tommy Douglas, Pierre Trudeau, Don Cherry, and Wayne Gretzky.  For what it's worth, he ranked higher than Neil Young, Shania Twain, Bobby Orr, Mike Myers, and Bret 'The Hitman' Hart.  (Gordie Howe was #53, two spots below Pamela Anderson.)
The Museum of Candian Music summarizes Connors best:
Throughout his career, Stompin' Tom has written simple songs—"C-A-N-A-D-A," "Sudbury Saturday Night," and classics like "Bud the Spud"—that have, in the course of history, become patriotic anthems. Lyrically, his patriotism is direct and he doesn't mince words.

His voice, at its best, sounds like an old gramophone recording from the 1930s, but it has still become a national treasure. A review of Before the Fame in Maclean's summed up his career: "Connors' story is most interesting when it focuses on his songs and his habit of writing about the towns in which he performed. … And, ultimately, his search [has] resulted in both his deeply-rooted patriotism and a rich catalogue of songs that are pure Canadiana.
So what's the deal with the stomping?  Connors explains:
"Learning to play guitar, you know, more or less with a fiddle player and stuff, well, you bang your foot to kind of give your timing, and the faster the songs got, the louder the stomp became. I got kicked out of two or three hotels for putting holes in their stages and in their carpets, so I had to get myself a board that I could stand on so when I made a hole through the board or whatever, well then I didn't have to destroy anybody's carpet. So I found that they wanted me longer in the hotels instead of firing me after two or three days. So more stompin' attracted more people."
Plenty of artists have been influenced by Stompin' Tom, and some have even offered up their own versions of this legendary ballad.  We celebrate them here in anticipation of the upcoming hockey season.
There's a third-grade class from Vancouver (along with an apparent Canucks win over the Sharks).
Or the Hanson Brothers, if you prefer a little more punk in your puck:
Connors sings, "The good old hockey game is the best game you can name, and the best game you can name is the good old hockey game."
He's right.  It is the best game you can name. And the game is back.
There's no better way to welcome hockey back than with a handful of good ol' Hartford Whalers' highlights set to Brass Bonanza! (And since we're done rocking out for the lockout, you'll have to read about this little ditty via some high quality detective work from Jeff Jacobs of the Hartford Courant.) Game on!
---
For the rest of the entries in this series,
don't miss Now That's What I Call Lockout!