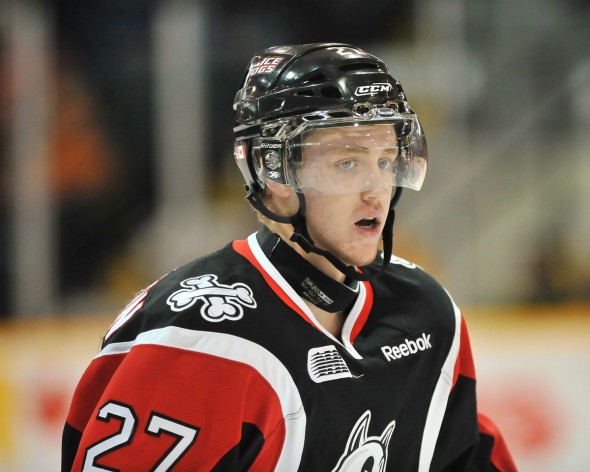 The Boston Bruins approach the lockout-shortened 2013 NHL season as a favorite in the Eastern Conference. With talent and experience throughout the lineup – and a few dynamic youngsters including top scorer Tyler Seguin and rookie Dougie Hamilton – the B's should contend for a second Stanley Cup in three seasons.
In this, the second part of my two-part preseason projection, I offer prognostications of the 2013 stat-lines of Boston's defensemen and goaltenders.
For more, check out: Part One – Forwards.
Defensemen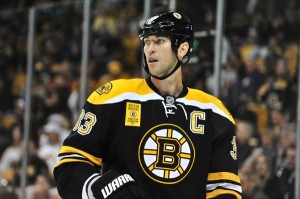 Zdeno Chara – After what could be considered his best season in a Bruins uniform, the captain will turn 36 in 2013. While elite defensemen sometimes age slower than their counterparts, Chara's window of greatness may begin to close soon.
Chara's shot totals decreased for the first time while wearing the black-and-gold in '11-'12, and if those numbers drop further, Z might see the lowest goal-totals of his post-Islanders career in 2013. There is some hope that a rejuvenated PP run by wunderkind, Tyler Seguin, could lead to increased man-advantage stats for Chara… but teams have focused so heavily on shutting down the big man's shooting lanes that the change may have little effect.
Still, the Bruins' captain should remain one of the NHL's most effective defensemen at both ends of the rink all while mentoring Boston's top prospect, Dougie Hamilton.
47 games 5-19-24, +15
Dennis Seidenberg – Many projected big things from Seidenberg following his sterling showing during the Boston Bruins' 2011 Cup run, but (statistically) the defenseman had a down year in 2011-12.
Seidenberg should be trending up in 2013. He may receive even more minutes with rookie Dougie Hamilton filling as the Bruins' #6 and Zdeno Chara on the wrong side of 35. He should continue to receive consistent powerplay time and take even more shots (a stat he's increased each of the past four seasons).
Seidenberg is one of Boston's best candidates for a 'breakout' year. With a little luck shooting and slightly above-average assist rate, he could turn in some excellent production
48 games: 5-18-23, +10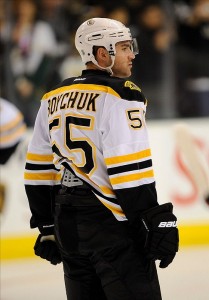 Johnny Boychuk – Johnny Rocket's statline depends on his ability to turn his prodigious shot totals into goals at a league-average rate. If he manages to achieve league-average success from his ever-increasing SOG numbers, he could finish among the league-leaders in blueline goals. Unfortunately for Johnny, his already-rare powerplay icetime could be even scarcer with Dougie Hamilton jumping into the fray.
45 games: 3-6-9, +3
Andy Ference – In his contract-year, Ference will attempt to replicate his career-high 6 goal output in 2011-12. Like Boychuk, Ference could be hurt by increasingly-tough minutes while more offensive zone-starts are given to the rookie Hamilton.
42 games: 1-6-7. +4
Adam McQuaid – Darth Quaider experienced some scary offseason health-issues, as he dealt with two surgeries to repair a blood clot in his shoulder. He's apparently ready-to-go, but the big blueliner shouldn't be expected to carry much offensive weight.
43 games: 1-3-4, +3
Dougie Hamilton – Boston's top prospect will get every opportunity to make the team out of training-camp. The 6'5 defenseman averaged 1.38 points per game over the course of his last two OHL seasons in Niagara and won't turn 20 until the summer.
Bruins' fans understandably have high expectations of the teenage titan, but in the 'lockout era' (2004-present) only sixteen rookie blueliners in their age 18 or 19 seasons played ten games or more for their teams. The majority of these earned at most a point every third game or less – including Drew Doughty.
While B's fans can hope for an extraordinary season like Tyler Myers 2009-10 Calder-winning campaign, it's far more likely that Dougie earns some soft minutes and offensive zone-starts all the while learning under Big-Z and Julien. He could put up solid numbers, but patience is key.
35 games: 4-10-14, +1
The Defensive Depth
Aaron Johnson – A big, useful depth defenseman with a heavy shot, Aaron Johnson has spent his career as a bottom-pairing blueliner, mostly with the Blue Jackets. If Hamilton fails to make the opening-night lineup, Johnson should be 'the guy'. 20 games: 2-2-4, -2
Garnet Exelby – Exelby missed training camp – a rib injury the likely culprit – but the experienced, physical blueliner could see a spot call-up. 2 games: 0-0-0, +1
The Goalies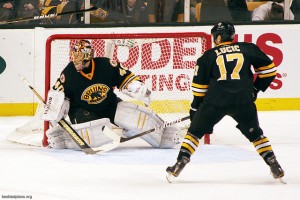 Tuukka Rask – I'm fond of regurgitating interesting trivia and Tuukka is a part of some of the best: Since save percentage became a tracked statistic, no goaltender with at least 100 games played has a career save percentage higher than Tuukka Rask.
Now, this is cherry-picking, but it's also telling. In limited opportunities, Tuukka's performed at an elite level. If he performs even close to his career-average over the course of a full season, he'll earn Vezina consideration.
The one question stems from his durability: He's had groin issues in the past and visibly struggled toward the end of his one heavy-workload NHL season ('09-'10). Thanks to the lockout, the compressed schedule will test Rask even further.
35 games: 22 W, .919 Sv%, 2.40 GAA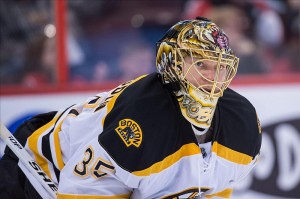 Anton Khudobin – Boston's rookie backup has just seven games of NHL experience. However, the Russian 'tender performed outstanding in these: Sporting a 5-1-0 record, a .961 Sv% and a 1.32 GAA, he's been up to the challenge of the NHL.
He'll get plenty of action thanks to the aforementioned compressed schedule, relieving Tuukka and earning around a third of the starts. With the B's intrepid defenders in front, Khudobin could have a Calder-worthy season (even if he's several months too old.)
15 games: 10W, .922 Sv%, 2.25 GAA
Follow Bob Mand on Twitter at @HockeyMand