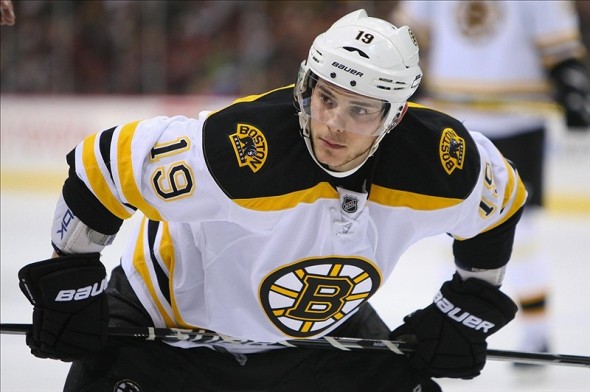 The Boston Bruins approach the lockout-shortened 2013 NHL season as a favorite in the Eastern Conference. With talent and experience throughout the lineup – and a few dynamic youngsters including top scorer Tyler Seguin and rookie Dougie Hamilton – the B's should contend for a second Stanley Cup in three seasons.
In this, the first part of my two-part preseason projection, I offer my prognostications of Boston's forwards' 2013 stat-lines.
For more, check out: Part Two – Defense and Goaltenders.
The Top-Six
Tyler Seguin – It's easy to look at a kid like Seguin whose career trajectory seems pointed towards the stratosphere and claim he can only get better from here. Add to that his dominating performance with HC Biel of the Swiss NLA and you'll find his name sprinkled throughout prognostications of the coming season's top scorers.
But it's rarely that simple. Young players aren't exactly models of consistency… and in this lockout-shortened season an extended drought won't be easily overcome.
Still, signs point toward continued success for #19: He sported a fairly average shooting percentage for a sniper of his caliber in the breakout campaign, and could push the number higher than 12% with some luck. His minutes grew as the season wore on, but he still sat under 17 per game for the season – a relatively paltry average. More minutes will be heaped on him if he continues to produce and develop his two-way play, upping his opportunities and in all likelihood, totals.
There's also the good news that the young phenom will quarterback the B's first powerplay unit. Instead of finding Joe Corvo and Dennis Seidenberg at the point, Seguin will have David Krejci and Zdeno Chara there while he operates the half-wall. There, the offense running through him, Seguin should have his hand in more plays (hence, points).
So, while some may be more bullish on his production prospects for the coming year, this projection certainly doesn't envision a major step back for the dynamic young forward.
47 games: 17-29-47, +6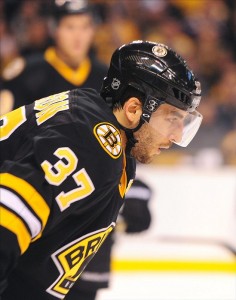 Patrice Bergeron – Bergy's totals are among the easiest to project, because his production rates have fluctuated so little since his return from the concussion that nearly ended his career: He tallies a goal about every fourth game, and adds a helper every second.
Accounting for the growth expected from his linemates (Seguin in-particular), but perhaps less powerplay time (with arguably lower-quality linemates), we can anticipate a slight dip in production from recent years, but nothing significant.
46 games: 11-23-34, +9
Brad Marchand – Marchand's career took a big step forward in 2011-12, as the feisty diminutive winger exceeded expectations yet again with a 28-goal, 55-point campaign, earning him a hefty raise in the offseason.
Unfortunately for Brad, things might not be as sunny this season. While he remains an important part of one of Boston's two top lines, he and Bergeron are projected to start the season on the second PP unit, with Chris Bourque instead of Seguin. While the son of 77 has a good offensive skillset, it's a definitive step down from the B's 2011-12 scoring leader.
Additionally, as he enters his prime, Marchand sits in the crosshairs of the NHL's supplementary discipline honchos after several high-profile incidents last year. Any misstep could land him on the sideline for an easy five games … a.k.a. ten percent of the season.
Coupled with his fortunate shooting rate and reaching a 'plateau' age, Marchand's production could level-off or even drop in 2013. He'll still be an effective winger and a major part of the B's top line, but expectations must be tempered for Boston's Honey Badger.
43 games: 11-15-26, +4
Milan Lucic – With two straight 60+ point campaigns, Milan Lucic has established himself as one of the League's premier power-forwards. Combined with elite toughness for a top-line player, Lucic is a unique and valuable talent that the B's were right to re-up in the offseason for an additional three years.
Although his 2011-12 shooting percentage (17.4%) sat well above the NHL league-average of 10.5%, Lucic has shown remarkable consistency. In three of the four seasons since his rookie campaign, Lucic's shooting has been similarly excellent – with only one 'down' year (his injury-hampered 09-10 season) for a post-rookie career rate for 16.7%. In simple terms, don't expect his success to regress to league-level means.
Still, there are concerns: Lucic and his primary linemates saw their shots decline significantly in 2011-12. Like Marchand, Lucic will be under the threat of Shannaban after earning a suspension for a hit on Zac Rinaldo last year.
Lucic's season also depends heavily on his linemates: Nathan Horton's recent injury history casts a cloud over the trio and even though Tyler Seguin, Rich Peverley and others filled in admirably; Horty's presence or absence will play a big part in Lucic's performance in 2013.
47 games: 16-20-36, +5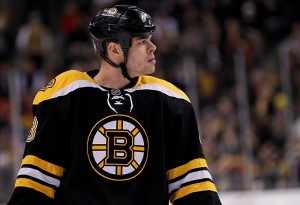 Nathan Horton – Horton's per-minute production in 2011-12 was on-pace to be the best of his career. Despite accruing less than 16 minutes a night, he seemed set to break 30 goals and 60 points for the first time in black and gold.
Unfortunately, following a hit to the head courtesy of honest citizen Zac Rinaldo, Horton's season ended with a second concussion in just over seven months. The B's never recovered from his absence and stagnated throughout much of the rest of the regular season schedule.
Now he's back and reportedly healthy, things are looking brighter for Boston's erstwhile first-line.
However, with no game action in over a calendar year, expectations for Horton's return must be tempered. If he matches his three-year average of shot production (7.7 per 60 min.), a league-average shooting rate and roughly sixteen minutes a night, twelve goals make for an ideal target… but given the uncertainty surrounding his health, forty games seems a more apt mark and pushes my projection down to an over/under of ten goals.
40 games: 10-12-22, +3
David Krejci – A solid showing with HC Pardubice of the Czech Extraliga (16-11-25 in 24 games) invites optimism for a shortened NHL campaign for the Boston Bruins' centerman. With consecutive seasons of 62 points and a career-high 23 goals in 2011-12, Krejci remains a capable threat in the B's lineup.
A second 'breakout' campaign is probably asking too much at this stage of his career unless Claude Julien's current minutes-divvying strategy changes significantly in 2013. In four post-rookie seasons his point variance has been relatively small, from a high of 73 in his second to a low of 52 in his third.
Depending on his linemates' health, Krejci should hold pace with recent seasons. However, he's a notoriously streaky player: In October and February, he tallied a grand total of three points in 20 games, while scoring above a point-per-game pace throughout the rest of the season. Resultantly, while I'm projecting a fairly average season for #46, it wouldn't be a surprise to see him swing heavily in either direction.
47 games: 9-29-38, +5
The Bottom-Six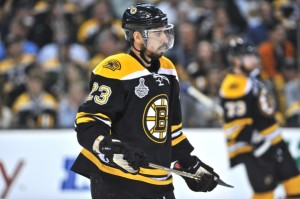 Chris Kelly – After a career-year (highlighted by an unlikely-to-be-repeated 20 goals on 16.8% success shooting) Kelly should come back to earth in 2013. 48 games: 6-14-20, +4
Rich Peverley – As the forward most likely to jump to the top-six with any injury, Peverley's projections carry an extra degree of difficulty. However, he should take a step back from his 2011-12 pace as it appears likely Chris Bourque will start the season in Pev's place on the second PP unit. 45 games: 8-20-28, +3
Chris Bourque – Right now, the odds-on favorite to win the B's third-line LW duties out of 'camp', Bourque hasn't seen NHL action in almost three full years but has been a point-per-game player in the AHL.
Gabe Desjardins of Behind the Net and Artic Ice Hockey puts the AHL-to-NHL point conversion at a modest 0.45 points. While Bourque averaged 1.18 p/g in his last four AHL seasons (roughly equating to half a point per-game in the NHL), I feel safer using his 2012-13 numbers exclusively (28 points in 32 games). Twenty points would be excellent output but somewhere in the low teens is more likely. 40 games: 4-11-15, -1
Greg Campbell – Soupy took an understandable step back following his career-year in the B's Cup-winning 2010-11 campaign. He should score at roughly the same pace with a few more assists if the fourth line continues to get the steady icetime Julien's given them. 44 games: 4-7-11, -1
Dan Paille – Like Peverley, Paille's production is tied to the health and successes of the forwards above him. With health, he should remain a 'plus' 3rd/4th-line 'tweener'. 45 games: 6-4-10, Even
Shawn Thornton – Thorny will probably never have another double-digit season like in '10-'11, but he still possesses 'plus' value for an enforcer. You have to wonder if the 35 year-old will start to run out of gas if he has to fight as often as in recent years (76 over the past four). 44 games: 3-4-7, -2
The Call-Ups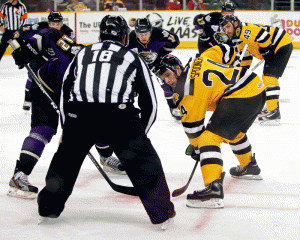 Ryan Spooner – The 'other' top B's prospect with a good shot at significant action in 2013, Spooner has put up solid numbers with Providence and will look to pressure Boston into picking him over Bourque for the 3LW job. Chances are, he won't make it to opening night – but he should contend for a 'midseason' call-up. 18 games: 2-4-6, -2
Lane MacDermid – The strong-skating, free-swinging grinder suited-up five times for Boston in 2011-12, and could spell Thornton add to the B's pugilistic capabilities should the need arise. 3 games: 0-1-1, -3
Jamie Tardif – Providence's goal-scoring leader turns 28 this month and will be looking for his first time in the 'show'. He could see some spot duties. 2 games: 0-0-0, -1
Jared Knight – Injuries have derailed his first pro season, but he has the ability and will to earn a call-up with a late push. 1 game: 0-0-0, +1
Follow Bob Mand on Twitter at @HockeyMand