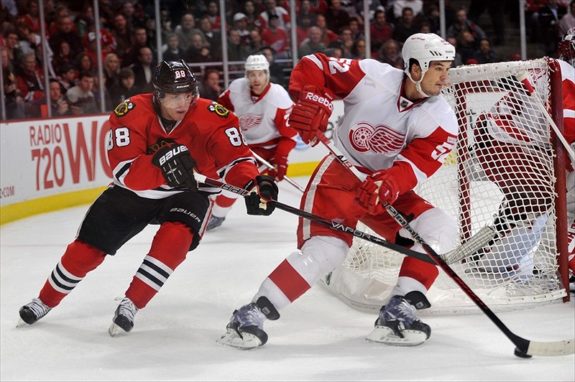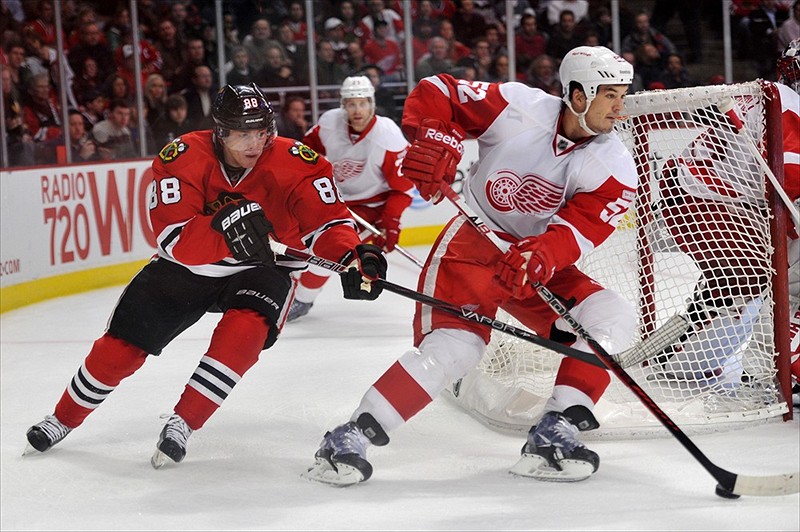 Each day this week leading up to the start of the 2013 NHL season I will profile one returning Detroit Red Wings player who needs to elevate their game to ensure the Wings have a successful season and make the playoffs for a NHL best 22 straight seasons.
Jonathan Ericsson
Wings fans were not happy with the multi-year deal that GM Ken Holland handed out to Ericsson last season.  The Wings awarded the monster defenseman with a 3 year, $9.75 million deal. Many believed that the Wings heavily overpaid Ericsson as he does not fully utilize his size and he is still unproven in the NHL. Holland is well-known as a smart GM and he is hoping this signing will pay dividends this upcoming season.
Ericsson is not an offensive defenseman by any means; he put up a modest 11 points and was a plus 16 on the year. The Wings have consistently put up points from their blue line, however this year might be a little different and the expectations on Ericsson will not be placed on offensive production but on two key factors: Defence and Physicality.
With the retirement of Lidstrom, there will be plenty of ice time up for grabs this season and the Wings are hoping someone is ready to seize the opportunity. Ericsson has the size and ability to be that player all he needs to do is play to his strengths this season. On the defensive side, Ericsson needs to keep it simple and make smart decisions with the puck to limit his turnovers which have plagued him over his career.
On the physical side, Ericsson has to take advantage of his 6'5″ frame and punish opponents. If he is a physical presence in front of the net, the opposition will take notice very quickly and might be a little more hesitant to drive the net or hang around it while Ericsson is on the ice. If Ericsson increases his physical play, he will most likely be forced into a few more fights which Wings fans might like to see and we all know he has the ability to hold his own.
[Also: Dan Cleary: Detroit Red Wings Impact Player]
My expectation for Ericsson this season is for him to chip in a little offence with 8 points and shine on defence with a plus 10 rating. If he can accomplish this with limited turnovers then the Wings will survive their first year on defence without Lidstrom.