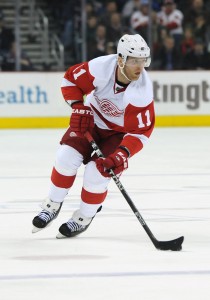 Each day this week leading up to the start of the 2013 NHL season I will profile one returning Detroit Red Wings player who needs to elevate their game to ensure the Wings have a successful season and make the playoffs for a NHL best 22 straight seasons.
Dan Cleary
Dan Cleary is known to Wings fan as a hardnosed player who is willing to muck it out in the dirty areas of the ice. Well this year Wings fan will expect much of the same from the aging winger.  With the expected retirement of Tomas Holmstrom this coming week the Wings will need someone to step up their net front presence and one of the leading candidates would be Cleary.
In the NHL it does not matter how fancy your goal is.  Sure, you may not make the highlight reel but as long as the puck is in the net a goal is a goal.  Last season Cleary was able to chip in 12 goals versus 26 the season before. While that is quite a significant drop, it is worth noting that he was hampered with leg injuries last season (he repeatedly had to get his knee drained). Of course we as fans would like to blame Cleary's decrease in production solely on injuries but we may have to realize that age is playing a factor as well.  Cleary just turned 34 this past month so it would be safe to assume that his best years are behind him.
However there is reason for optimism.  Cleary's work ethic, determination, and competitiveness would never be questioned by Wings fans and nor should they. He has always left it all out on the ice when playing and this year should be no different. It is also worth noting that Cleary is in the final year of his contract with the Wings, and we as sports fans know that players tend to play much better when they're playing for a job.
[Also: The Curious Case of Damien Brunner]
A healthy and motivated Cleary should benefit both parties as it will contribute to the Wings success this season and guarantee Cleary a contract next year, even if it is not with the Wings.  If Cleary can score anywhere between 12-15 goals during the shortened season then it should be considered a successful year.