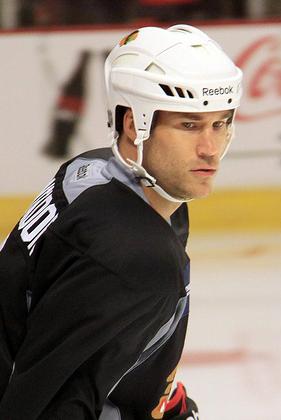 Quite honestly, Steve Montador did well when he was in the line-up and performed as he was advertised. As far as I'm concerned he struggled last season mostly due to injury. Yeah, he only had 14 points in 52 games and his career average is around 23 points per 51 games — but considering his injury issues along with joining a new team, it may have played a part in his struggles.
The short time we saw Montador, it's pretty clear that he has a good all-around game. Enough all-around ability that he is versatile enough to play wing at times and contribute on special teams. He isn't exactly the best defensive player out there, but he plays his role well.
Considering the fact that he is a right-handed defenseman along with his versatility gives him an instant slot into the Blackhawks line-up. I don't see any reason why he wouldn't be in the line-up every game, unfortunately concussion problems may have already ruined his future as a Chicago Blackhawk, maybe even putting his entire career in jeopardy. If he can get healthy, I wouldn't be surprised to see him standing in front of the net on the power-play from time to time either, and he will be a regular on the penalty-killing units.
He is a potential candidate for the 2nd pairing, but if not he is still the type of player that can contribute in a lot of ways, so he should see time in the line-up consistently… whether it be on defense (most-likely) or on the wing.
Montador seems to have a good grasp on the a lot of key areas in the game. He can hit, block shots, has a hard shot from the point, and can carry the puck up the ice. All he really needs to work on is his decision making in his own zone as well as the neutral zone. His hockey sense really isn't on par with any of the elite players in the NHL, but his physical talent makes up for his lack of mental ability as far as bottom pairing talent goes.
Again, his lingering concussion symptoms make it hard to predict if he can even return this season. He has not been cleared by team doctors and retirement may become a realistic option if he cannot return by the end of this season. His future is so uncertain, I just can't make a prediction on this one.