Once upon a time there was a young forward who wore number eleven for the Albany River Rats and after the lockout donned the number nine for the New Jersey Devils.  His name, Zach Parise.  Fast forward to present day and another young forward wearing eleven and playing this time for the Albany Devils during the lockout, Bobby Butler is now wearing that same number nine.  Meanwhile, as one may know by now, Parise is back to that old number eleven and back in his home state playing for the Minnesota Wild.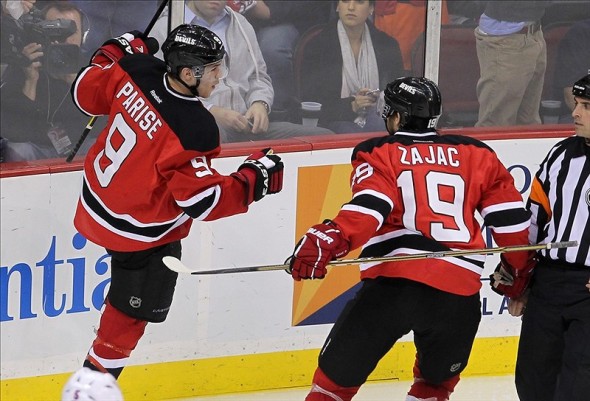 So as Butler replaces Parise in sweater number, there's another number the Devils will be looking to compensate for.  31.  Or the output of goals by the former Devils Captain in 2011-12.  Add to that Petr Sykora's 21 tallies exiting stage left and that's 52 goals to make up for.  Not to mention that Adam Henrique and his 16 goals will miss at least the first two weeks of the season with a thumb injury.  Although they may benefit from not needing that type of output over a truncated schedule, the Devils are going to need to find some new combinations and more firepower.
Looking at the New Jersey training camp roster, there are a few ways the franchise can go about replacing those goals.  They can go in the opposite direction and tighten up the defence to prevent goals and make up the difference.  Plus they can hope some of their young players step up and make an impact.  Or they can make use of the plethora of defencemen and young forwards and swing a trade for an elite sniper.
What also remains to be seen is the impact of losing assistant coaches Adam Oates and Larry Robinson.  So taking a closer look at the Devils roster, where can this squad expect to find players to fill up the back of the net?
The Usual Suspects:
Ilya Kovalchuk: When he wasn't figure skating at the KHL All-Star Game, Kovalchuk was filling it up for St. Petersburg SKA, with 18 markers in 36 games.  Last year Kovalchuk paced New Jersey with 37 goals and eight more in the playoffs.  After the playoffs last year, you can't question Ilya's toughness.  That being said, if you're the Devils, you hope he's focused enough to carry the load.
Patrik Elias: Consistency and excellence define Patrik Elias.  Last season Elias registered 26 goals and his 78 points were the most he totaled that amount back in 2008-09.  Though older, Elias has the smarts, experience and scoring touch.  One thing I wonder is how much the loss of his buddy Sykora will impact his overall output.
David Clarkson: Last year was a career year for Clarkson, who potted a career high 30-goals.  One could attribute that to Clarkson breaking out or playing for his old Kitchener coach Pete DeBoer, for whom he once scored 33 goals for.  Whether or not you peg Clarkson as a 30 goal guy or closer to a 20 goal guy, he's give you grit and toughness in front of the net and bang the puck home.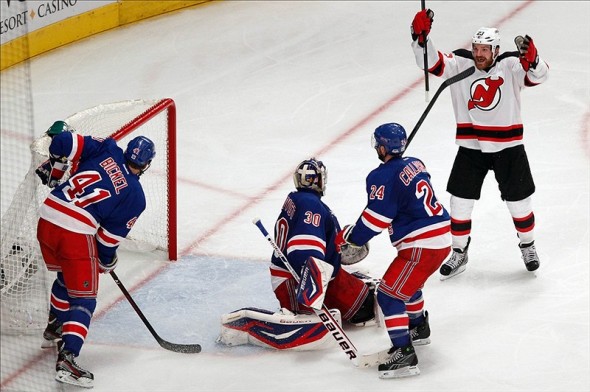 Dainius Zubrus: Mostly centering a line with Sykora and Elias, Zubrus totaled 44 points.  Additionally, his 17 goals were the most he's netted since scoring 20 in 2006-07 with the Washington Capitals.  New Jersey will be counting even more on Zubrus' play-making abilities and veteran presence this season.
Travis Zajac: While Parise is gone, his buddy from the University of North Dakota is back and healthy.  After missing most of 2011-12 with a knee injury, Zajac will hope to duplicate what Parise did following missing nearly all of 2010-11 himself.  Twice in his Devils career, Zajac has netted over 20 goals, with a career high of 25 in 2009-10.  Last year's playoffs were a good sign that Zajac will continue to rebound and rise to the challenge, recording seven goals and seven assists.
Adam Henrique: Once Henrique returns from injury, New Jersey hopes the Calder Trophy finalist will build on his success from a year ago.  In his first full season, Henrique lit the lamp 16 times.  During the playoffs, Henrique added five more, including two series clinching (Henrique it's over!) goals.  Henrique, who posted 25 goals for Albany in 2010-11, wasn't lighting the AHL on fire during the lockout but he did hold his own with five goals before getting injured.
Prospects or Suspects?:
Jacob Josefson: Staying healthy has been a bugaboo for Josefson.  However his eight goals in Albany this season are nearly as many as he's netted between Albany and New Jersey over the last three season's.  Josefson also topped the A-Devils with a +10 rating in 30 games.
Mattias Tedenby: Another Devils player looking for consistency and confidence, Tedenby began hitting his stride over the past month plus in Albany.  In his final four games with the A-Devils, Tedenby posted a goal in four straight.  His nine goals thus far are a career high.
Bobby Butler: After torching the AHL for eleven goals in December and with 16 overall at Albany, Butler may yet be another Lou Lamoriello steal.  Back in 2010-11, Butler notched 22 goals and 13 more in the playoffs for the Calder Cup Champion Binghamton Senators.  Butler also scored ten goals for the Ottawa Senators that year but for whatever reason seemed to drop on the depth chart under Sens coach Paul MacLean last season.  A fresh change of scenery could help Butler carry his AHL success over to the NHL.
Stefan Matteau: The lone player recalled from Juniors, Matteau has posted 18 goals in 35 games for Blainville-Boisbriand Armada of the QMJHL.  Selected 29th overall in the first round of the 2012 draft by New Jersey, should he make the roster, the Devils will have six games to decide whether or not Matteau sticks for all of 2013.
Best of the Rest:
Stephen Gionta, from what I saw Gionta carried over that tenacity to make things happen on the ice from last year's playoffs and it's no coincidence that Albany's record continued to improve with his return to the lineup.  Steve Bernier, got a lot of grief with how his season ended but was a real grinder in the playoffs, a guy with double digit goal potential.  Ryan Carter, another guy who stepped it up and made things happen in the playoffs, some clutch goals as well.  Tim Sestito, there's a certain blog out there that mocks Sestito for only providing "energy" but look, should he make the roster, no one will play harder than Timmy and when Albany was mired in a rut early this season, Sestito and Dan Kelly always hustled and hit and showed the most resolve on the ice.
Cam Janssen, will be counted on more for muscle more than goals.  Krys Barch, basically replaces Eric Boulton and will be counted on more for his toughness.  Harri Pesonen, has picked it up of late in Albany with six goals in 31 contests, making the transition to North American hockey, should he make the cut.  Mathieu Darche, another player who should he make the cut, will be counted on to grind and check and do the dirty work to keep the puck out of the New Jersey net.
So that's essentially how it shakes out for the Devils' offensive options for now.  Expect the young guys to get a chance to carry that momentum over from their time at Albany.  Otherwise New Jersey may have to deal from that plethora of defencemen and bring in a proven sniper.