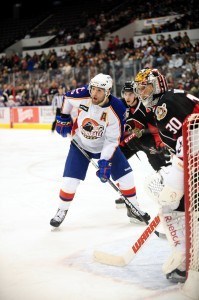 With NHL training camp in full stride, many prospects in the AHL have been summoned to their NHL club to compete for a roster spot.  The Anaheim Ducks are no different.
The Ducks General Manger Bob Murray summoned seven players from its AHL affiliate the Norfolk Admirals to the sunny beaches of Anaheim, California. Although they are in Southern California, this is not a vacation for prospects Emerson Etem, Peter Holland, Patrick Maroon, Kyle Palmieri, Devante Smith-Pelly, Jordan Hendry and Admirals skipper Nate Guenin. This is a job interview.
Going into a training camp is like an audition. A skater must show up to the rink and put forth their best effort while in camp nothing more, nothing less. The prospects that have competed in Norfolk have already made names for themselves while on the "farm" and were constantly being evaluated by the big Ducks in Anaheim. Ducks head coach Bruce Boudreau strolled around the confines of Scope Arena, the home of the Norfolk Admirals, regularly getting the 411 on current prospects.
When surveyed, Admirals fanatic Mike Wenzel lists Peter Holland as one of the players who he does not except to see in Norfolk when NHL camp concludes and all roster spots are filled. Wenzel picked Holland for all the right reasons. Holland leads all Admirals in points having 31 with 34 games to his credit. Holland currently has 4 games played in the NHL and has a goal in 1 of the 4 games.
Norfolk fan John Emond chirped his thoughts on Emerson Etem staying in Anaheim saying, "It depends on his camp." John was also quick to mention that if Etem gets sent down, he will be a top seed for a call-up. Emond can back his statement with cold hard facts. Etem led the CHL in goals last year with 61. Although Emerson got off to a slow start this season, he is now finding the groove that comes with pro hockey.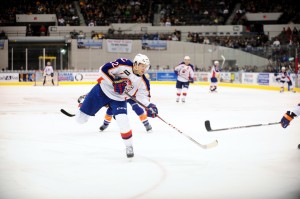 On the flip side of things when it comes to Kyle Palmieri Emond says,  "He'll probably stay." Again John has concrete evidence to back this. Palmieri is in front of the pack in goal scoring with 13 goals in 34 contests.  Palmieri like Holland has proven he can compete with the big boys while contributing offensively in Anaheim scoring 5 goals in 28 games with the Ducks.
You can't mention Ducks prospects without mentioning Devante Smith-Pelly. So far D.S.P. has 13 points in 34 games. Admiral's fans have mentioned that he is not producing like they thought he would. However, Devante's defense skills shouldn't be over looked. D.S.P. takes pride in his defensive game and supports his teammates down low with his bulky 220-pound frame. Smith-Pelly's numbers don't represent his defensive skills which are a big part of his game.
Season ticket holder Jack Miceli expects to see Etem and Maroon return to Norfolk. Maroon ranks third in point scoring with 22. Out of those 22 points, 13 are goals. Maroon likes to rake in the trash so to speak. Many of his goals have been a result of overloading the goal crease with his 6'2" 230- pound figure.
Fans didn't comment on Jordan Hendry or Admirals skipper Nate Guenin. These two blue liners combined have 161 NHL games played. This fact proves that these two grizzly vets can hold their own in the NHL.
Until Anaheim's camp ends and rosters are set, there will be a trickle down effect not just for Norfolk but also for every AHL organization. In anticipation of losing seven everyday players, Norfolk dived into the ECHL ranks recalling (D) Ryan Hegarty, (RW) Matt Kennedy, and (LW) Garrett Klotz from the Fort Wayne Komets, the ECHL affiliate of the Norfolk Admirals. In addition, Norfolk signed four players to Professional Tryout Contracts including (D) Kyle Bushee, (LW) Andrew Rowe, (RW) Marc-Olivier Vallerand and (C) Eric Lampe.
In less than a week, the trickle down effect should be somewhat eliminated and rosters will be re-established. ECHL call-ups always want to leave their best impressions on the AHL staff while looking to fill-in the blank roster spots left by one or more of the seven Ducks prospects listed above.
Follow Ted on Twitter @bauerhockeydude