SUNRISE, FL – After a a lighthearted day of physicals and team photos, the Florida Panthers were finally able to lace up their skates and hit the ice for their first official day of training camp on Monday morning.
Practice Lines:
Tomas Fleischmann – Stephen Weiss – Kris Versteeg
Jonathan Huberdeau – Peter Mueller – Alexei Kovalev
Scottie Upshall – Shawn Matthias – Tomas Kopecky
Jack Skille – Jared Smithson – George Parros
Quinton Howden – Drew Shore – Jon Rheault
Notes: With injuries to both Marcel Goc and Sean Bergenheim, the once questionable idea of bringing veteran Alexei Kovalev to camp could pay off for the Panthers as an impressing show during camp could end up earning him a spot on the roster.
Injury Updates: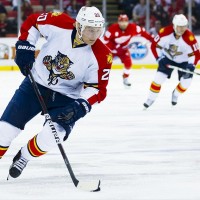 Marcel Goc: Marcel Goc will reportedly miss at least the first three games for this season while nursing an ankle injury suffered during the lockout.
Erik Gudbranson: Like Goc, Erik Gudbranson is also expected to miss at least the first three games for the Panthers this year after suffering a shoulder injury while wake boarding during the off season.
Sean Bergenheim: The extent of Sean Bergenheim's injury is still in question and should become more clear within the coming days. However, with the season fast approaching I would expect him to miss some time early on.
Yet to Report: 
Dmitry Kulikov: A long lockout kept the Panthers from opening up contract talks with RFA defenseman Dmitry Kulikov and now it's coming back to bite them. It is still unclear whether or not Kulikov is still currently in Russia, but GM Dale Tallon has made it clear that getting Kulikov signed and into camp is a top priority.
Upcoming Events:
-The Panthers will be holding a team scrimmage this Wednesday (January 16th) at their practice rink in Coral Springs. The event will be open to the public and should give fans their first glimpse at the club in action this season.
-Tickets are still available for the Panthers' season opener against the Carolina Hurricanes on Saturday January 19th starting as low as $7 a ticket! Come out and see the club raise their first ever Southeast Division Championship banner into the rafters as the club kicks off their 2013 season with a bang. Tickets can be purchased here.
Quotes From Team Website
-Brian Campbell when asked out the team's chemistry on defense: "I was playing with (Filip) Kuba today and trying to talk on the bench after shifts…about what I like and about what he likes. It's a challenge, but it was like that last year."
-Peter Mueller when asked about his physical health: "I feel so good…I'm happy where I'm at and like I said I'm just happy to be playing hockey again"
-George Parros when asked about the hectic short week: "I feel good and I feel ready, it's a challenge that I am ready to accept"
Follow Jameson on Twitter @coopdaloop123