Despite mixed feelings from fans, Jochen Hecht is back in Buffalo on a one-year, $1.25 million contract. No, I'm not Jochen-around.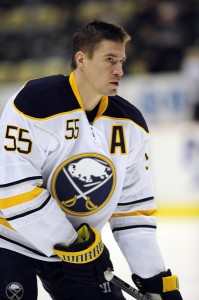 The 35-year old forward spent most of the 2011-12 season injured with a concussion. He scored just 4 goals and 4 assists in 22 games that season and many felt it was time to move on from the aging forward, in favor of leaving more roster spots open for incoming young prospects like Mikhail Grigorenko, who could benefit from the NHL experience.
While Hecht does have his shortcomings and is clearly at the tail end of his career, I wouldn't throw him under the Zamboni just yet.
Hecht has been with the Sabres for the past 9 seasons and has chemistry with many of the Sabres top scorers. He's broken the 50-point barrier three times with Buffalo and also broke the 40-point barrier as recently as the 2009-10 season.
He also has veteran leadership value, as he is the second ever German-born player to serve as an NHL captain, the first being the New York Rangers Walt Tkaczuk. Hecht was chosen to captain the Sabres for the months of October and February during the 2007-08 season, when the captaincy was rotated monthly.
During this years lockout the Mannheim Mercenary played 6 games for the Mannheim Eagles of the DEL, alongside Buffalo teammate Jason Pominville. Hecht notched 5 goals and 8 assists, for a combined 13 points during that time.
#Sabres Jason Pominville played on the same line as Jochen Hecht in Germany, really enjoyed it. Said Jochen looked like his old self.

— Bill Hoppe (@BillHoppeNHL) January 8, 2013
While he will likely play a more limited role this season, Hecht could still bring a nice offensive touch to Buffalo's bottom-six.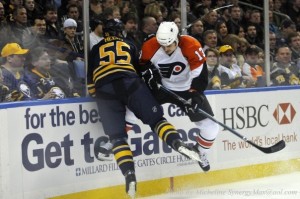 However, Hecht's biggest impact this year will likely be on the penalty-kill. The Sabres lineup is not exactly riddled with top of the line penalty killers, so his presence on the PK will definitely be a benefit. This will also take some of the PK load off the shoulders of top-players like Jason Pominville, and Drew Stafford.
Everything Hecht has to offer is also coming at a third of the price this season. He's coming off a 4-year $14.1 million contract, making his new 1-year deal for $1.25 million look much more economical.
Simpy put, Hecht is a low-risk/medium-reward option. If he turns out to be a dud this year the Sabres can always let him walk this summer in free agency, and finally stop Jochen-around.